Introduction: In this article, Gena Philibert-Ortega searches old newspapers to find examples of how our ancestors celebrated Valentine's Day. Gena is a genealogist and author of the book "From the Family Kitchen."
February 14th is two days away! What are you doing for Valentine's Day? People seem to have very strong feelings one way or the other regarding this annual celebration of love. Some hate Valentine's Day and claim that it's just a greeting card holiday meant to help retailers make money, and serves no other purpose. But is Valentine's Day a more modern holiday meant only to fill the coffers of the greeting card, candy, and flower industries?
Old newspapers, such as GenealogyBank's Historical Newspaper Archives, provide the answer to that question. While one of the biggest greeting card companies was founded in the early 20th century, the celebration of Valentine's Day predates that significantly.
A search of the phrase "Valentine Gift" in GenealogyBank's newspapers included results from the year 1769 – and a search for "Valentine's Day" resulted in newspaper matches from as early as 1771. What did those early American newspaper articles say about the day of love? Here are a few examples I found.
Poems
Yes, Valentine's Day meant poems published in the newspaper. This 1789 poem in the Pennsylvania Mercury and Universal Advertiser is titled "February – An Ode," but as the editorial note at the bottom clarifies, its reference to "lover's day" is actually Valentine's Day.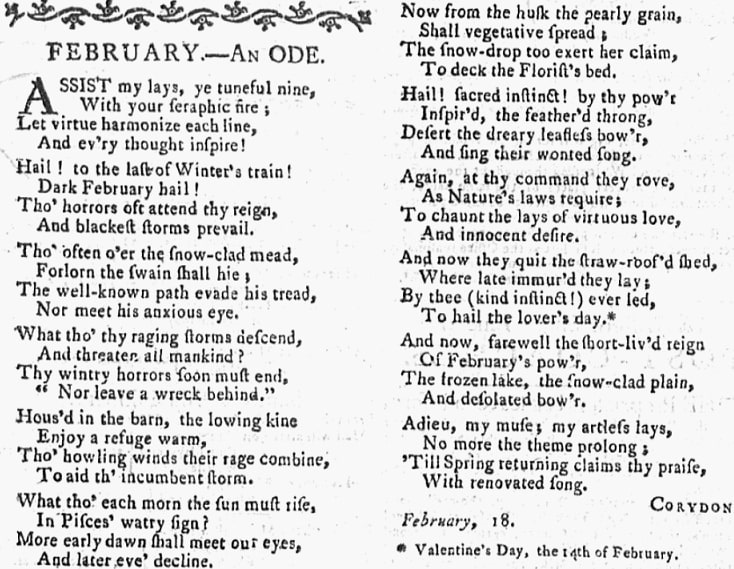 Of all the Valentine poems I read in historical newspapers, I thought this one from 1893 was especially sweet. It tells of an older married couple and what a husband witnesses as his wife fondly looks at a valentine he sent her before they were wed.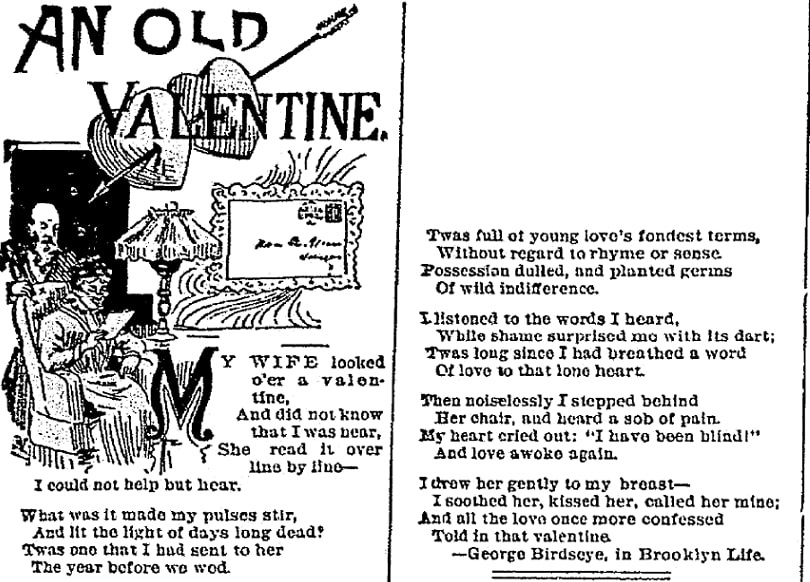 Cards
There's no doubt that our ancestors sent Valentine's Day cards to their friends and loved ones. One history of greeting cards states that a 1797 book called The Young Man's Valentine Writer assisted men in the writing of valentine sentiments for a loved one.* Today the busiest times at the Post Office might be Christmas and Mother's Day, but according to this 1811 article from London, Valentine's Day was so busy that they had to hire extra staff.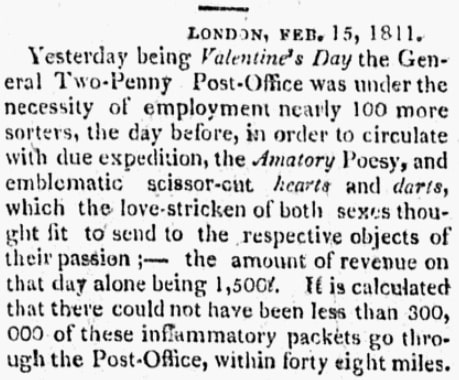 Valentine cards of all types were sent via the mail. This Pennsylvania newspaper article from 1883 reports that the stores are stocking cards of all kinds, including bannerettes which were made of silk and hand painted, costing up to $3.50 (around $90 today). There is also a mention of "vulgar valentines" which most likely refer to "vinegar valentines" that were anything but loving. These popular 19th century valentines were sarcastic and mean – definitely something not sent to those you were hoping to impress.
Advertisements
It's no surprise that the weeks and days approaching February 14th mean advertisements for all kinds of gifts. That was true even for our ancestors.
Looking for a gift? Jewelry has always been perfect. In this 1898 advertisement, amethyst is suggested for a valentine surprise. The advertisement appeals to those who want something traditional that was associated with St. Valentine himself. It states that: "St. Valentine is said to have worn an amethyst ring, engraved with an exquisite little cupid; and as February is the month dedicated to this gem, the fable undoubtedly has some foundation."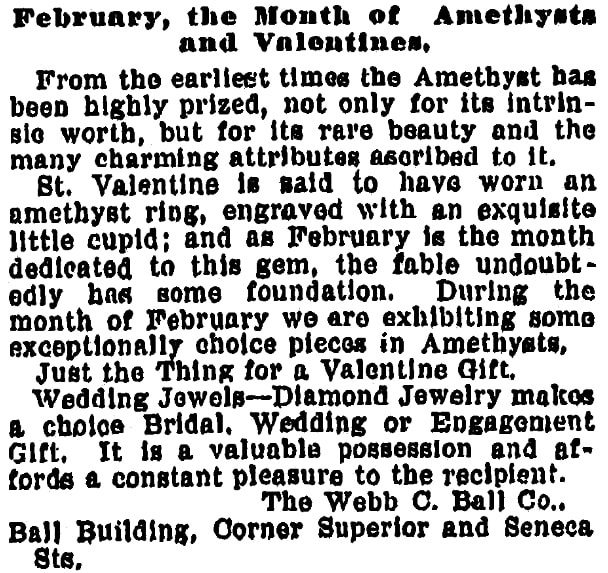 And of course, jewelry continued to be advertised as the perfect Valentine's Day gift year after year. Investing in jewelry might have even influenced a family member to propose marriage.

Happy Valentine's Day!
I'm a big fan of Valentine's Day because it symbolizes love – whether it be romantic or otherwise. It's a great day to surprise someone you care about. Searching historical newspapers makes it apparent that our ancestors believed in it as well.
* Chase, Ernest Dudley. The Romance of Greeting Cards. An Historical Account of the Origin, Evolution and Development of Christmas Cards, Valentines and Other Forms of Greeting Cards from the Earliest Days to the Present Time. (University Press of Cambridge, 1956).