Introduction: In this article, Mary Harrell-Sesniak searches old newspapers to learn more about Days of Thanksgiving that have been proclaimed throughout American history. Mary  is a genealogist, author and editor with a strong technology background.

While planning Thanksgiving celebrations, most of us dream of the bountiful feast set upon our tables: turkey, corn, mashed potatoes, pie and all of those other goodies made for the day.
We do this to commemorate the first successful harvest of the Mayflower passengers and the Wampanoag Indians at the Plymouth Plantation in 1621.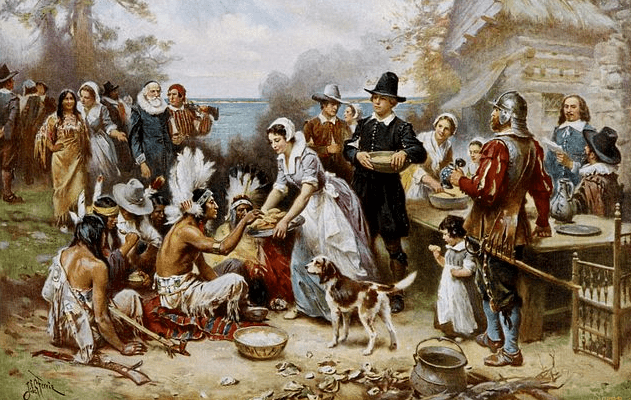 That first Thanksgiving celebration lasted three days. The Wampanoags brought five deer as gifts, which were consumed along with other food that has never been documented.
1789 Thanksgiving Proclamation
Much has been written about Thanksgiving, including President George Washington's Thanksgiving Proclamation on 3 October 1789, given in response to a request by Congress. Since few have ever read it, I searched GenealogyBank's Historical Newspaper Archives to find the proclamation as it was printed in the newspapers of that time.
In three paragraphs, President Washington proclaimed "a day of public Thanksgiving and Prayer" to take place on November 26.
First Mention of Thanksgiving in a Newspaper?
I was curious about the first mention of Thanksgiving in a newspaper prior to Washington's proclamation.
Would you be surprised to learn it occurred in the earliest newspaper to be published in our country: Publick Occurrences Both Forreign and Domestik?
Richard Pierce of Boston had great hopes for this publication, but it was shut down by the authorities after the initial printing on 25 September 1690. Luckily the full copy of this first American newspaper can be found in GenealogyBank's Historical Newspaper Archives.
The article reports:
The Christianized Indians in some parts of Plimouth, have newly appointed a day of Thanksgiving to God for his Mercy in supplying their extream and pinching Necessities under their late want of Corn, & for His giving them now a prospect of a very Comfortable Harvest. Their Example may be worth Mentioning.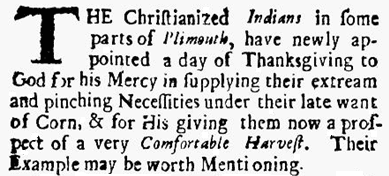 Other Thanksgiving Proclamations
Ordinary subjects of Colonial America were not allowed to decide when to set aside a day of Thanksgiving. Magistrates and other leaders – such as Joseph Dudley, Governor of the Province of Massachusetts Bay – issued proclamations stating the reasons and guidelines for special days of Thanksgiving.
This 1704 Thanksgiving Proclamation was to celebrate "Victory over their Enemies in the Summer past," referring to England's victories in the War of the Spanish Succession. In his order declaring 23 November 1704 a "Day of General Thanksgiving throughout this Province," the governor prohibited "all Servile Labour" on that special day, exhorting everyone:
to Celebrate the Praises of GOD, for all His Benefits and Blessings, And to devote themselves [to] a Thank-Offering to Him in a right Ordered Conversation.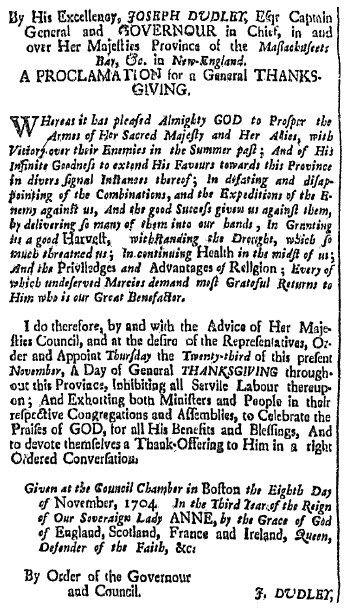 Day of Fasting and Prayer
One of the more intriguing early proclamations is this one, in part concerning captives taken from Deerfield, Massachusetts, in a 1704 raid by French and Native American forces. The attackers killed 44 Deerfield villagers and 12 of their militia defenders, and 112 settlers were taken as captives to Canada.
Since calling for a day of thanks would be inappropriate on this occasion, Governor Dudley called for "a day of Publick FASTING and PRAYER" to appease God in hopes of gaining "Remission of our great and manifold Sins that have justly displeased God" and caused the settlers' misfortune.
In his proclamation, Governor Dudley expressed hope that the day of fasting and prayer would grant them their most fervent wishes:
The Designs of the barbarous Savages against us defeated; Our exposed Plantations preserved; And the poor Christian Captives in their hands, returned.
Day of Thanksgiving for the Captives' Return
By the end of 1706, many of the captives had been "redeemed" (recovered by the English, either through paying ransom or via prisoner exchanges). This newspaper report of January 1707 notes:
The People of this County are fill'd with Joy, for the Arrival of the Captives…Wednesday the 8th Currant [i.e., this month] was a Day of Thanksgiving there [Deerfield], to Praise GOD for His great Goodness.
I am entirely grateful for the captives' return, as among them were members of my Belden, Burt and Foote families. Click here to see a list of the Deerfield captives of 1704.
Other Days of Thanksgiving
While contemplating the meaning of Thanksgiving, take the time to explore early newspapers to learn more about the many days of Thanksgiving set aside for our ancestors. Here are two more examples I found.
On 20 September 1704, Governor Dudley once again celebrated English victories in the War of the Spanish Succession by announcing that October 18 would be a day of Thanksgiving because it had:
pleased Almighty God in his Great Goodness to preserve Her Majesties Sacred Person, and to prosper Her Arms in the Just War, wherein Her Majesty and Her Allies are Engaged for the preservation of the Liberties of Europe.
The Governor ordered:
That a General THANKSGIVING to Almighty God, for these His Mercies be Observed throughout this Province, within the several Towns and Districts thereof, on Thursday the Eighteenth Day of October next; and do strictly forbid all Servile Labour thereupon; Exhorting both Ministers and People to Solemnize the said Day after a Religious manner, and to offer up sincere and hearty Praises to GOD.
In this next example, Governor Dudley on 27 December 1705 called for yet another day of Thanksgiving to celebrate English victories in the War of the Spanish Succession, this one scheduled for January 24.
Why not take a little time during this Thanksgiving break to search the old newspapers in GenealogyBank's Historical Newspaper Archives to learn more about early Thanksgiving celebrations and enrich your understanding of this very special day of thanks?
Happy Thanksgiving and blessings to you and your families!
Related Thanksgiving Articles: