Introduction: In this article, Gena Philibert-Ortega searches old newspapers to find vintage recipes for many types of cranberry sauce, relish, etc. Gena is a genealogist and author of the book "From the Family Kitchen."
No matter how creative you get at Thanksgiving, your dinner probably has a few of the basics: turkey, stuffing (or dressing), and some sort of cranberry sauce or relish. Have you ever wondered why cranberries are a part of this annual traditional meal?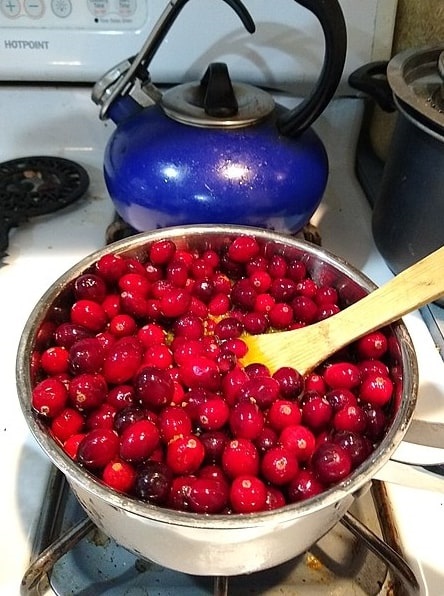 Cranberries are one of the uniquely American fruits and were known and used by the Wampanoag tribe for "food dye, and medicine long before feasting with the Pilgrims in 1621." (1)
So, when do we start seeing cranberry sauce recipes? The first cookbook written by an American, Amelia Simmons' American Cookery: Or, The Art of Dressing Viands, Fish, Poultry and Vegetables (1796), includes a recipe titled "To Stuff and Roast a Turkey or Fowl" which suggest that you serve "boiled onions and cranberry-sauce, mangos, pickles, and celery with your cooked bird." (2)
The first cranberry sauce recipe I found in newspapers dates to 1854 and is fairly simple, calling for cranberries, water, and sugar.

By 1875 there's little doubt that cranberry sauce was a common American recipe, as this newspaper column called it the "great American dish."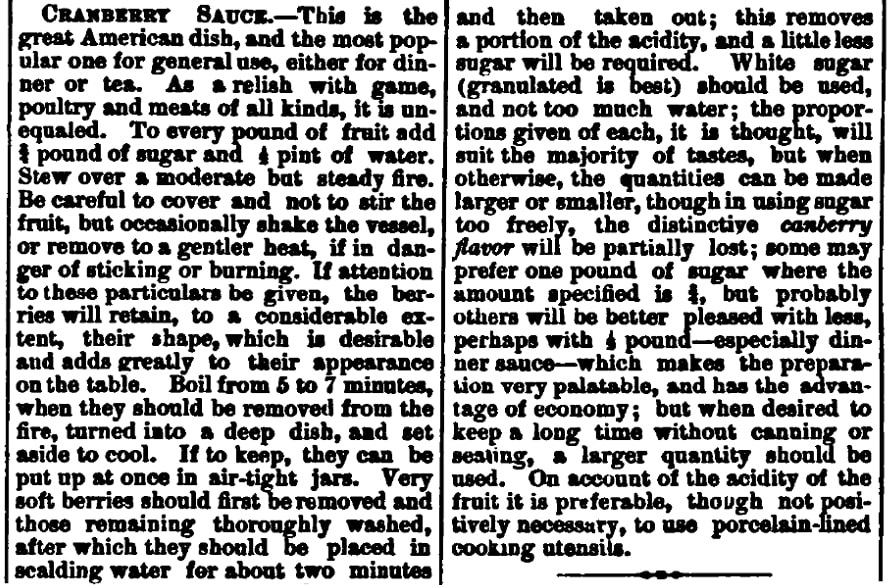 As I learned more about cranberries, I started thinking about how that simple Thanksgiving dish has been made over the years, and how we could incorporate it in a new way. Today's Thanksgiving cooks have the choice to create a sauce out of fresh cranberries or open a can of jelled sauce.
But maybe this year it's time to try something different. What about a vintage recipe? These historical recipes are a great way to add something unique and tasty to your modern-day Thanksgiving menu.
Vintage Cranberry Recipes
This 1916 recipe column has so many different ideas for incorporating cranberries into your meal, including Cranberry Pudding, Cranberry Punch and Cranberry Sherbet. I like the idea of serving Cranberry Sherbet along with your traditional dinner. If you like to serve several courses, it could be a nice addition right before the main course. The Cranberry Jam would be nice to serve along with butter for any rolls or bread you serve.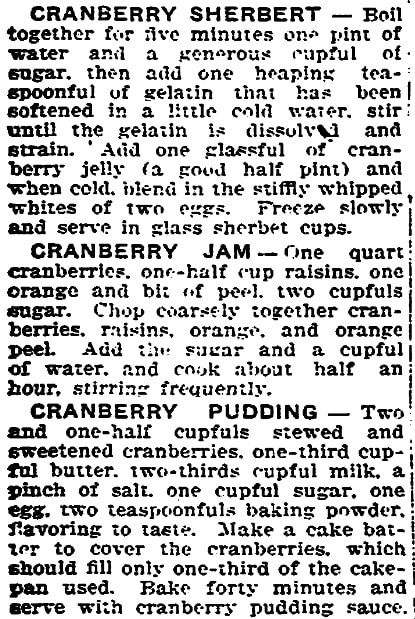 If you're looking for a Cranberry Relish recipe, this one from 1922 includes oranges and raisins. You may want to play around with the proportions since the recipe call for 7 pounds of sugar.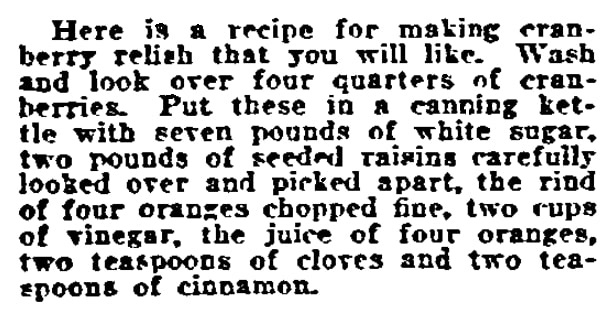 One of the recipes I kept seeing in historical newspapers was for Spiced Cranberry Sauce. This 1940 Massachusetts newspaper column provides a Spiced Cranberry recipe that includes cloves and cinnamon.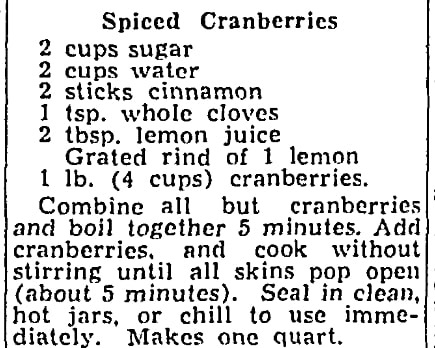 In the spring of 1942, the U.S. rationed sugar. Cranberries are tart and rely on sugar in most recipes to provide some sweetness. So, what did recipes geared toward our World War II-era ancestors use instead? Canned cranberry sauce was available so that was an option and, in some cases, cranberry dishes used the canned sauce as an ingredient. Sugar was used, but other ingredients like apples and oranges helped to sweeten the relish. Those who used several cups of sugar may have done so by saving their coupons for this holiday meal.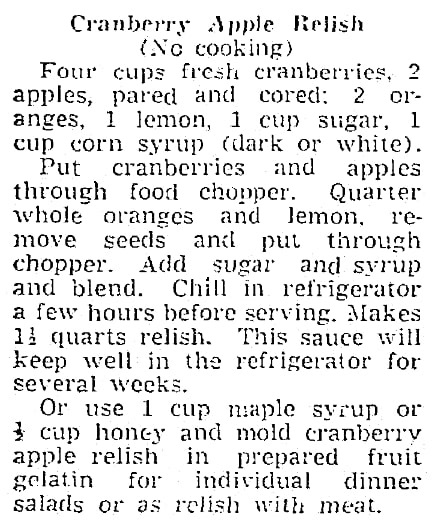 There's always the opportunity to reimagine cranberry sauce and serve it at the end of the meal instead of with the turkey by making a Cranberry Sauce Cake. This particular recipe uses ladyfinger cookies and gelatin for a cake that could be served as a Thanksgiving dinner dessert or to accompany another holiday meal.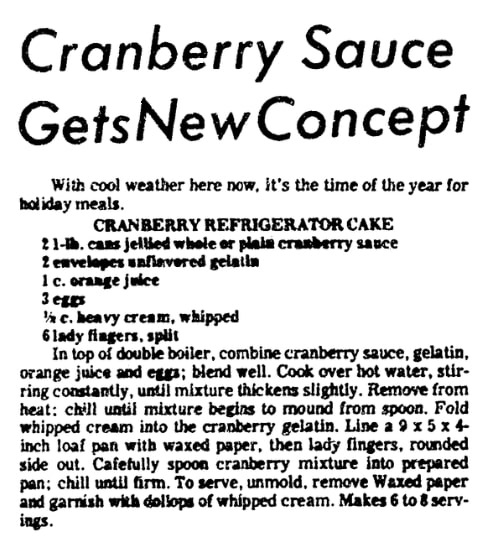 How Will You Enjoy Cranberries This Thanksgiving?
I like the idea of reimagining this classic dish in a new way. Historical newspapers provide some great recipe ideas for serving cranberries differently than you have before.
Happy Thanksgiving!
Note: An online collection of newspapers, such as GenealogyBank's Historical Newspaper Archives, is not only a great way to learn about the lives of your ancestors – the old newspaper articles also help you understand American history and the times your ancestors lived in, and the news they talked about and read in their local papers… and the recipes they shared.
________
(1) "Why Do We Eat Cranberry Sauce on Thanksgiving?" Mental Floss (https://www.mentalfloss.com/article/608150/why-we-eat-cranberry-sauce-at-thanksgiving: accessed 18 November 2021).
(2) A reprinted version with a modern introduction is available on Google Books: https://books.google.com/books?id=_6CggcPs3iQC&newbks=1&newbks_redir=0&lpg=PP1&pg=PP1#v=onepage&q=turkey&f=false