Introduction: Gena Philibert-Ortega is a genealogist and author of the book "From the Family Kitchen." In this guest blog post, Gena searches old newspapers to show how much valuable family history information is provided by family reunion stories newspapers routinely printed around Christmas time.
The end of the year seems like the perfect time to renew acquaintances and hold reunions with family and friends. Even though families find it difficult to find time to get together throughout the year for other events like birthdays or anniversaries, Christmas is a time when people are more likely to make the effort to take a trip home. The other benefit of the Holiday season is that for many who normally would have to take vacation time off from work to travel, the Christmas/New Year's holidays may mean some flexibility with work obligations. So the Holiday season is a great time to plan a family reunion.
The idea of a December family reunion is not a new one. Sure, it's made easier with modern transportation conveniences, but it was a common occurrence in the late 19th to early 20th century, as shown by many newspaper stories at that time. These Christmas family reunion articles are a great way for family historians to catch a glimpse into the daily lives of their ancestors. A bonus for the genealogist is that these family reunion articles often included the names of all those in attendance. Even short newspaper announcements can contain genealogically rich information that could be of assistance to descendants.
I did a search for Christmas family reunions in GenealogyBank's Historical Newspaper Archives, and found many delightful examples.
Newspapers report on the lives of a community as well as the celebrities and leaders of a nation. So it's not surprising that a Christmas family reunion in the White House was newsworthy. For Christmas 1910, newspapers nationwide reported that President Howard Taft had a reunion with his three children, Robert, Helen and Charles, at the White House—complete with a turkey dinner. The only thing missing was the Christmas tree because, as the article notes, the children were "older."
While there are countless examples of newspaper articles detailing a family reunion, this one in the Social Affairs column of a 1903 newspaper caught my eye. In the historical newspaper article we find the mention of 13 separate family gatherings. One of the stories, reporting on the dinner at A. Galloway's, mentions who was there (four generations were present), and reports that the Christmas reunion was leading up to some noteworthy wedding anniversaries. The A. C. Galloways and the A. Galloways would be celebrating their 67th and 56th wedding anniversary in 1904, respectively. It might seem like a breach of etiquette to modern readers but the addition of the words "if they live" came after that statement. If one needed any more hints revealing how old these two couples were, the last sentence of the article notes: "The combined ages of the four is 334 years."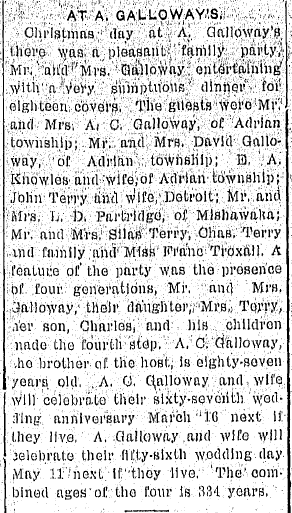 Maybe you are planning a family reunion of your own this season. Chances are it won't be as large as this one, reported in a 1922 newspaper. Mrs. M. J. Nash had 91 family members attend her Christmas reunion! Lucky for any of her present-day descendants, the list of those who attended was printed in the newspaper.
The newspaper article concludes by saying she gave everyone in attendance a gift "by which to remember her."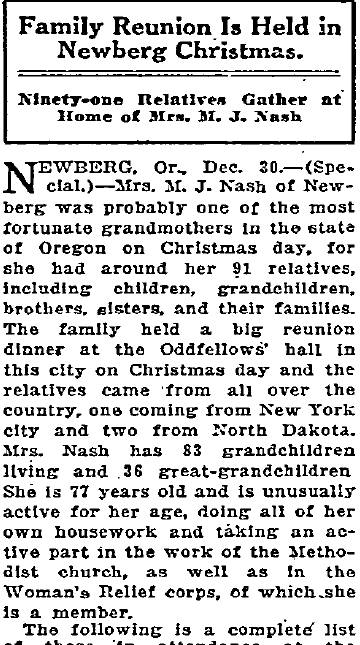 The old newspaper article about Mrs. Nash's Christmas family reunion wasn't the only one I found that included the names of other family members in attendance. This 1921 Christmas reunion article for the family of Mr. and Mrs. John Stanford included the names of those who attended and the number of children they had. As a genealogist, this historical newspaper article is very appealing since it also provides the couple's street address and a sentence reporting on a family photo that was taken and who was in the photo: "A picture of the host and hostess, with their sons and daughters, grouped about them, was also another feature, and this should be a pleasant reminder for the parents of the event."
Did your ancestor hold a Christmas family reunion? This fact may not be known to your present-day family—but if it did occur there's a good chance it and the names of all gathered can be found in their local newspaper. Finding such an article full of relatives' names would be a great genealogy gift to receive, something that would make any family historian smile.
(Visited 239 times, 1 visits today)