Continuing my search in GenealogyBank's Historical Newspaper Archives for the history of the Crofoot family (see: "Case Study: Using Old Newspaper Articles to Learn about Your Ancestors" & "Case Study Part 2: How to Find Old Newspaper Articles about Family") I found  information about the death of Ephraim Crofoot.
When we found the obituary of Thomas S. Crofoot published in August 1852, the newspaper article referred to his father as "the late Ephraim Crofoot, Esq."
This clue told us that Ephraim Crofoot had died before August 1852.
Digging deeper into the archives I found Ephraim Crofoot's obituary that stated he died on 24 February 1852 at the age of 51.
A week later a notice appeared in the same newspaper alerting everyone that probate proceedings for Ephraim Crofoot's estate had begun on 28 February 1852.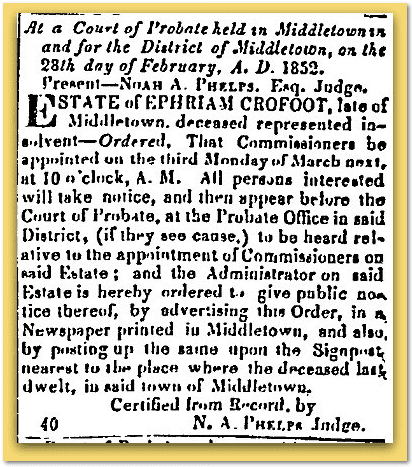 So far we have found quite a bit of genealogical information and clues about Ephraim Crofoot and his family in the newspaper archives including information about his marriages, children and death. It takes time to piece together the clues and facts that document a family tree.
In the weeks ahead I will continue to report on my findings about the Crofoot family and provide similar examples from other typical families to help you better understand the kinds of information that you can discover about your family history in old newspaper articles.
(Visited 53 times, 1 visits today)