Sutro Library announces Friday, Saturday closing schedule.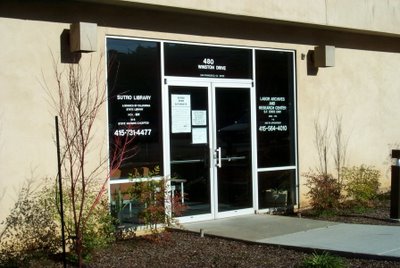 The Sutro Library, the most extensive genealogy collection west of Salt Lake City and the San Francisco branch of the California State Library, announces changes in its days of operation. As of July 1, 2009, Saturday hours have been discontinued.
In compliance with the Governor's furlough order, Sutro Library will close three Fridays this month: July 10, 17, and 24.

Beginning August 1, 2009 and continuing until June 2010, the library will close the first, second, and third Fridays of each month.

Regular service hours for Sutro are Monday through Friday, 10:00 a.m. to 5:00 p.m., excluding furlough Fridays and state holidays.

Sutro Library offers the most extensive genealogy collection west of Salt Lake City; a comprehensive local history collection; Adolph Sutro's rare book and manuscript collections; genealogical, family and local history catalogs; and special indexes, guides, and bibliographies. Library materials can be accessed through the California State Library's Main Catalog, and Sutro staff is available to assist in-house customers.

Items from the Sutro Library may be borrowed on interlibrary loan through local public libraries. For additional information or directions to the library, visit, phone (415) 731-4477, or e-mail. Laura Parker, Public Information Officer; California State Library; 900 N Street, Suite 300; Sacramento, CA 94237; (916) 651-6798.

You read it here first.