Billionaire Howard Hughes died in 1976 a 70-year-old eccentric recluse, whose strange behavior stemmed from a severe obsessive-compulsive disorder. During the last few years of his life he only cut his hair and trimmed his nails once a year, and avoided contact with people.
As a young man, however, Hughes was an enormously successful film producer, industrialist, engineer and aviator. In 1939 he was awarded a Congressional Gold Medal "in recognition of the achievements of Howard Hughes in advancing the science of aviation and thus bringing great credit to his country throughout the world."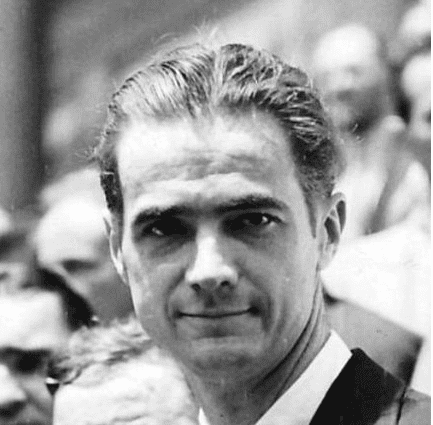 He was a dashing and daring aviator in his 30s, designing and building his own aircraft and setting many air speed records. On 19 January 1937, he set one of those records: the transcontinental speed record, flying across the country in 7.5 hours at an average speed of 332 miles per hour.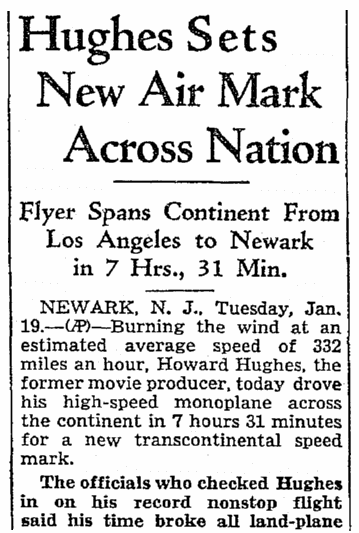 Here is a transcription of this article:
Hughes Sets New Air Mark across Nation
Flyer Spans Continent from Los Angeles to Newark in 7 Hrs., 31 Min.
NEWARK, N.J., Tuesday, Jan. 19. – (AP) – Burning the wind at an estimated average speed of 332 miles an hour, Howard Hughes, the former movie producer, today drove his high-speed monoplane across the continent in 7 hours and 31 minutes for a new transcontinental speed mark.
The officials who checked Hughes in on his record nonstop flight said his time broke all land-plane distance speed records.
Hughes took off from Union Air terminal, Los Angeles, at 2:14 a.m. (5:14 a.m. eastern standard time) today and roared down across Newark municipal airport, 2,490 miles away, at 12:43:27 p.m. (eastern standard time).
Salute to Newark
The new record breaks his old mark of 9 hours, 25 minutes, 10 seconds, set last January 14.
Hughes roared away into the mists east of the Newark field after being sure he was identified but came back in a few minutes and circled the field at terrific speed, apparently in an outburst of exuberance at setting the new mark.
He set his fast ship down to earth at 1:11 p.m.
Hughes was smiling broadly as he climbed from the open cockpit to receive congratulations of field attaches.
High in the Air
"I flew at 14,000 feet most of the way," Hughes said, "with my highest speed 370 miles an hour. I used about 200 of the 280-gallon load. I am very tired – a bit shaky."
Hughes, however, climbed out of the tiny cockpit without assistance and shook hands with friends who rushed out to greet him.
He said he had picked up a good tail wind from Kansas City on to Newark, and added that conditions in the sub-stratosphere had not bothered him.
That same newspaper article featured a photo of a rather intense-looking Howard Hughes and the caption "He burns the wind."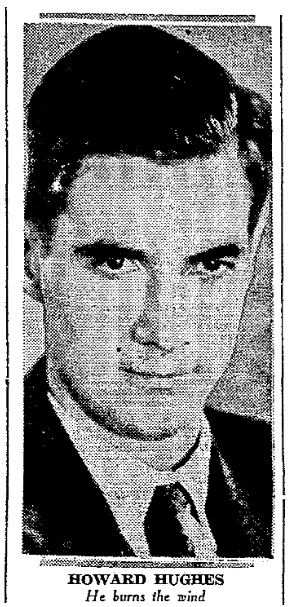 Further details of Hughes's record flight were printed by the Trenton Evening Times the next day.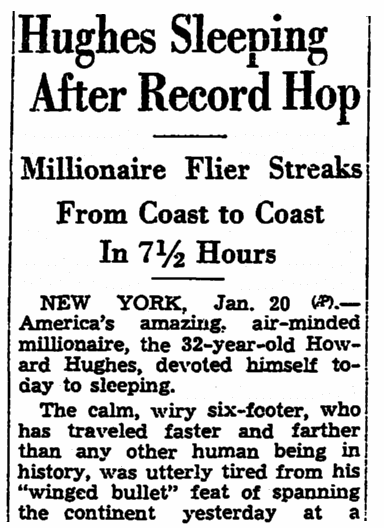 Here is a transcription of this article:
Hughes Sleeping after Record Hop
Millionaire Flyer Streaks from Coast to Coast in 7 ½ Hours
NEW YORK, Jan. 20. – (AP) – America's amazing, air-minded millionaire, the 32-year-old Howard Hughes, devoted himself today to sleeping.
The calm, wiry six-footer, who has traveled faster and farther than any other human being in history, was utterly tired from his "winged bullet" feat of spanning the continent yesterday at a speed of 332 miles an hour.
"My next record will be some fancy long-distance sleeping," he said last night before retiring.
In his little plane, designed by his own engineer, Richard Palmer, and built in his own factory at Burbank, Cal., he flew 2,490 miles in seven hours, 28 minutes, 25 seconds, to break every existing airplane distance speed record in the world.
The only man who ever has flown faster than Hughes is the Italian, Francesco Agello, who traveled 440.6 miles an hour for less than two miles in a seaplane October 23, 1934. That record was set with an engine designed for about one hour's service.
Palmer met Hughes at Newark Airport. The two men shook their heads at each other.
"I knew she was fast," Hughes told his chief engineer, "but I didn't know she was that fast."
Hughes is the outright owner of petroleum and manufacturing interests and estates in Texas, California, and elsewhere. He formerly was a motion picture producer. Among his pictures were "Hell's Angels" and "Scarface."
And why does he risk his neck setting speed records? "I like to fly," is his answer.
A humorous anecdote related to Hughes's record flight was printed in a column of the Seattle Daily Times.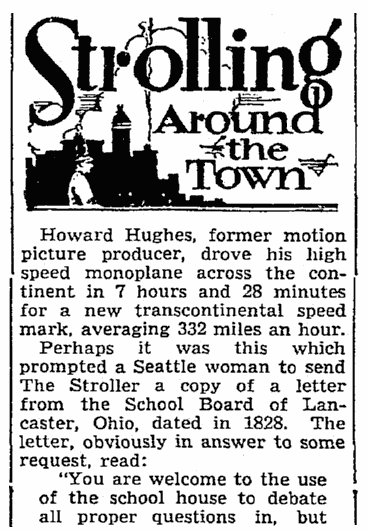 Here is a transcription of this article:
Strolling around the Town
Howard Hughes, former motion picture producer, drove his high speed monoplane across the country in 7 hours and 28 minutes for a new transcontinental speed mark, averaging 332 miles an hour.
Perhaps it was this which prompted a Seattle woman to send The Stroller a copy of a letter from the School Board of Lancaster, Ohio, dated in 1828. The letter, obviously in answer to some request, read:
"You are welcome to the use of the school house to debate all proper questions in, but such things as railroads and telegraphs are impossibilities and rank infidelity. There is nothing in the Word of God about them. If God had designed that His intelligent creatures should travel at the frightful speed of fifteen miles an hour by steam, He would have clearly foretold it through His holy prophets. It is a design of Satan to lead immortal souls to hell."
You can see where that would have left Mr. Hughes in 1828.
Note: An online collection of newspapers, such as GenealogyBank's Historical Newspaper Archives, is not only a great way to learn about the lives of your ancestors – the old newspaper articles also help you understand American history and the times your ancestors lived in, and the news they talked about and read in their local papers.