Introduction: In this article, Melissa Davenport Berry digs into old newspapers and archival records to tell the story of the famed journalist Benjamin Poore – and the scandal he endured in Georgia. Melissa is a genealogist who has a blog, AnceStory Archives, and a Facebook group, New England Family Genealogy and History.
The prominent Washington correspondent and historian Major Ben: Perley Poore (the colon after "Ben" is the family custom), from Indian Hill Farm, West Newbury, Massachusetts, led a charmed life.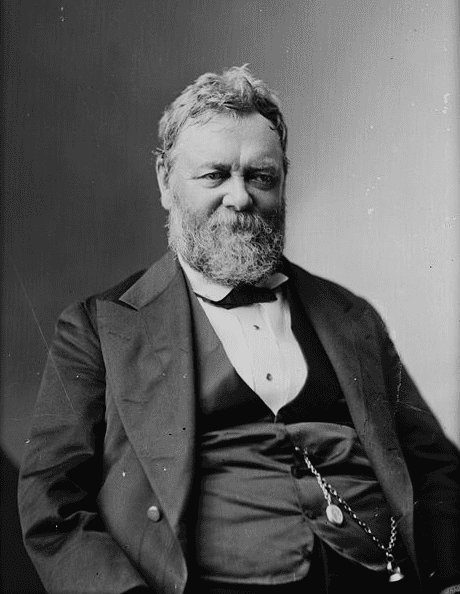 Poore (1820-1887) dined with Lafayette and Sir Walter Scott. His collection of Americana was the finest in the country. His home had a Masonic Hall and a bedstead slept in by Washington. His drawing room charm earned himself a seat at the best parties.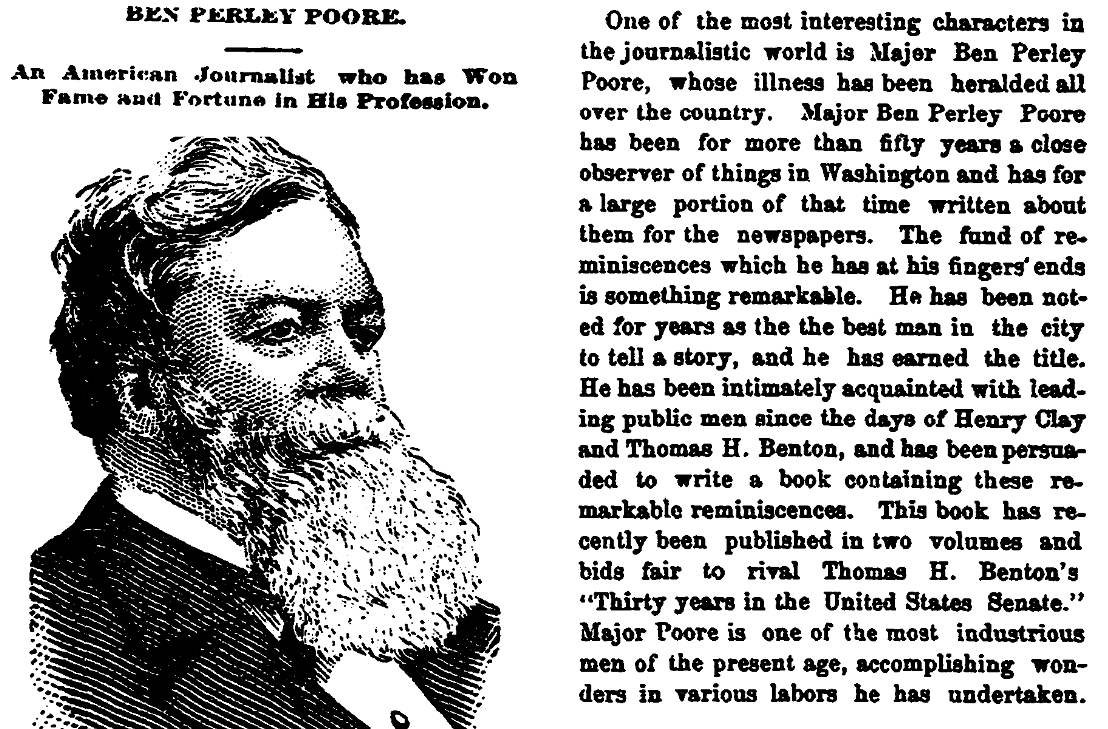 However, before Poore rose to success, a brief stint in the sunny south landed him in hot water.
Poore edited and wrote for the Southern Whig newspaper in Athens, Georgia. When he arrived in town, invites flooded in from the upper crust plantation lords. He was admitted in by all the top-drawer aristocrats and, per reports from the society pages, the handsome Poore was getting along "swimmingly" and living like a pasha.
Over time, though, Poor neglected genteel society and instead immersed himself in a Bohemian coterie. His taste for a good story sent him hunting in a section of town known as "the Broken Shutter." This area was particularly newsworthy, and it furnished "the best fluid in town."
According to sources, Poore's Northern abolitionist tendencies and progressive ideals blew a chill in the welcoming atmosphere he had first received – and the warm Southern hospitality was losing its steam. The final frost would come…
On Saturday night, 30 January 1841, Poore hosted a ball in his "bachelor hall" and his guestlist included "mulatto" women. The news spread like wildfire and Poore and his cohorts were summoned to court.
According to records housed in the Clarke County Court House in Athens, Poore is listed with Jacob Grover, William Flemming, Bartley W. Murdock, Elisha Royall, Benjamin Phinizy, and Thomas Sherwood – a group of men all charged for being "tainted" because they "unlawfully continued to dance and carouse and hug and embrace said female Negro slaves."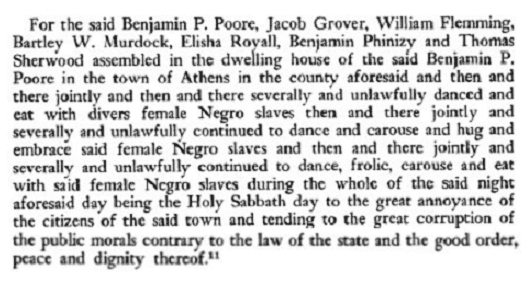 The other bad boys were released due to their family connections, but Poore's actions cost him $400. Poore retreated into Northern territory because he was "very close to becoming the star of tar and feather entertainment." In 1885 the Atlanta Constitution recapped how wild Ben outraged the old citizens of the town and declared: "There never was such an orgie [sic] given as was witnessed in Athens that night."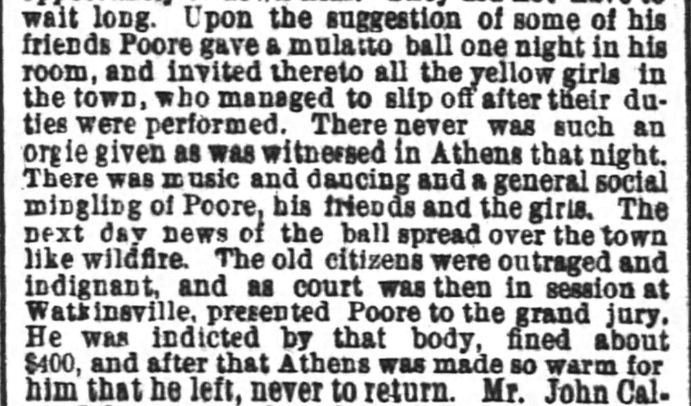 Poore could not understand how people looked upon him with such unpleasantness. He honestly thought he was not guilty of any social impropriety. Poore cut his losses on the newspaper and moved on.
The Southern papers rehashed the scandal again during the Civil War when Poore rose to the rank of Major in the Second Massachusetts Regiment. This Yankee was still ruffling the feathers of Georgian society, as shown by this headline: "Poore Has Found His Level at Last – A Major in Lincoln's Army." (Athens Banner, Athens, Georgia, 1861.)
The stint in Athens did not stain this raconteur – shortly afterward, he was appointed attache to the United States minister in Belgium. After all, Poore was bred from the sturdy stock of Newbury pioneers who drank enough punch and flip to fill the channel beneath Choate bridge – and probably never a headache in one. (Hon. Ben: Perley Poore of our sister town, West Newbury, speech 1844.)
Note: Just as an online collection of newspapers, such as GenealogyBank's Historical Newspaper Archives, told the stories of Benjamin Perley Poore's life, they can tell you stories about your ancestors that can't be found anywhere else. Come look today and see what you can discover!
Thanks to Johanna McBrien, former editor of Antiques and Fine Arts Magazine.
Sources and Further Reads:
Hull, Augustus Longstreet. "Annals of Athens, Georgia, 1801-1901." Hull Banner Job Office Athens, Georgia, 1906.
Ritchie, Donald A. "Press Gallery: Congress and the Washington Correspondents." Harvard University Press, 30 June 2009.
Grant, Donald Lee. "The Way It Was in the South: The Black Experience in Georgia." University of Georgia Press, 2001.
Talmadge, John E. "Ben: Perley Poore's Stay in Athens." The Georgia Historical Quarterly, Vol. 41, No. 3, September 1957.
Farrish Carter Papers, Wilson Library at the University of North Carolina at Chapel Hill. Collection Number: 02230.
[Letter] 1840 Feb. 18, Coosawatee, G[eorgi]a [to] Graham Parsons Esq[uire], Massachusetts / Benjamin Poore: Benjamin Perley Poore, Hargrett Rare Book and Manuscript Library, The University of Georgia Libraries, presented in the Digital Library of Georgia.
Record of Bills of Indictment Book, September 1814-1846, Record Book No. 2, p. 131.
Farish Carter Scott B. Thompson blog.
Genealogy:
Benjamin Poore (1797-1853), son of Daniel Noyes Poore (1758-1837) and Lydia Little Merrill (1772-1852).
Mary Perley Dodge (1799-1861), daughter of Allen Dodge (1771-1837) and Mary Burroughs (1770-1844).
Ben: Perley Poore (1820-1887), son of Dr. Benjamin Poore and Mary Perley Dodge, married Virginia Dodge (1826-1894), daughter of Francis Dodge (1782-1851) and Elizabeth Thomson (1787-1845).
Children of Ben: Perley Poore and Virginia Dodge:
Emily Poore (1850-1883).
Alice Poore (1851-1883), married Frederick Strong Moseley (1851-1938), son of Edward Strong Moseley (1813-1900) and Charlotte Augusta Chapman (1812-1893). "Maudslay" the Moseley Estate (Newburyport, Massachusetts), 1906-1995: Guide.