Introduction: In this article, to celebrate today being National Arbor Day, Mary Harrell-Sesniak explores the family tree—and some of the stories—of the legendary Johnny Appleseed. Mary is a genealogist, author and editor with a strong technology background.

In honor of today being National Arbor Day, let's explore the life, legacy and ancestry of John Chapman, who is more widely known by his nickname "Johnny Appleseed" (26 September 1774 – 18 March 1845). Although the famous American arborist never had children of his own, his New England ancestry has several items of interest.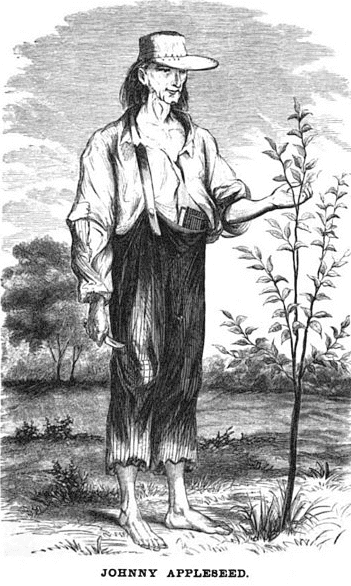 Johnny Appleseed's Family
Born as John Chapman in Leominster, Massachusetts, Johnny was the son of Nathaniel and Elizabeth (Simonds) Chapman, who married on 8 February 1770. (See http://en.wikipedia.org/wiki/Johnny_Appleseed.)
He had one older sister, Elizabeth, and a younger brother named Nathaniel (or Nathanael), both named after their parents. Johnny shares a name with his grandfather John Chapman (1714 – 1761), who passed away about 13 years prior to his birth.
Johnny's life with his mother was short-lived. She died in 1776 shortly after giving birth to his brother Nathaniel.
Familysearch.org has several references to Johnny Appleseed's family tree in their databases:
Within the context of history, several events framed the circumstances in the family's life—most notably the American Revolution and the settling of Ohio.
Johnny's father Nathaniel was a Minuteman who fought at the Battle of Concord on 19 April 1775, and later served in a more official capacity.
Four years after his mother died, Johnny's father remarried. On 24 July 1780 Nathaniel Chapman married his second wife: Lucy Cooley, daughter of George and Martha (Hancock) Cooley. Lucy became the maternal figure in Johnny's life, but since she bore an additional 10 children, her focus may not have been on Johnny. (See https://familysearch.org/pal:/MM9.1.1/FC8R-64G.)
Johnny's Younger Life & First Plantings
No documents chronicle the facts of Johnny's younger life, despite much having been written speculating about his passion for apple trees. Some theories are that his father, a farmer, instilled a love of trees in his son—resulting in Johnny becoming the nation's premier nurseryman/arborist on the frontier.
Johnny lived a life of devout faith and considered himself a missionary of Swedish native Emanuel Swedenborg (1688 – 1772). (See http://en.wikipedia.org/wiki/Emanuel_Swedenborg.)
Some accounts report that Johnny used apple seeds from Potomac cider mills for his first plantings, located in the Wilkes-Barre area of Pennsylvania. He may have lived in Pittsburgh around 1794 during the time of the Whiskey Rebellion—a farmers' uprising against paying taxes on the whiskey they made from grain and corn.
As land opened up the family ventured west to the frontier of Ohio, settling in Monroe Township. Johnny is thought to have joined them by 1805, although he may have gone there earlier, planting apple trees. Some trees he gave away, or bartered to pioneer settlers for useful implements. When he sold trees, it was reportedly for the sum of a "fippenny" or "fip-penny-bit," the equivalent of about six cents a tree—as explained in this newspaper article.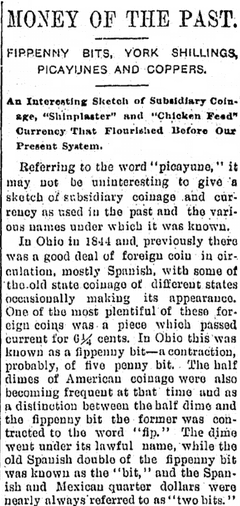 Fact or Fiction: Was Johnny Appleseed Truly an Eccentric?
After his death, newspapers described Johnny as an eccentric with shabby dress. Some accounts report that he used a tin pot as a hat, and these descriptions are colorful, if somewhat exaggerated. For example, this 1891 newspaper article states:
One of the quaintest, queerest and most original characters that ever trod the trackless wastes of the western wilderness was Jonathan Chapman, known as old Johnny Appleseed…His pinched and grizzled features were covered by a growth of very shaggy beard. His hair was quite long and very much faded by constant exposure to wind and weather…But old Johnny's crowning glory was an old tin mush pot that had a long handle. This battered old culinary utensil he wore for a hat.
This 1857 newspaper article describes how Johnny purchased his seeds in large quantities from nurseries near the Ohio River.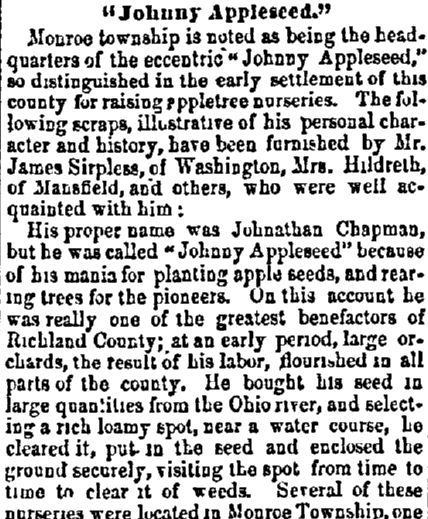 Johnny's Death
Johnny Appleseed died on 18 March 1845, at the age of 70. A transcription of his obituary from the Fort Wayne Sentinel of 22 March 1845 was located at the Obit of the day website. It seems to confirm that the old adage from Benjamin Franklin was really true: "An apple a day keeps the doctor away!"
Appleseed's obituary states:
In the most inclement weather he might be seen barefooted and almost naked except when he chanced to pick up articles of old clothing. Notwithstanding the privations and exposure he endured, he lived to an extreme old age, not less than 80 [70] years at the time of his death—though no person would have judged from his appearance that he was 60.
Are You Related to Johnny Appleseed?
If you're a plant lover or self-described arborist, I'd like to plant some seeds about kinship to Johnny Appleseed. He has ancestral connections to many early American settlers of the Northeast. According to numerous online family trees, the surnames in Johnny's extended family include:
Barker
Blodgett
Carter
Chandler
Chapman
Davis
Dresser
Eggleton
Fowle
Green
Jasper
King
Lawrence
Morse
Perley
Phippen or Phipping
Richardson
Simonds or Symonds
Smith
Stearns
Stone
Tarbell
Thorley
Trumbull
Walter
And if you explore reports of his famous cousins, Johnny Appleseed is connected to many former residents of our nation's White House, including: First Lady Abigail (Smith) Adams, John Quincy Adams, Barbara (Pierce) Bush, George H. W. Bush, George Bush, Calvin Coolidge, Lucretia (Randolph) Garfield, Richard Nixon and William Howard Taft.
In addition, Famouskin.com reports a kinship relationship with suffragette Susan B. Anthony, nurse Clara Barton, Wild Bill Hickok, actress Raquel Welch, and Walt Disney, among others.
For more information on John Chapman's life, see:
Johnny Appleseed's Last Surviving Tree
Since Johnny had no progeny of his own, it seems appropriate to commemorate his last surviving tree. This 1961 newspaper article has a long feature on Johnny which I recommend reading, including a picture of "the last surviving apple tree planted by Johnny Appleseed."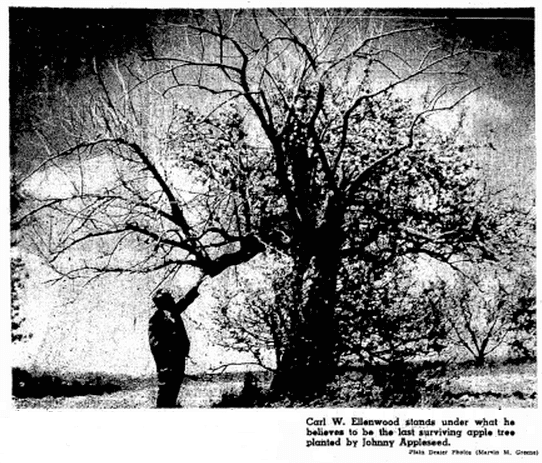 I hope you'll celebrate National Arbor Day by eating an apple or drinking cider. Who knows—the fruit may be a descendant from one of Johnny Appleseed's famous trees!
If you're related to John Chapman, please tell us how your family is connected in the comments section.
(Visited 6,018 times, 1 visits today)