While doing genealogy research recently in GenealogyBank's Historical Newspaper Archives, I came upon the obituary of a woman identified only as "a female slave named Alice," who died at Bristol, Pennsylvania, at the remarkable age of 116!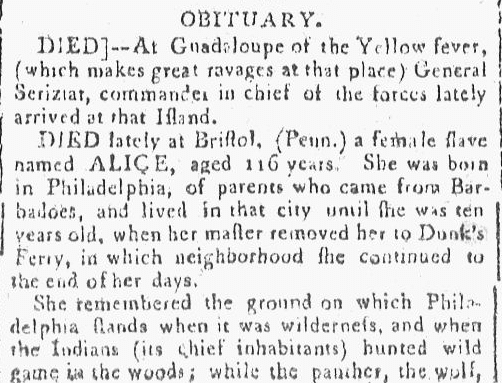 Alice was only 10 when she was taken from her parents in Philadelphia, Pennsylvania, to Bristol, Pennsylvania – where she lived in servitude as an African American slave the rest of her days. The newspaper article states that her parents were from Barbados.
[search_box]
Philadelphia was founded in 1682 – so her family had to be among the first African American slaves brought to that area. Bristol township in Bucks County was founded in 1692.
Because of her extreme old age and excellent memory, Alice served as a local historian for the community. According to her obituary:
Being a sensible, intelligent woman, and having a good memory, which she retained to the last, she would often make judicious remarks on the population and improvement of the city and country; hence her conversation became peculiarly interesting, especially to the immediate descendants of the first settlers, of whose ancestors she often related acceptable anecdotes.
The old news article relates some of the memories she shared with her neighbors:
She remembered the ground on which Philadelphia stands when it was wilderness, and when the Indians (its chief inhabitants) hunted wild game in the woods; while the panther, the wolf, and beasts of the forest, were prowling about the wigwams and cabins in which they lived.

She remembered William Penn, the proprietor of Pennsylvania; Thomas Story, James Logan, and several other distinguished characters of that day.
The old 1800s obituary also tells a wonderful story about Alice herself:
She was a worthy member of the Episcopal society, and attended their public worship as long as she lived. Indeed she was so zealous to perform this duty in proper season, that she has often been met on horseback in full gallop to church, at the age of 95 years.
The old newspapers in GenealogyBank's archives have her remarkable life story.
Find your ancestors' stories – don't let them be lost to your family.
Note: FamilySearch International (FamilySearch.org) and GenealogyBank are partnering to make over a billion records from recent and historical obituaries searchable online. The tremendous undertaking will make a billion records from over 100 million U.S. newspaper obituaries readily searchable online. The newspapers are from all 50 states and cover the period 1730 to the present.  Find out more at: https://www.genealogybank.com/family-search/
Related African American Slavery Articles:
[bottom_post_ad]