Introduction: In this article, Gena Philibert-Ortega searches old newspapers and other sources to learn about the WWII African American pilots known as the Tuskegee Airmen. Gena is a genealogist and author of the book "From the Family Kitchen."

Racial segregation in the United States immediately brings to mind a time period when civilian life included prohibitions involving transportation, schools, and services in public buildings. The U.S. military has a long history of segregation as well. The Civil War and World War I found African Americans fighting in segregated units denied opportunities available to white soldiers. World War II was no different. Not only were African American soldiers segregated, they were not allowed full participation in all aspects of the military.
Denied entry into the U.S. Army Air Corps flight training, African American pilots and other soldiers were eventually allowed to participate in a segregated training facility at Tuskegee Army Air Field in Tuskegee, Alabama, and they became known as the Tuskegee Airmen. Like other ethnically segregated units (such as the 442nd Infantry Regiment and other Japanese American units), the Tuskegee Airmen faced widespread discrimination yet served their country with honor in spite of these obstacles.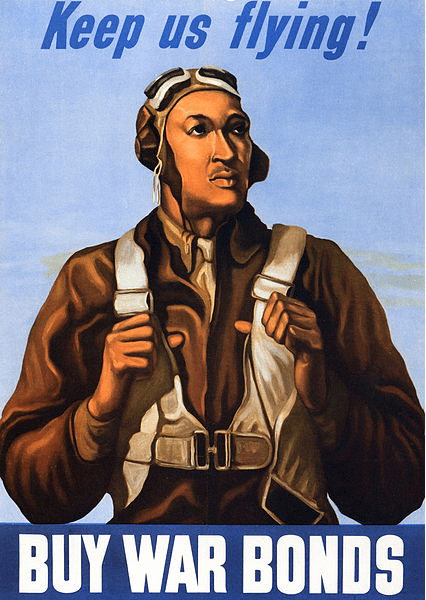 The Tuskegee Airmen
Who were the Tuskegee Airmen? According to the Tuskegee Airmen Inc. website:
"Tuskegee Airmen" refers to all who were involved in the so-called "Tuskegee Experience," the Army Air Corps program to train African Americans to fly and maintain combat aircraft. The Tuskegee Airmen included pilots, navigators, bombardiers, maintenance and support staff, instructors, and all the personnel who kept the planes in the air.
This 1997 newspaper article announcing a presentation by a former Airman provides a brief history of this impressive group.
A highly decorated group of African American aviators, the Tuskegee Airmen battled German opposition on the field and discrimination from high ranking U.S. political and military leaders off the field during World War II. The Airmen's military skills and determination to succeed resulted in their group accumulating 50 Distinguished Flying Crosses, a Legion of Merit, 77 Air Medals, eight Purple Hearts, two Soldier Medals, 14 Bronze Stars and the Red Star of Yugoslavia.
Over 75 years have passed since that first class of airmen. The history of these soldiers is recorded in artifacts of the time and in the newspaper interviews and memoirs they have left behind. For example, in this newspaper article about Lieutenant Colonel Charles Dryden and his book A-Train: Memoirs of a Tuskegee Airman, he tells the story of his time as an Airman but begins with his life as "…a small boy whose parents from Jamaica, West Indies, strived to see him educated and assured of success." Dryden was "enlisted in the aviation program after completing the basic and advanced civilian flying program while a student at city college in New York."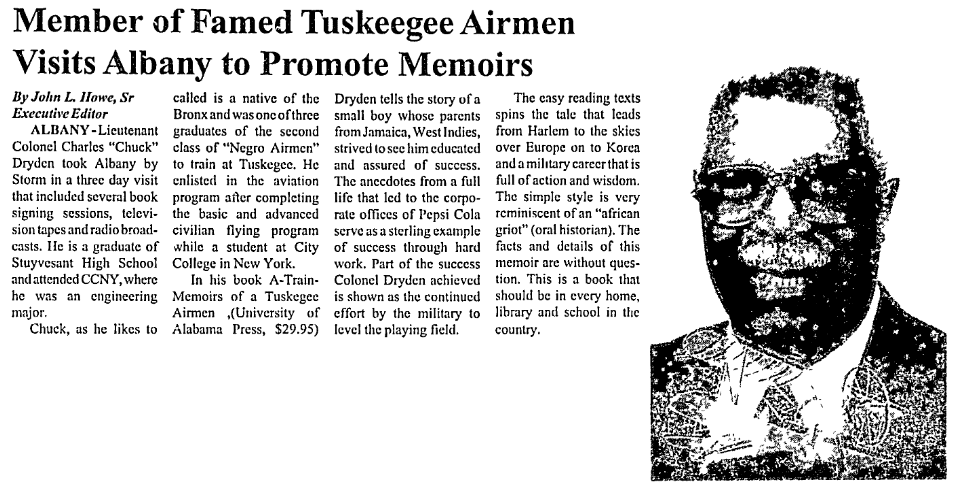 Dryden's book provides us a personal history of the war and the work of the Tuskegee Airmen.
After the War
Three years after the end of World War II, an Executive Order signed by President Henry S. Truman desegregated the military. Nearly 60 years later, in 2007, the Tuskegee Airmen received their long-overdue appreciation when they collectively earned the Congressional Gold Medal.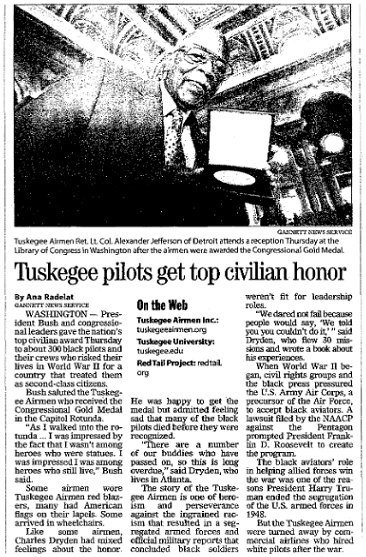 For Your Research
Researching the life of a Tuskegee Airman? One of the first places you'll want to seek out is the University of California at Riverside's Tuskegee Airmen Archive. According to this website:
The UCR Library seeks to document the Airmen and Women's contributions to aviation and military history…Personal letters; photographs; oral histories; petitions; documentation of careers before, during, and after military service; books by and about the Airmen; diaries; records of the local and regional chapters; posters; African American military history; memorabilia; and other historic resources are all a part of the Archive.
Of course, newspaper research using GenealogyBank's Historical Newspaper Archives is a must when learning more about a person's life. In addition to searching on a specific name, also make sure to conduct searches on the specific group the soldier was a part of. To find the following article, I searched on the 332nd Fighter Group and narrowed the dates to 1941-1945.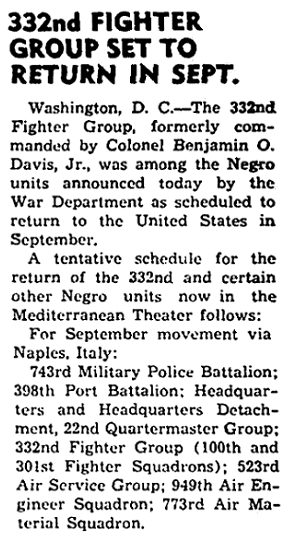 The Tuskegee Airmen are an important part of the history of America in World War II. What part did your World War II-era soldier play?
Genealogy Tip: Spelling doesn't always count in genealogy. Take for instance my newspaper research for the Tuskegee Airmen. On my initial search I misspelled Tuskegee as "Tuskeegee." Well it would seem that I'm not the only one. On that misspelled search I received 22 results, all with newspapers that misspelled the same word. Don't forget to conduct multiple searches because spelling isn't always consistent in newspapers!
Related Articles: