Introduction: Gena Philibert-Ortega is a genealogist and author of the book "From the Family Kitchen." In this blog post, Gena discusses the historic role that African American towns have played in American history, and shows how ethnic newspapers—such as those in GenealogyBank's African American Newspaper Archives—can help you explore your family history and this part of America's past.
Browsing through search results on GenealogyBank for our family history research, we may not always take the time to understand the communities that a newspaper represented. We typically are more focused on finding an ancestor's name than researching the newspaper where their name is printed. The newspaper search results we peruse might be from newspapers in a city or county we are not familiar with. In other cases it may be a newspaper that serves a specific ethnic or religious community. And in some cases the newspaper may represent something even more.
If you search the newspaper titles for Kansas available on GenealogyBank, one city that is represented is Nicodemus. Nicodemus, Kansas, is a historic black town, settled by African Americans at the end of Civil War Reconstruction. Founded in 1877 and now a historic site, Nicodemus is the oldest and one of the few remaining Black settlements west of the Mississippi.*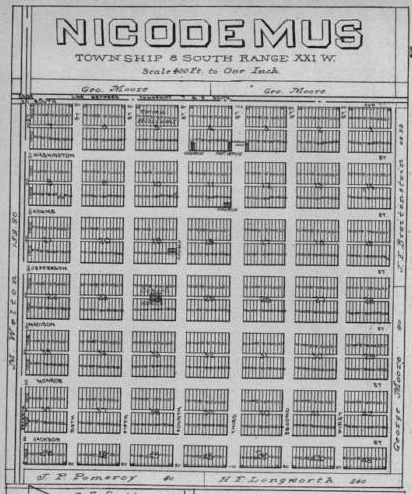 Historical Black Towns
Nicodemus is not unique—since colonial times, African Americans have founded and settled "self-segregated" towns. These towns, especially after the Civil War, provided a place of safety and opportunity for families.** When the promises of Reconstruction didn't happen, black towns provided African Americans with the opportunity that full citizenship offered Caucasians, including the ability to own businesses and land, hold public office and vote undisturbed in elections. According to the Library of Congress, at the signing of the Emancipation Proclamation on 1 January 1863, less than 8 percent of African Americans lived outside of the Southern United States. Even though the majority of African Americans still live in the South, there was a migration of some 60,000 African Americans in the 1870s to Kansas and the Oklahoma Indian Territories.***
African American Newspapers
The founding of historical black towns goes hand-in-hand with ethnic newspapers. According to Professor Rhonda Ragsdale, whose research on black towns led to her starting the website The Black Towns Project, newspapers played a huge role in the development of black towns. The men who founded these towns were involved in real estate and newspapers. In addition, they advertised in ethnic newspapers looking for potential settlers for their new towns.
The newspapers found in GenealogyBank's African American Newspaper Archives encompass all types of newspapers, from religious, to ethnic papers serving a larger city, to those serving specifically black towns.
For example, GenealogyBank has two newspapers for Nicodemus, Kansas: the Nicodemus Cyclone and the Nicodemus Enterprise.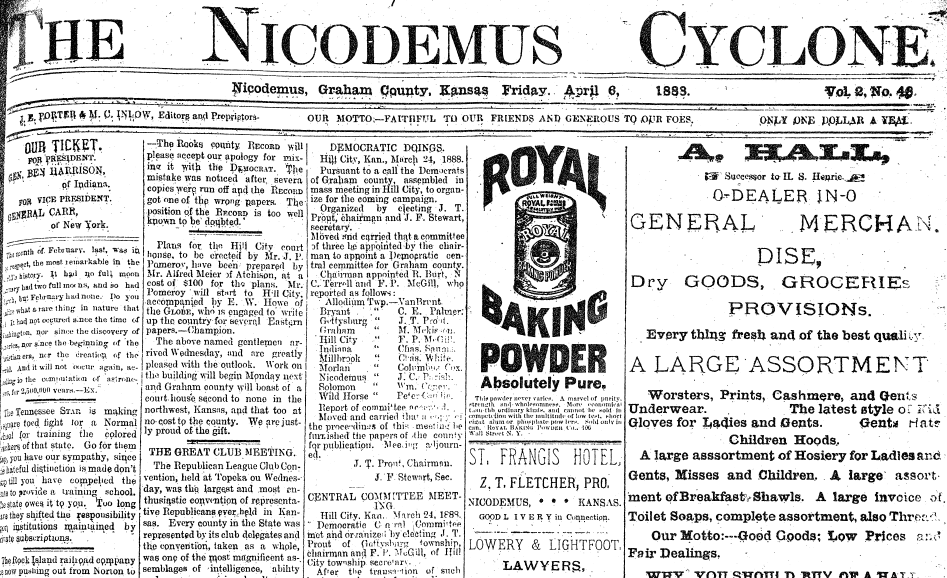 To learn more about Nicodemus, see the Nicodemus National Historic Site page from the National Park Service, and the African American Mosaic: Nicodemus Kansas page from the Library of Congress. A list of historically black towns can be found at the website The Black Towns Project. Archives and libraries to help in your research include: The Black Towns Project Archive and Reading Room in Ada, Oklahoma; the Oklahoma History Center; and The Schomburg Center for Research in Black Culture.
Other historically black towns are also represented in GenealogyBank's online collection, including newspapers for Langston, Oklahoma, and Mound Bayou, Mississippi.
Have an ancestor who lived in a black town? Professor Ragsdale confirms that "ethnic newspapers are an unexplored goldmine." Your first stop needs to be researching newspapers that document the town's community and history. You can learn more about GenealogyBank's African American newspaper collection, which spans 1827-1999, by browsing the collection's homepage.
——————-
* Nicodemus National Historic Site. "Go to Kansas." http://www.nps.gov/nico/index.htm Accessed 25 August 2014.
** The Black Towns Project. About the Project. http://www.blacktownsproject.org/ Accessed 25 August 2014.
*** The Library of Congress. African American Mosaic. http://www.loc.gov/exhibits/african/afam008.html Accessed 25 August 2014
Related Articles about African Americans: