Like many of you, I am related to Revolutionary War veterans with fascinating stories of their own. One of these is my fifth-great-grandfather Lieutenant Joseph Appleby (1731-1792).
I know from my own family history that Joseph's home was used as George Washington's war headquarters in 1781. It stood on what is now Secor Road in Dobbs Ferry, New York. The WFAS radio station offices are now located on this site. Joseph served as a 2nd lieutenant in the First Regiment of Westchester County, New York Militia.
I wanted to learn more about my ancestor and his role in the American Revolution, so I searched for more information in GenealogyBank's Historical Newspaper Archives.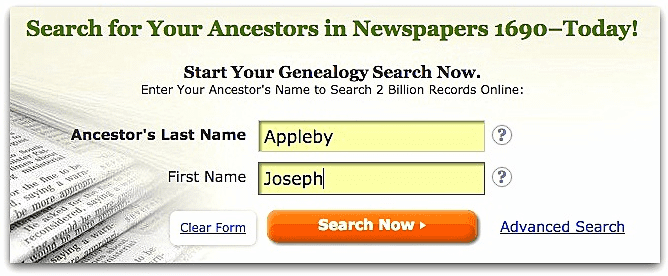 This search generated way too many search results, so I narrowed it down by searching for Joseph's full name with the keyword "Dobbs Ferry."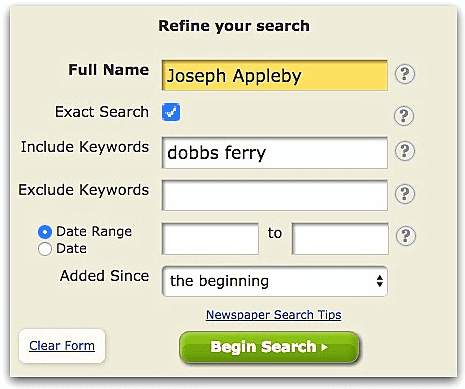 This search generated an article about the New York Society of the Sons of the American Revolution's celebration in Dobbs Ferry.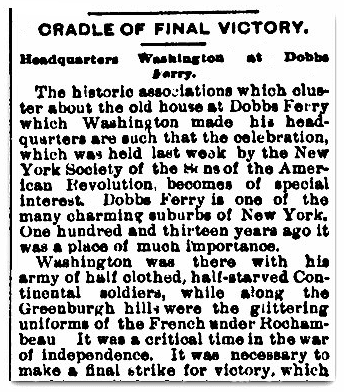 The article continues with additional information about the role my ancestor's home played in securing American victory in the Revolutionary War.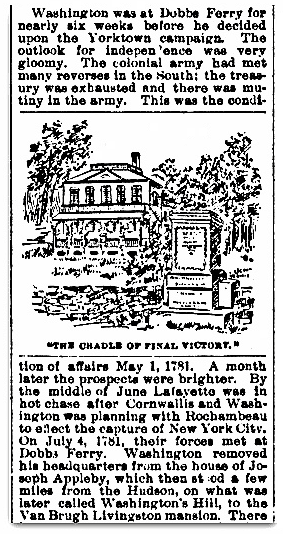 "Washington was at Dobbs Ferry for nearly six weeks before he decided upon the Yorktown campaign. The outlook for independence was very gloomy… A month later the prospects were brighter. By the middle of June Lafayette was in hot chase after Cornwallis and Washington was planning with Rochambeau to effect the capture of New York City. On July 4, 1781, their forces met at Dobbs Ferry. Washington removed his headquarters from the house of Joseph Appleby, which then stood a few miles from the Hudson, on what was later called Washington's Hill, to the Van Brugh Livingston mansion."
According to an article in the Lexington Leader, Livingston proposed that Dobbs Ferry be renamed after himself because "the aristocracy who had to have their letters addressed there" felt that "Dobbs Ferry" was a "vulgar name."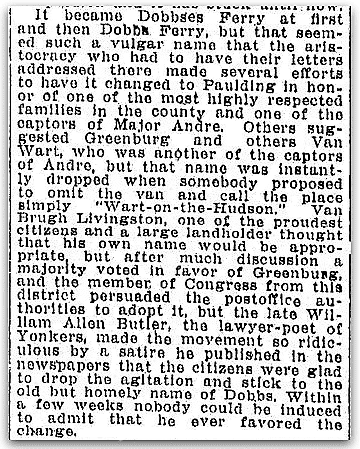 In the end, however, "the citizens were glad to drop the [renaming] agitation and stick to the old but homely name of Dobbs."
Today, Dobbs Ferry is part of the town of Greenburgh, New York, but the village of Dobbs Ferry, New York, retains its original name.
Genealogy Tip: Find more information about the roles your ancestors and their hometowns played in American history by searching GenealogyBank's Historical Newspaper Archives.
Related Articles: