When Revolutionary War veterans died, their obituaries often provided details of their military service. This obituary of a centenarian who died in 1832 is a good example.
Portugal-born John Peters (1731-1832) survived the Great Lisbon earthquake of 1755. The earthquake hit 1 November 1755 and the devastation was massive. Around 85% of Lisbon's buildings were destroyed by the earthquake and from the fires and tsunami that came later (source: Wikipedia). He immigrated to the United States soon after the earthquake.
Once here he joined in the Revolutionary War from the very beginning, and was at the Boston Tea Party on 16 December 1773. He fought at the Battle of Bunker Hill on 17 June 1775 – where he was wounded. That is when he lost his finger. He fought all during the war and was "at Valley Forge, where he was again wounded" (1777-1778).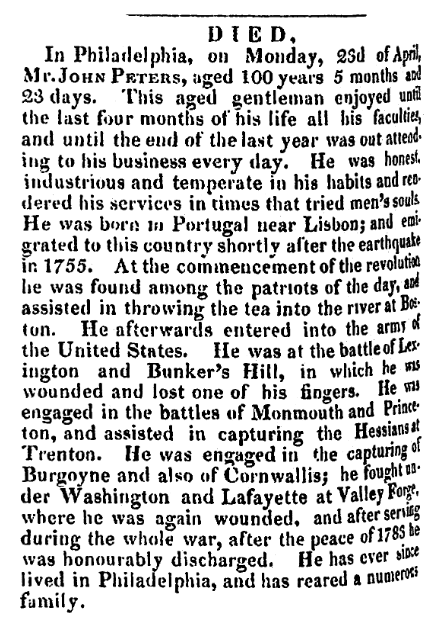 "He was honest, industrious and temperate in his habits" and "ever since [the war, he] lived in Philadelphia, and has reared a numerous family."
There was no word on which finger he lost.
Millions of #OurStories are preserved in GenealogyBank's Historical Newspaper Archives – find them, read them – don't let their stories be lost.
Related Articles: