Introduction: In this article, Melissa Davenport Berry relates an interesting story about a coachman, William Beattie, who bailed out his millionaire employer, James Hobart Moore. Melissa is a genealogist who has a blog, AnceStory Archives, and a Facebook group, New England Family Genealogy and History.
While doing some research in GenealogyBank's Historical Newspaper Archives recently, I came upon this story of William Beattie.
When the magnate financier James Hobart Moore departed this earth 17 July 1916, the public learned that the wealthy tycoon had a very tender affection for those who were in his service. Although Moore's generosity was well known by a multitude of charitable donations, it was the deep pockets of gratitude to one coachman that make this millionaire magnet stand out.
James H. Moore took a $4 million hit when his Diamond Match Company crashed and drained all his funds. He became a pauper overnight. William Beattie came to his rescue.
Beattie, coachman for Moore, was more than happy to clean out his bank account to help his employer when Moore's credit was over-strained.
Years later, when Moore died, the sacrifice Beattie once made for him – and Moore's generous response in return – were reported by the San Francisco Chronicle.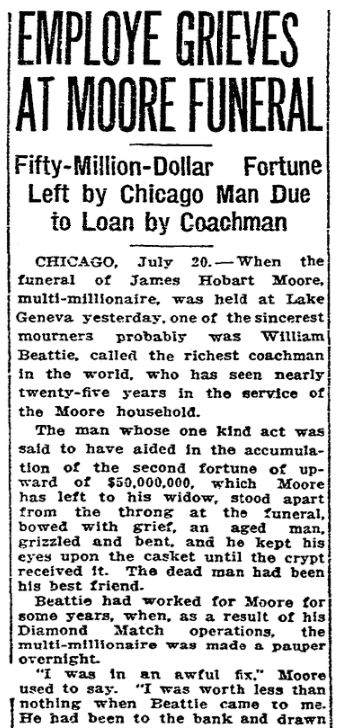 According to this article:
"I was in an awful fix," Moore used to say. "I was worth less than nothing when Beattie came to me. He had been to the bank and drawn out every cent he had saved, $2,000. 'Take it,' he said. 'I got it from you, and you are welcome to keep it as long as you want it.'"
Moore accepted the sum and never forgot this kind gesture, which got him through the crisis.
In a single year, by organizing the National Biscuit Company and the American Tin Plate Company, as well as several steel companies, Moore made his next round of millions and he paid Beattie back – so richly that the coachman was worth over $100,000.
Despite his windfall Beattie remained coachman for Moore's widow, Laura Josephine Small Moore.
Beattie had it pretty good working at the Moore estate "Loramoor" in Lake Geneva, Wisconsin, known as "The Newport of the West." The estate was valued at $15 million and the stables were the finest around, "a model of comfort, luxury, and elegance, built to accommodate 60 horses in oak stalls trimmed with brass and leaded glass partitions separating carriages from stalls." (Lake Geneva Historical Society Bulletin)
According to the newspaper articles published after Moore's funeral, Beattie invested in a Tennessee plantation.
Beattie was not the only lucky laborer to benefit from Moore's bounty, as reported by the Elkhart Truth.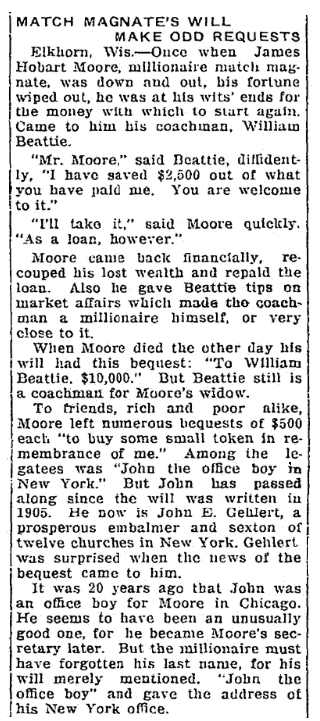 According to this article, Moore's will gave $500 to "John the office boy." The legatee was tracked down. His name was John Edward Gehlert, a prosperous embalmer and sexton for several New York churches. He told the paper he had not worked for Moore in 20 years.
On the day of Moore's funeral Beattie, aka "the richest coachman in the world," told a reporter: "Anyone who worked for Mr. Moore would have done what I did."
Genealogy: James Hobart Moore (1852-1916), son of Nathaniel Ford Moore (1818-1888) and Rachel Arvilla Beckwith (1818-1904); married Laura Josephine Small (1864-1945), daughter of Edward Small (1829-1882) and Mary Roberts (1828-1911), Mayflower Descendants.