Introduction: In this article, Gena Philibert-Ortega searches old newspapers to see what costumes were used in Halloweens past. Gena is a genealogist and author of the book "From the Family Kitchen."
Halloween is tomorrow and it's the night that the parade of goblins and spooks come to their neighbors' doors hoping for lots of treats without any tricks. Growing up, my costume usually consisted of what we had around the house that we could use to create a Halloween look. Later, I thought I had become much cooler when my parents broke down and allowed the purchase of an "official" Halloween costume that came in a box with the cellophane window – complete with a plastic mask and outfit that made us sweat in the not-quite-fall Southern California weather.
Looking through GenealogyBank's Historical Newspaper Archives, it's interesting to find styles of Halloween costumes and how they reflect the time period and popular culture. While old newspaper articles do give ideas for how to put together a costume inexpensively, I also found articles dating back to the early 20th century for stores boasting of their ready-made costumes or their selection of fabrics so that you could make your own costume. Whether the costume was homemade or purchased, it's obvious that people have long enjoyed the day off from reality that Halloween provides.
Here's a quick look back at some easy-to-make costumes from yesteryear.
1920s
So, what were the costumes from the Flapper age like? This 1922 newspaper article suggests starting with a slip or some other cloth foundation and then adding to it "tulle, crepe paper or cheesecloth." Costume ideas run the gamut of plant life, such as a rose or a turnip, to people such as a Hawaiian dancer.
1930s
Betty Furness, an actress who later worked in consumer affairs, shares some of her ideas for Halloween costumes in this newspaper article from 1937. Her illustrated ideas include a Merry-Go-Round, Buck Rogers, and the perennial favorite – a ghost which requires a "hair of serpentine, big home-made cotton gloves, a white satin gown, and a thin white veil."
Buck Rogers was most likely a popular choice. He was introduced in 1928, but by the 1930s he started having space adventures which might have influenced the costume shown in this article.
1950s
If all you want is that one thing that will make the difference between "every day" to "Halloween festive," you could make a skeleton mask or a witch's hat from items in your house, according to this newspaper article from 1955. The skeleton mask uses tin foil and is molded to the wearer's face.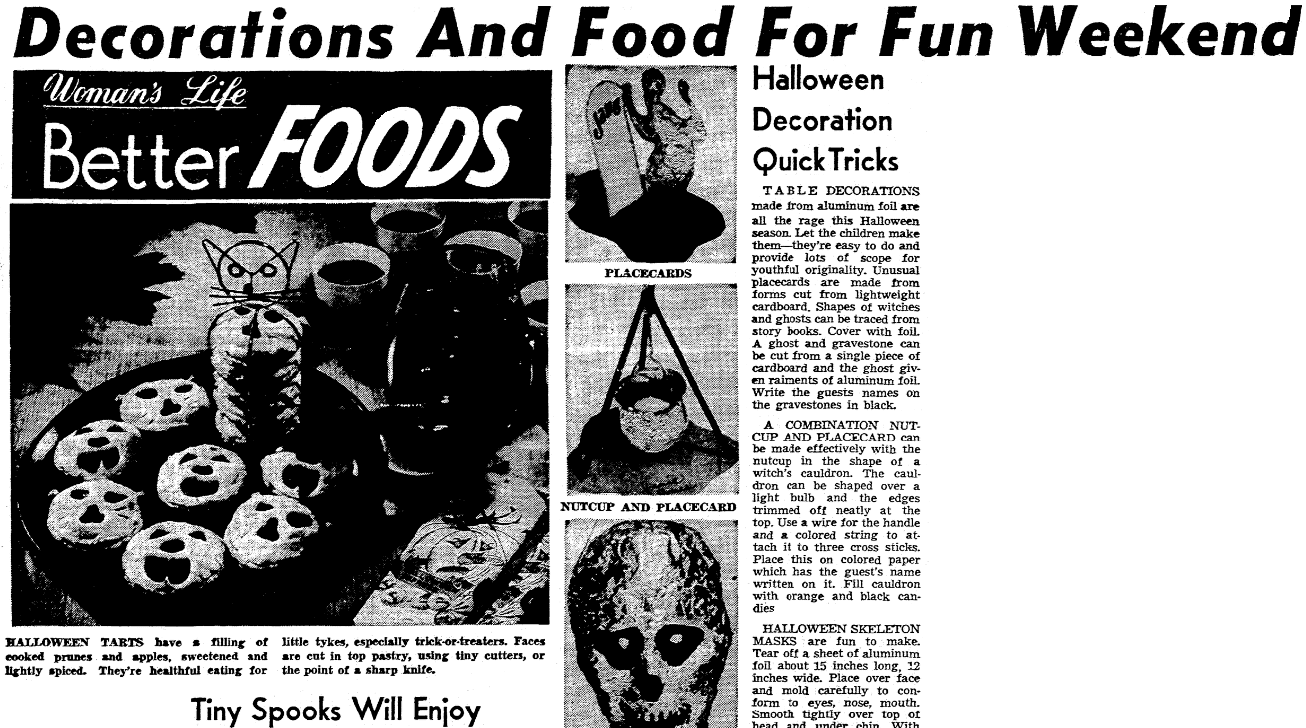 1960s
For those who need something FAST and really have to use what they have on hand, you could take this flippant suggestion from a 1967 newspaper advice column to "Cinderella" who didn't want to spend any money on the costume party she was attending.
1970s
Fast forward to the 1970s and easy-to-make costumes are still important, but the suggestions are different and include a pumpkin, a clown, and a tom cat. This article points out that "Unusual Halloween costumes are relatively easy and inexpensive to make… the biggest expenditure is time, and with a young child that's always time well spent." Other costume ideas mentioned that seem to never go out of style include witches, demons, and pirates.
Who Will You Be This Year?
Now's the time to figure out the answer to that question. Luckily historical newspapers might give you an easy, cheap, and unusual answer.