Introduction: Gena Philibert-Ortega is a genealogist and author of the book "From the Family Kitchen." In this blog article, Gena examines the various social media channels that exist for genealogy and shows how they can help your family history research.
I remember the more recent "good old days" of genealogy. In those days, connecting with other researchers meant reading Everton's Genealogical Helper magazine, where pages of researchers' messages resided. I eagerly read those blurbs looking for my surnames, hoping to connect with a yet-unknown cousin who was trying to track down the same information I was.
I miss that magazine but I'm grateful to live in a time where making genealogical connections is considerably easier, thanks to the rise of the Information Age. With online message boards and numerous social media channels, I'm able to make connections in ways that my family historian grandmother could only imagine.
Are you using social media for your own genealogy? I realize it's not everyone's cup of tea, but seriously consider trying at least one social media network (Twitter, Facebook, GenealogyWise, Google+, YouTube are examples), or create a family history blog so that you can take advantage of all that modern-day genealogy offers.
Whether you are just dipping your toes in the ocean of social media or a seasoned user, consider these ways that social networking can benefit and enhance your genealogy research.
Seeking Family History Information
Genealogy research often raises more questions than answers, so I'm glad that I'm able to go online and seek guidance from libraries, archives and other family history researchers when I need to ask a question or talk through a tough research problem.
Twitter
There are various ways that I do this, but one method is crowd-sourcing questions using a social media website like Twitter. I add relevant hashtags to my post that expand the reach of my question beyond just the people that follow me (some examples include #genealogy or #familyhistory). For questions I want to direct specifically to one person or institution, I use the direct message feature so that we can have a longer, private conversation. Note that Twitter apps such as Tweetdeck can help you track your responses more easily.
Also, try searching the names and hashtags of genealogical societies, companies, magazines, conferences and more, to find accounts to follow and stay on top of what is going on in the community, as shown below.
See: #genealogybank Twitter search
Facebook
Obviously there are other ways to ask questions and seek information. Facebook's specific subject groups are a great place to direct questions to those who have an interest in a certain type of research (like newspapers for example) or who use a website or software product. To find relevant groups, use the search engine located at the top of Facebook and enter keywords like "genealogy" or your favorite website or software program. Note that you must be logged into Facebook to search.
Follow Genealogical Societies, Organizations & Companies
Don't forget to follow your favorite libraries, historical archives and genealogy companies on social media. They often post great resources to try, as well as information about emergency closings. Their social media channels are a great way to stay informed. For example, to find genealogy groups on Facebook, type "genealogy" into the search box and then select the "Pages" tab to get a listing of related pages to follow. Note that you must be logged into Facebook to search as shown below.
Attract Cousins
How do distant relations know of your research unless you have information about yourself out "there"? Leaving a virtual trail is one way people can find and connect with you to share information as well as answer questions. In my research, it's through looking at online family trees, message boards and social media websites that I find modern-day descendants to share information, ask questions, and on occasion, reunite a family heirloom that I have found in an antique store.
I know it's your genealogy research and I understand how protective you are of the work you've invested in it. But make it easier for others to find you. While some communications could be frustrating, others might result in wonderful things like a lost heirloom making its way back to your family. Get out there in the virtual world by using a genealogy blog or website to post information about your family history research. Then add a family tree or family images to share.
As one example, I put together a blog about an early 20th century couple I am researching. An antique dealer Googled the name she found on a painting (the wife was a painter), found my blog and then contacted me with information. Researching family history is not just about searching websites – it's also about making connections with people who share your passion.
Learn More from GenealogyBank
We all could use a little help now and then. That's why I always appreciate genealogy website social media tools. GenealogyBank has numerous tools online to help you learn more about genealogy research, as well as using the website to find your ancestors.
What tools are available? For one, take a look at GenealogyBank's YouTube channel. Here you can find tutorials helping you do everything from finding family stories to using the GenealogyBank website itself. Sign into Google with your Google Account or your Gmail credentials and you can add your favorite genealogy tutorial videos to your YouTube playlist.
See: GenealogyBank tutorial videos on Youtube
GenealogyBank also has a Google+ account with links to a variety of family history blog posts.
See: GenealogyBank on Google Plus
Whom to Follow on Twitter for Genealogy
Those who know me know that I love Twitter. It's a great place to follow other researchers, libraries, archives, and your favorite genealogy websites. GenealogyBank can be found at @genealogybank. Don't forget to follow the GenealogyBank writers at their accounts: Gena Philibert-Ortega, @genaortega; Mary Harrell-Sesniak, @compmary; Duncan Kuehn, @FamBriarPatch; and Tom Kemp, @TomKemp.
GenealogyBank can also be found on Facebook and Pinterest.
[search_box]
I saved the best for last: the GenealogyBank blog. Frequent articles on the blog include nods to history, methodology, and ideas for your family history research. Don't forget that we also post the latest newspaper additions to GenealogyBank, so the blog is a great place to learn about what's new on the website.
I would recommend you add the GenealogyBank blog to your favorite blog reader by subscribing via the RSS feed. The RSS orange subscribe button can be found at the top right of the blog page.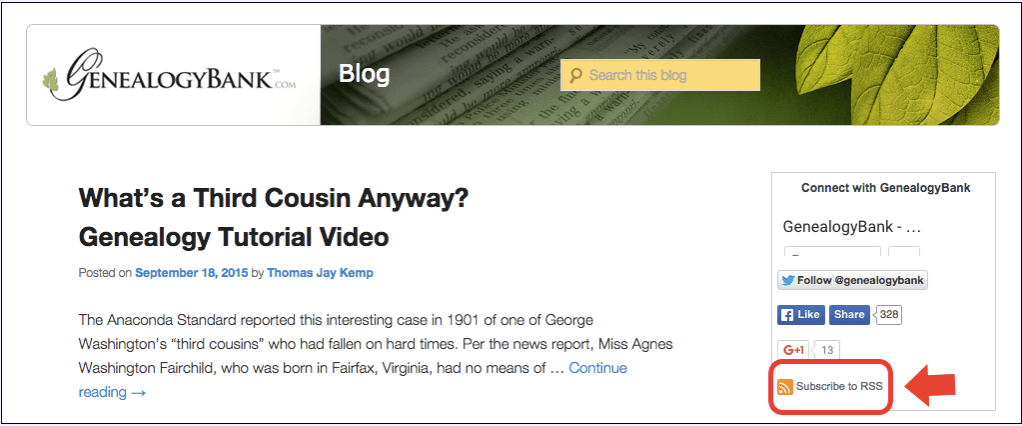 You can search blog postings by the date, name of the author (to find all my blog posts search on my name: Gena Philibert-Ortega), and even by tags. You can find tagged subjects for each article at the bottom of the post. These tags index the article by subjects, and those subjects might be shared by other posts. You can find social media share buttons (as well as the option to print your favorite posts) at the bottom of each blog article.
Why Use Social Media for Genealogy?
Social media is an important tool in family history research. It provides us opportunities to network, share, and find information. Even if you are overwhelmed by social media, give one of the above tips a try. You just might find that these online genealogy tools can help you find a new cousin or unravel that family history mystery you've been working on for a while. I'd love to hear your experiences finding family or answers via social media networking. Please use the comment section below to share your social media genealogy tips.
Related Articles:
[bottom_post_ad]