Introduction: In this article, Katie Rebecca Garner continues her series examining newspapers in various regions of the U.S. – and how helpful they are for your genealogy – focusing on newspapers in the South Central area. Katie specializes in U.S. research for family history, enjoys writing and researching, and is developing curricula for teaching children genealogy.
Since the advent of social media, people have used it to keep up with goings-on in the world and their communities. Before the internet, people relied on newspapers for this information. Therefore, newspapers are the ancestors of social media, and are an important resource to find information about our ancestors.
Notices published in newspapers include names, dates, and places, which are helpful in finding additional records of our ancestors. Notices informed the local community of births, marriages, divorces, deaths, and funerals. A common death notice is an obituary, which contains information about an ancestor's life that can be used to find other records of the ancestor and their family.
Other items published in newspapers include legal notices, estate sales, and advertising. A mention of an ancestor in an old newspaper gives direct clues for searching him or her. Even if no ancestor is mentioned, this kind of news gives a glimpse into what mattered to people in your ancestor's community.
Today we'll focus on newspapers from the South Central region of the United States. At the end of this article, I'll present a genealogy case study from one of the newspapers in this area to show just how helpful these papers can be to your own family history research.
Louisiana's earliest known newspaper is Le Moniteur, or Moniteur de la Louisiane. This was a French newspaper that existed from 1784-1815; only a few issues still exist.
Missouri's earliest extant newspaper is the Missouri Gazette, which was published from 1808-1814.
The Arkansas Gazette, Arkansas' first newspaper, is the oldest known newspaper west of the Mississippi River. It was published from 1819 to 1991.
The oldest newspaper in Texas, the Daily News (formerly known as the Galveston County Daily News and Galveston Daily News) was first published in 1842.
Oklahoma, when it was still Indian Territory, published the Cherokee Advocate, which ran from 1845-1901.
The Belleville Telescope, Kansas's oldest existing newspaper, was first published in Belleville in 1870.
Thanks to the internet, many newspapers are available online, including the more than 13,000 newspapers available in GenealogyBank's Historical Newspaper Archives
GenealogyBank's newspapers are divided into two collections, each with its own search page:
Newspaper Archives (complete paper with all articles, including historical obituaries, with a number of very rare single-issue newspapers – many of them are the only known issues of the paper)
Obituaries (including both historical and recent obituaries, if obits are specifically what you are searching for)
GenealogyBank currently has the following from the South Central states:
GenealogyBank adds new newspapers (and more issues from newspapers already in the collection) constantly, so online newspaper coverage keeps growing.
Case Study: Barbara Forster
An obituary was published for Barbara Forster in San Antonio, Texas, on Thursday, 11 September 1941, stating that she had died the day before and her funeral would be the next day at a Catholic church.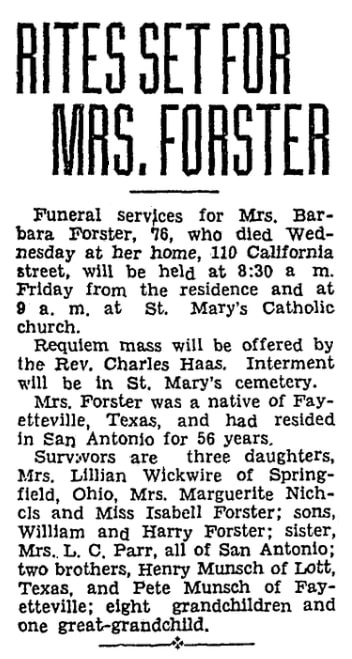 This suggests that she was Catholic and that Catholic Church records should be searched for her family. A quick check in the FamilySearch wiki indicated that Catholic Church records in Texas up to 1940 are available through the Catholic Archives of Texas; research there must be done in person because the records aren't available online.
Barbara's obituary further stated that she had resided in San Antonia for 56 years, which suggests she had lived there since 1885.
The following relatives are mentioned in Barbara's obituary:
Daughter, Mrs. Lillian Wickwire of Springfield, Ohio
Daughter, Mrs. Marguerite Nichols of San Antonio, Texas
Daughter, Miss Isabell Forster of San Antonio, Texas
Son, William Forster of San Antonio, Texas
Son, Harry Forster of San Antonio, Texas
Sister, Mrs. L. C. Parr of San Antonio, Texas
Brother, Henry Munsch of Lott, Texas
Brother, Pete Munsch of Fayetteville, Arkansas
Eight (unnamed) grandchildren and one (unnamed) great-grandchild
Since the brothers' surname is Munsch, this indicates that Barbara's maiden name is Munsch.
Further research in GenealogyBank's U.S. Census Records found the family in the 1900 census living in San Antonio, Texas. Barbara's husband was Joseph Forster; his occupation was hack driver, or a taxi driver.
Barbara and Joseph had been married for 15 years when the 1900 census was taken, putting their calculated marriage date at 1885. Based on this knowledge and information from her obituary, it appears that Barbara and Joseph Forster moved to San Antonio when they got married.

They were living with the following children in 1900:
Ella, age 12
Harry, age 10
Lillian, age 9
Margaret, age 6
William, age 3
Isabell, age 1
All the children were born in Texas. The 1900 census further states that Barbara had given birth to eight children and six were living. This means that two of her children died before 1900 and they may not be found on any census. A good place to find those children would be Catholic baptism and burial records.
To find Barbara in her early life, she can be searched on the 1880 and earlier censuses with her brothers to discover their parents and other siblings. Searching for Barbara and Joseph on later censuses can reveal other children they may have had.
Texas began keeping death records in 1903, so there should be a death certificate for Barbara Forster, and for any of her relatives who died in Texas. Death dates of her children and brothers can be discovered by searching them in the Social Security Death Index (SSDI) on GenealogyBank. Knowing the children's and brothers' birth years from the censuses will help in identifying them in the SSDI search results.
From just one newspaper article – Barbara Forster's obituary – her maiden name, place of residence, and names of several relatives were learned. With this one newspaper article from the South Central area, we have started to compile the names, dates, and stories of her life, and found clues that help guide further research. This is the excitement – and the importance – of using newspapers for genealogy. Good luck with your own family history research!
Resources:
Related Articles: