Introduction: In this article, Katie Rebecca Garner begins a new series examining newspapers in various regions of the U.S. – and how helpful they are for your genealogy – starting with the Mid-Atlantic region. Katie specializes in U.S. research for family history, enjoys writing and researching, and is developing curricula for teaching children genealogy.
Before the internet and social media, people kept track of community goings-on via newspapers. Local papers could contain everything from election news to community gossip. Newspapers provide obituaries and death notices, marriage announcements, reports of accidents and injuries, meetings, land purchases, crimes, and other juicy information about your ancestors.
Essentially, newspapers are the ancestors of Facebook, Twitter, Instagram, and other social media platforms – and are absolutely essential to genealogy if you want to move beyond names and dates to find the stories of your ancestors' lives.
In this series, I'm going to take a closer look at the more than 13,000 newspapers available in GenealogyBank's Historical Newspaper Archives, focusing first on papers from the Mid-Atlantic region. At the end of the article, I'll present a genealogy case study from one of the newspapers in this area to show just how helpful these papers can be to your own family history research.
Newspaper began being published in the Mid-Atlantic in the 18th century:
Delaware's first newspaper began in 1785.
Maryland's earliest newspaper began in 1727.
New Jersey's first newspaper was published in 1775. Its first permanent publication began in 1777. Prior to that, New Jersey news was published in Pennsylvania newspapers.
New York's earliest newspaper was published in 1725 in New York City. John Peter Zenger's New York Journal (which began in 1733) was made famous in 1735 when a court decision established freedom of the press in the Colony of New York.
Pennsylvania's first newspaper was published in 1719. Benjamin Franklin began publishing the Pennsylvania Gazette in 1728. German communities in Pennsylvania published German-language newspapers that century.
Many historical and genealogical societies, and local libraries, have microfilms of old newspapers and books of newspaper abstracts (which usually contain birth, marriage, and death announcements). Thanks to the internet, many newspapers are available online, including those at GenealogyBank.
GenealogyBank's newspapers are divided into two collections, each with their own search page:
Newspaper Archives (complete paper with all articles, including historical obituaries, with a number of very rare single-issue newspapers – many of them are the only known issues of the paper)
Obituaries (including both historical and recent obituaries, if obits are specifically what you are searching for)
GenealogyBank currently has the following newspapers in the Mid-Atlantic region:
GenealogyBank adds new newspapers (and more issues from newspapers already in the collection) constantly, so online newspaper coverage keeps growing.
Case Study: Timothy Linch (Pennsylvania Gazette)
A search in GenealogyBank for Timothy Linch in the 18th century yielded several results. We will examine the ones published in the Pennsylvania Gazette.
A reward notice concerning a horse theft was published twice in January 1753 by Gerard Jones, whose horse was stolen at night in December from the sign of the Black Horse (presumably an inn) in Lower Merion, Pennsylvania. The notice describes the horse in detail and offers a reward to anyone who secures the horse and thief. It further states the horse was supposedly stolen by Timothy Linch and describes what he was wearing.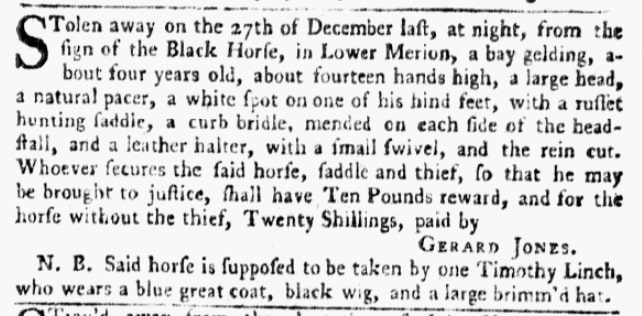 If the thief was brought to justice as Gerard Jones desired, there would be court records for Timothy Linch. Given the vast difference in reward (10 pounds for horse and thief, 20 shillings – about ½ pound – for horse alone), it seems that bringing the thief to justice was very important to Gerard Jones.
On 24 June 1753, Timothy Linch, a 25-year-old Irish servant, ran away from Thomas Hooton of Trenton, Burlington County, New Jersey. Thomas Hooton posted reward notices from August to September. Note that Thomas Hooton lives in New Jersey rather than Pennsylvania. As noted earlier, New Jersey news was published in Pennsylvania papers prior to the 1770s. Such was the case for Thomas Hooton.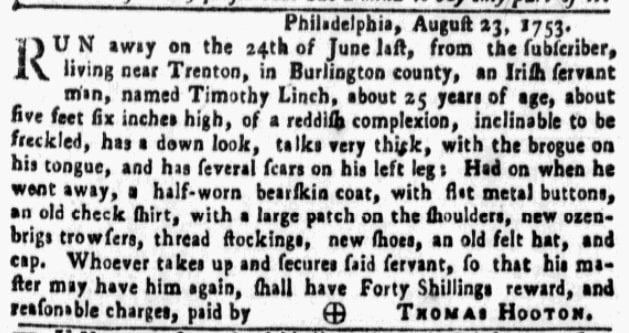 A lot of information about Timothy Linch and Thomas Hooton can be gleaned from this advertisement. Timothy was likely an indentured servant, working in payment for his passage from Ireland to America. Since Thomas lived near (rather than in) Trenton, he was most likely a farmer, and Timothy was a laborer on the farm. It's possible that Timothy ran away because Thomas was making him work too hard, which was common for indentured servants.
Note the two-month gap from the time Timothy ran away to when the ads were published. Thomas likely attempted other means of getting his servant back (contacting local officials, putting up notices in area taverns, etc.) before advertising in a Pennsylvania newspaper. After two months, a larger audience would be needed considering how far Timothy could potentially have gone in that time.
Were the Timothy Linches in these separate ads one and the same? It can easily be assumed that one who would steal a horse would also run away from servitude. The un-commonality of the surname "Linch" may support such an assumption. However, it is important to note the differences in date and location of both events. They are five months apart in time and thirty-seven miles apart in distance. Why would an indentured servant walk that far to steal a horse, then run away five months later? With this in consideration, it seems likely that they are separate people.
These newspaper ads do not contain enough information to determine if these men are the same person. The only description of the horse thief is of his clothes, while the description of the runaway servant includes clothes, physical appearance, manner of speech, age, and nationality. There is more identifying information for the runaway servant than for the horse thief.
Court records would have been created both for a horse theft and for a runaway indentured servant, and these records would give more clues to the identities of the Timothy Linches. Thanks to these newspaper advertisements, there is a date and a place to search court records of each case. Further searches in additional newspapers could be helpful as well.
The point is, these two newspaper notices describe incidents in the life of Timothy Linch, or possibly two Timothy Linches. They tell us stories about his life, and the second notice gives lots of personal details about him. They also provide clues for further research. This is the excitement – and the importance – of using newspapers for genealogy. Good luck with your own family history research!
Resources: