Introduction: In this blog post, Duncan Kuehn describes six fun genealogy projects to help interest children and teenagers in family history. Duncan is a professional genealogist with over eight years of client experience. She has worked on several well-known projects, such as "Who Do You Think You Are?" and researching President Barack Obama's ancestry.
Many of us want to share our passion for family history research with our children, grandchildren, nieces and nephews, and other young ones in our lives. This fulfills our innate need to leave a legacy behind, and to inform and guide the next generation. Not only is this sharing beneficial for the storyteller, it plays an important role in the life of the listener.
Why Pass Down Family Stories?
Family stories give children hope, courage, perspective, and greater understanding. They see that others have done hard things and come out the other side stronger (or at least still alive and kicking). "Uncle Bob had this exact experience and it turned out well for him." It can provide perspective on life's blessings and challenges. "What did people use to communicate before mobile phones and Facebook?" Sharing the stories of our ancestors can connect family members and encourage empathy and understanding for other people's experiences. There is even evidence from recent psychological research supporting the idea that children with a better understanding of their family's past possess more self-confidence.
But how can we have those magical moments with the young ones in our lives? Remember that when we share our passion for family history we don't want to push others, but rather entice them and invite them to know more. While complex and in-depth genealogy research challenges may make us giddy, they aren't nearly as exciting to "future researchers." Start intriguing them with new ideas and family stories that will appeal to them at their level. Realize that not every effort will be a success every time. Some children are naturally more interested in family history than others. We should make an effort to reach all of the important children in our lives with genealogy in a way that makes sense to them.
1. Share Old Family Photos
Most children love pictures. Old family photos, and graphics from newspapers, are one way to interest children in family history research.
Smaller children have very short attention spans and are often highly visual.
2. Play Genealogy Games
They also love interactive games. When my children were young, I created two sets of cards with the pictures of their family members: themselves, siblings, parents, grandparents, aunts and uncles, cousins, great grandparents and even pets. Many of these people my children knew well, some lived far away, and others had already passed on. We would play matching, "Go Fish," and other games with these small laminated photos. Our favorite was our own brand of the classic children's game "Guess Who." This taught them how to notice small details, the names of colors, and other important skills in addition to learning about family members. Eventually, we lost a few of the cards after my smallest son started sleeping with them. I didn't mind because they had fulfilled the purpose of creating a bridge between generations.
3. Explore Old Newspaper Articles Together
Using newspaper articles about family members is another effective way to engage little children. These articles are often written in interesting and entertaining language. Even better, they are usually brief enough to accommodate children's short attention spans. I grew up with some copies of newspaper articles featuring my grandfather. One article had a picture of my grandpa receiving a cake for his 12th birthday. I loved seeing a picture of him when he was a child and thought he must have been someone important to get his picture in the paper!  As a child, I didn't know that many people had their picture in the paper.
In fact, I had several old newspaper articles that included pictures of my grandfather. One showed him and his beautiful sister singing together. Another picture showed his graduating class. And yet another photo was of him eating a burger covered in my grandma's homemade barbeque sauce, recipe included.
[search_box]
Newspaper articles, such as those in GenealogyBank's online Historical Newspaper Archives, add flavor to the details about our ancestors. People are more than names and dates; they have stories. These newspaper articles express that and gave me a better understanding of my grandpa even though I grew up visiting him every week.
Imagine how excited your children would be to find an old newspaper picture of their grandfather as a youth, printed long ago when he was a Boy Scout!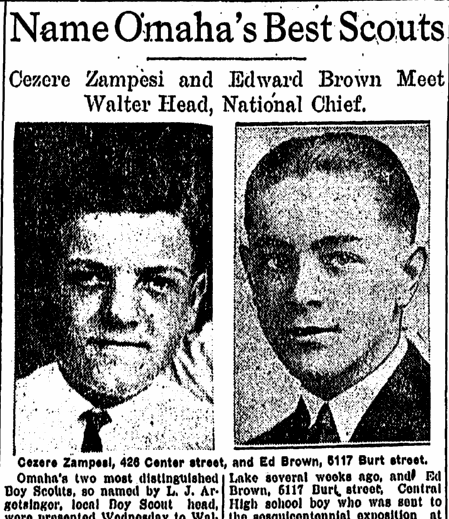 Teenagers often find old newspaper articles fascinating. I have searched for humorous or unusual articles by using the keywords "dear wife" or "dear husband" or even "funny" or "joke."
Here are a few examples of what I found.
In this unusual example, a captured soldier in 1823 wrote his wife the day before his scheduled execution, explaining his death. She received his letter, and then decided to make the best of it by marrying another man. Well, that condemned soldier ended up being rescued, but he didn't have the heart to go home and tell his wife the news, breaking up her new marriage!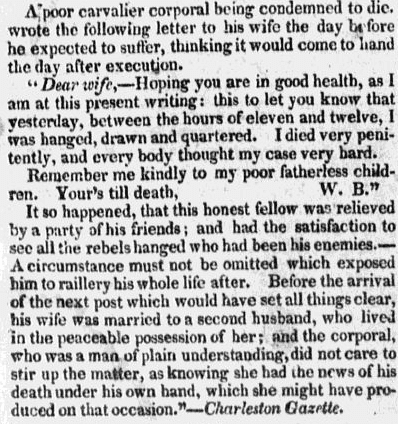 In this funny example, a husband's practical joke on his wife backfired when he pretended he had fallen out of the bedroom window—and her response was not the scare he had hoped to cause. Hiding behind the curtain, he heard her say:
"Poor old Jim," she quietly said. "He's tumbled out of the window in his raggedest nightshirt. What a spectacle he'll be when they find him in the morning!" Then she lay down again and went to sleep.

What did you do?

"Stood there like a fool for a minute or two and then sneaked into bed."

Children can also search for topics that they are interested in, such as trains, UFOs, scary stories, etc., on GenealogyBank's search page by doing a keyword search.
Everyone loves a good ghost story. Despite the best efforts of 100 police, no one could identify the thumping sounds coming out of this haunted house in Chicago.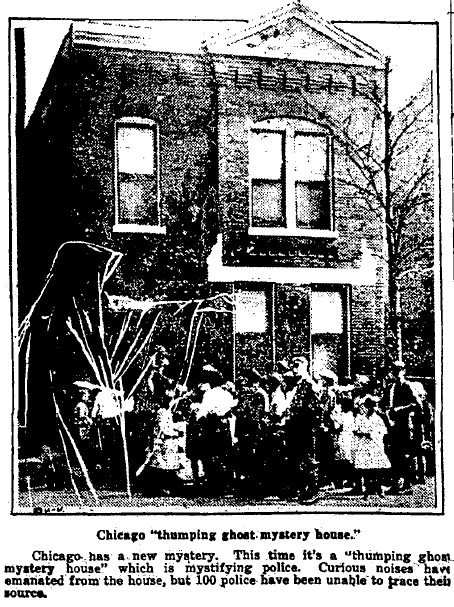 How about this eerie story, of the "horrible experience" of Mrs. Hart? She fell into a seven-hour trance and everyone thought she was dead. Although she couldn't move or speak, she was aware of everything the entire time—heard herself pronounced dead; listened to the fading footsteps of her loved ones after saying their goodbyes and walking away from her bedside; and was aware the undertaker was about to embalm her…when she suddenly woke up!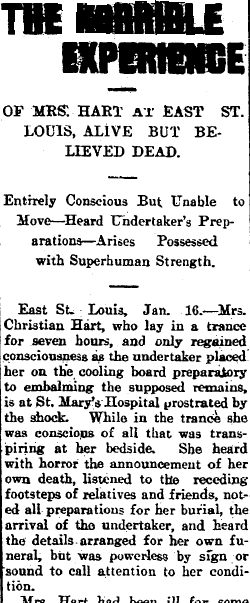 4. Compile a Family Storybook or Scrapbook
You can even write your own short stories about your ancestors, and add photos, to share with your children. I created a genealogy book, with both photos and short stories, to showcase our family history. The family stories don't need to be long or even have a moral to impart. In my book I included a letter written by a neighbor of one of my 6th great grandmother's. It talked about how my ancestor, Ann Quick, would take a hasty dip in the nearby river every morning, ice filled or not, to strengthen her "constitution." My kids now refer to a fast, cold shower as an "Ann Quick shower" to which we all reply, "Good for the constitution!" It is a small story, but it makes her personal to my kids. I used to read this book as bedtime stories for my children.
Children enjoy seeing pictures of their ancestors when they were little kids.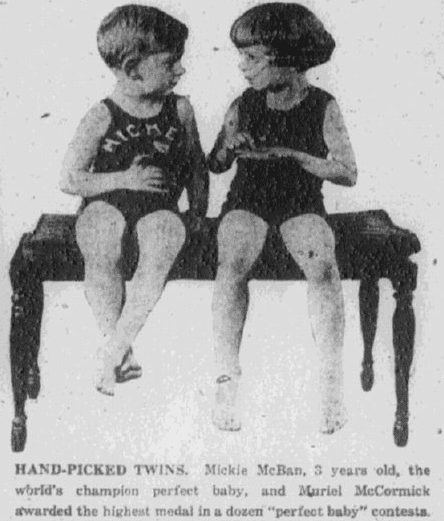 5. Create a Family Recipe Book
If the children like to cook, have them collect family recipes and make a book to send out to friends and relatives. If they can't find old family recipes, use ones that the family loves now and look through the newspaper for other recipes that sound interesting.
6. Join a Volunteer Project for Genealogy
Older children and teens that show an interest in family history can get involved in fun genealogy-related projects. For example, they can do indexing (get more information here: https://familysearch.org/indexing/). Indexing means reading original records and entering the information into a set form so that it is available for searching. This is crucial for making documents easy to find. FamilySearch's highlighted projects for this year include obituaries, which are typically typed and fun to read. Many people I have talked to have mentioned that indexing can be a fun addiction! Other websites also have volunteer projects. One that comes to mind is BillionGraves. This site lets you download an app to your smart phone. Then you go to a local cemetery and photograph the headstones. These images and accompanying index are made free for anyone to view.
Here is an example of a recent—and lighthearted—obituary that would be fun to index.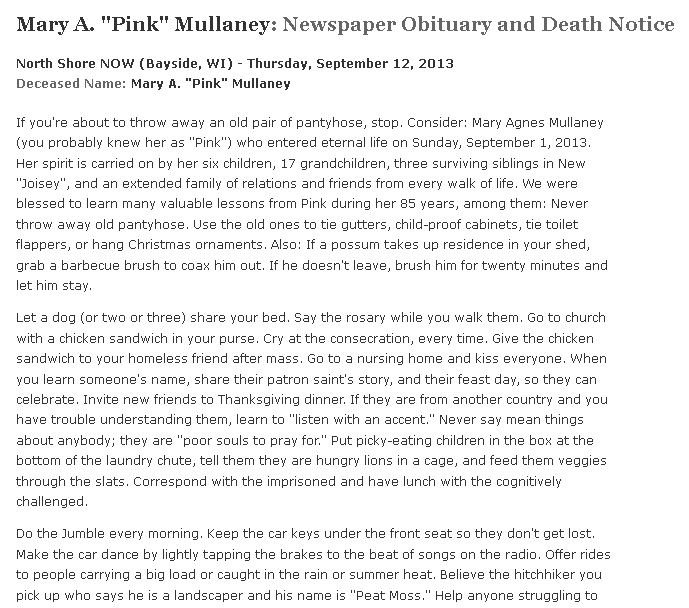 Some teens are interested in helping with genealogical research. Many of my peers began their own researching experience when 12-14 years old. Not only do they have excellent computer skills to find information, they also naturally question everything. While annoying to parents, it is actually a critical research strategy. A teen's natural ability to question and seek to understand can help you to see your research in a different light. Guide them along by answering their questions, leading them to interesting resources, and gently nudging them to expand their thinking and learn more. Soon they will be showing you how to do things! My 15-year-old son just showed me a great new mapping tool that he found even though he insists that he "isn't really interested in genealogy."
Genealogy Tip: Remember to Make Family History Fun!
If your goal is to interest your children in family history, then the key is keeping the activities fun and interesting. Never push them too far beyond their interest level or they will learn to dread the activity. I grew up hating history class in school, yet I graduated from college with a history degree. How did that happen? The short answer is that I loved to hear the stories my grandma told me. What impact will your family stories have on the rising generation?