Introduction: In this article, Gena Philibert-Ortega searches old newspapers for recipes for a special Christmas treat: Yule Log cakes. Gena is a genealogist and author of the book "From the Family Kitchen."
Some Christmas foods carry over from the Thanksgiving dinner. Meals that include turkey, ham, cranberry sauce, and pie are appropriate for either holiday feast. However, some Christmas foods are unique to just that holiday. These are the foods reserved solely for December. Deserts like Gingerbread Houses are one special Christmas tradition, and another are Yule Log cakes.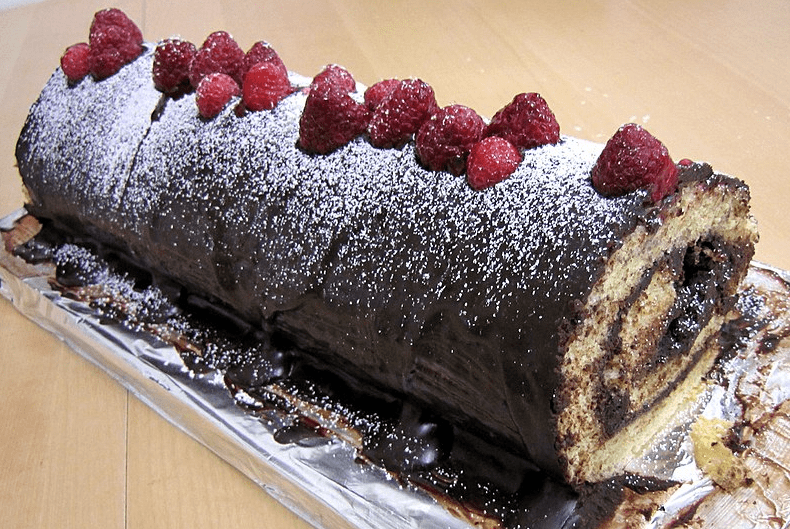 The Yule Log is a Christmas tradition found in numerous countries where a log or block of wood is burned during the days leading up to Christmas. (1) The Yule Log eventually received a food makeover in about 1615 when the Yule Log, or Bûche de Noël, was served. This symbolic Bûche de Noël is made from a rolled sponge cake decorated to look like a log. Before rolling the cake, a cream or jam is spread over it. The frosting resembles bark and powdered sugar represents snow. (2) Other decorative touches may include marzipan leaves and berries. Making this cake is somewhat labor-intensive but the end result makes for a festive dessert.
Yule Log Cake Recipes in the Newspaper
The easiest recipes are ones that you are most familiar with. This 1939 recipe points out that the Yule Log is simply a jelly roll cake. Assuming the reader already has a recipe for this cake, this food column suggests spreading the cake with "your best baked jelly roll jellied fruit-nut mixture" before rolling it. The decorating instructions suggest spreading the frosting to simulate grooves and knot holes.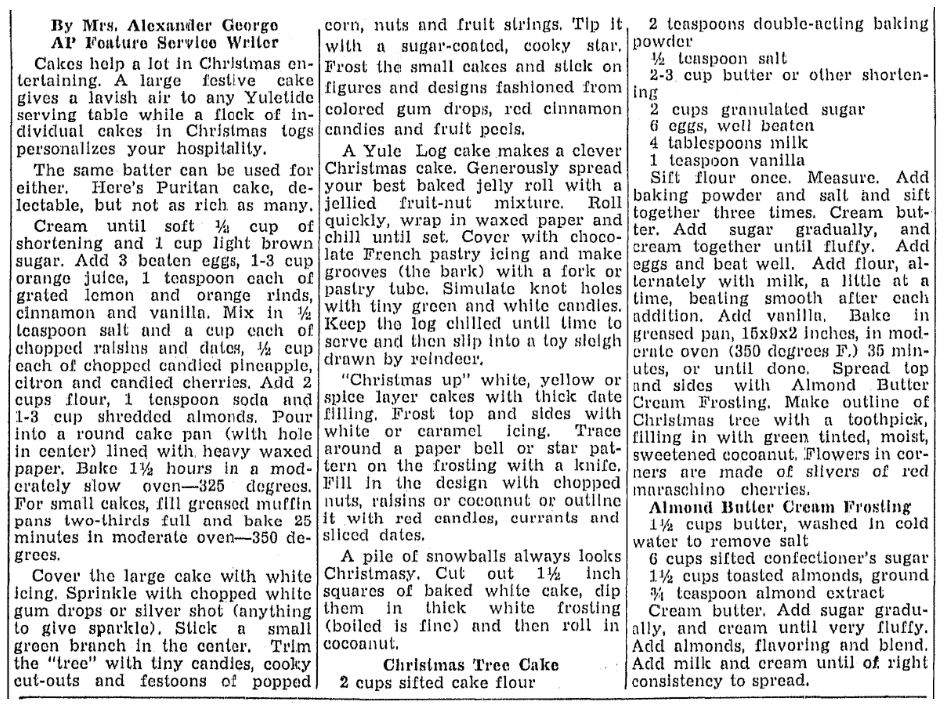 Many Yule Log recipes call for chocolate frosting to simulate a tree's bark. This "snowy" yule log recipe has a mincemeat filling and a cream cheese frosting. The cake is decorated with cherries and "green grapefruit peel or citron holly leaves." The recipe warns that it's a "very sweet, large cake."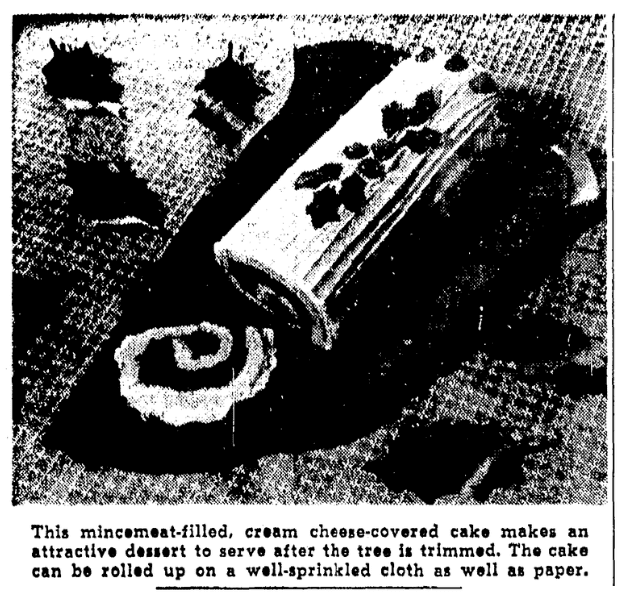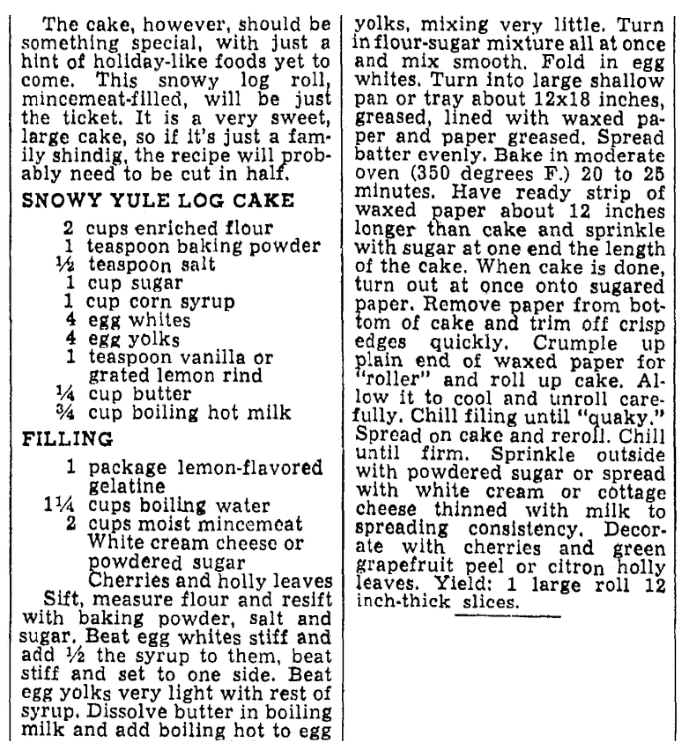 Christmas is the time for special foods, as this newspaper article from 1960 points out: "Of all the many wonderful traditions associated with the Christmas holidays one of the nicest is the customs of preparing special foods and feasts." This article focuses on "Tacoma's well-known hostesses" and their recipes including Mrs. L. T. Murray Sr.'s Yule Log dessert that includes apricot jam. The icings for the cake use dark rum, coffee, egg yolks, chocolate and butter. The reader is instructed to make the "log" look like a real log by cutting two slices on each end of the roll and then placing them on top of the cake to represent stumps or cut-off branches. The cooks should then use the chocolate and coffee icing to represent bark and "inner wood." Rough bark is simulated by using a fork to draw jaggedly through the frosting. The recipe suggests creating "leaves shaped of green tinted almond paste and curls of dark sweet chocolate."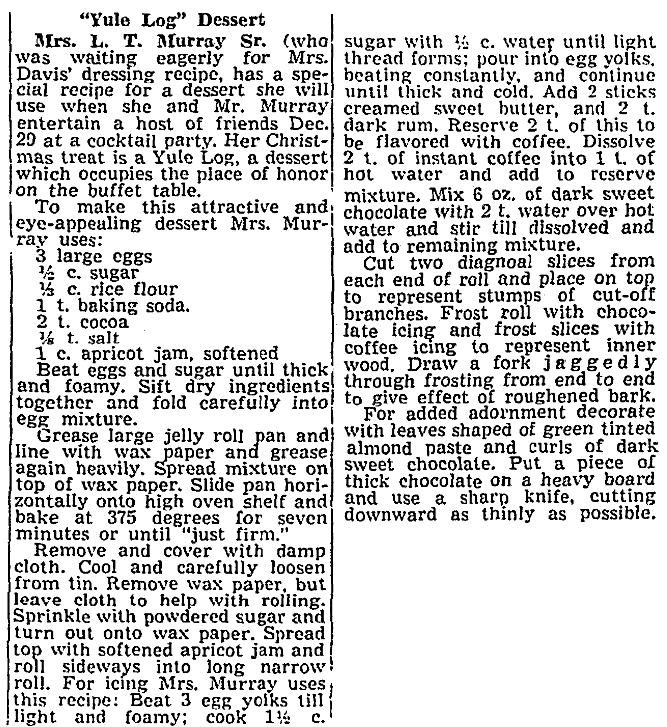 Everyone knows that chocolate rules, and in this newspaper article celebrating Christmas foods from around the world, a Yule Log made from chocolate cake with chocolate frosting is featured:
 "If we could travel to a French Christmas kitchen we'd probably find the lady of the house at work on a Yule Log Cake… It's chocolate, inside and out and delectable as French things are."
What's missing are the instructions for how to make the cake look like a log with its bark-like frosting and leaf decorations. But even without those extras, the recipe looks like a wonderful chocolaty addition to a holiday gathering.
Let's Eat Cake!
Has a Yule Log cake graced your holiday table? Have a family recipe? I'd love to hear about it in the comments section below!
Happy Holidays!
___________________
(1) "Yule Log," Wikipedia (https://en.wikipedia.org/wiki/Yule_log: accessed 7 December 2018).
(2) "History of Christmas Recipes: Yule Log," ALookThruTime (http://alookthrutime.com/yule-log/: accessed 6 December 2018).