Introduction: In this article, Melissa Davenport Berry tells a heartwarming story about Israel Broadsword, a 100-year-old Civil War vet who, in 1946, received the birthday/Christmas gift he longed for: a Civil War uniform. Melissa is a genealogist who has a blog, AnceStory Archives, and a Facebook group, New England Family Genealogy and History.
In the spring of 1946, 99-year-old Civil War vet Israel Adam Broadsword (1846-1952) of Idaho wanted three wishes: to live to be a 100, vote in the 1946 election, and wear a Civil War Uniform again.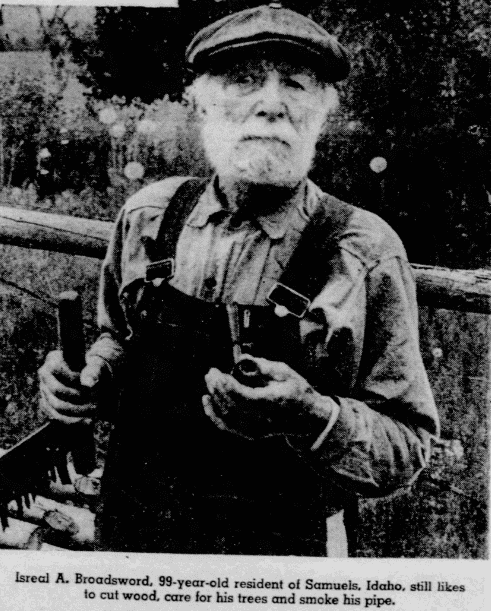 Well, Israel voted in 1946 and he made it to his 100th birthday. (In fact, he lived to be 105!) The last wish? Well, it took a special genie in a bottle – but this soldier had earned it.
On 23 December 1946, his 100th birthday, Israel received his last wish – a delightful birthday and Christmas present. The Bonner County American Red Cross chapter presented him with a Civil War uniform produced by an Eastern military goods manufacturer. He looked mighty dashing! (See photo below.)
Broadsword's story has a wonderful postscript to it. In the summer of 1947, Congressman Abe Goff of Idaho examined Israel's service records and discovered that the old veteran had never received a medal he had earned: the Civil War Service Medal. It was time to give that soldier his due. It had been 82 years since Israel left the service, but it was never too late.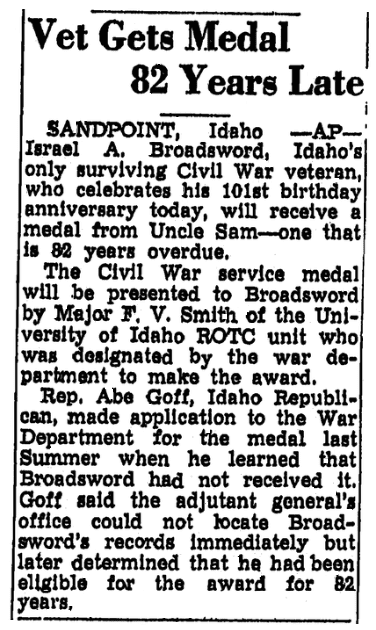 The War Department designated Major Francis V. Smith, assistant professor of Science at the University of Idaho, to present the medal. The honored birthday boy was greeted with a fireworks display – his cake: 101 candles!
Israel was 14 years old when the Civil War broke out, so he served in the home guard the first year and then joined the 51st Missouri Volunteer Infantry under General Nathaniel Lyon. He saw enough action to toughen him into a seasoned veteran by the time of his first major battle, at Lexington, Missouri.
After the war Israel formed a partnership with David L. Payne to cut and raft logs down the Mississippi River to market, just like Abe Lincoln did many years before.
Their enterprise was brought to a quick halt by a call of duty once again, and both boys were back in uniform. Israel served as a sergeant under General George Custer in the 19th Kansas Volunteer Calvary during the winter campaigns of 1868-69 in the Indian Wars.
Israel died at the Spokane Veterans Hospital in 1952 at the age of 105, leaving 5 children, 17 grandchildren, and 17 great grandchildren.
At the time of his death, he was one of only four Union veterans of the Civil War still alive.
Wishing you all and our troops Happy Christmas and a Very Peaceful New Year!
Note: Just as an online collection of newspapers, such as GenealogyBank's Historical Newspaper Archives, told the stories of Israel Broadsword's life, they can tell you stories about your ancestors that can't be found anywhere else. Come look today and see what you can discover!
Genealogy:
Israel Adam Broadsword (1846-1952), son of John Adam Broadsword (1820-1894) and Mary Magdeline Crites (1822-1910). He married Amy Diana Viola Morris (1855-1900). The family tree can be found at Family Search.