A: Great question. GenealogyBank makes it easy to enlarge any page or article.
Newspapers over the past 4 centuries have been printed in all shapes and sizes. That is particularly true of Colonial American newspapers.

GenealogyBank captures each article and page and displays them for you online – making it easy for you to save them as an Adobe PDF document.
When you want print or save an article and you see that it is too small to be easily read – simply enlarge it using Adobe Acrobat.
Step One: Click on the PDF icon to open up the article as a PDF document.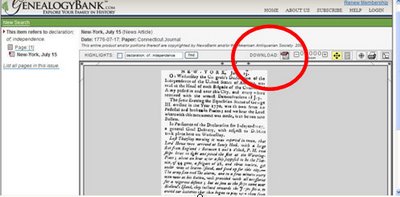 Step Two: Use the zoom button to enlarge the article to the desired size.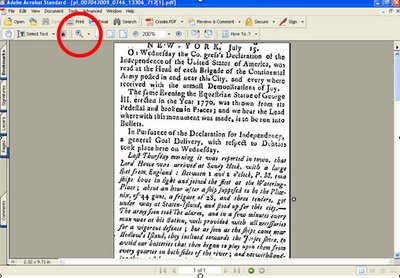 Now you can easily read the article, copy, save or print it.

Look closely at this example – an account of the statue of King George III being torn down and made into bullets – Connecticut Journal 17 July 1776 page 1.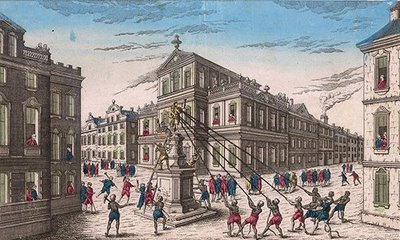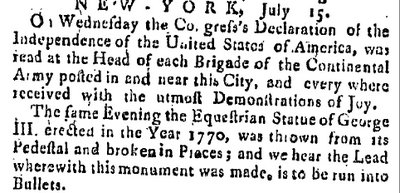 "On July 9, 1776, after the Declaration of Independence was read to the American army in New York City, the soldiers rushed to the foot of Broadway at the Bowling Green. As depicted in this engraving, they had the assistance of free Blacks or slaves in pulling down the statue of King George III. The lead statue was later brought to Connecticut, where it was made into bullets."

GenealogyBank brings you:
▬ More Colonial American Newspapers than any other source
▬ Over 3,800 newspapers
▬ 1690 to Today
Join with us – sign up today.
It's a great day for genealogy.
Read about it – as it happened in GenealogyBank.
.
(Visited 92 times, 1 visits today)