Introduction: In this article – in honor of St. Patrick's Day tomorrow – Gena Philibert-Ortega searches old newspapers to find Irish recipes to help you celebrate. Gena is a genealogist and author of the book "From the Family Kitchen."
Ready to celebrate St. Patrick's Day tomorrow? Even if you're not Irish, you may still want to have a holiday feast. An obvious choice for that feast is Corned Beef and Cabbage, but what other foods might grace your St. Patrick's Day table? Although most of the recipes labeled as "Irish" in historical newspapers are really not, old newspapers have some great recipe ideas to bring out the Irish in everyone.
St. Patrick's Day Lunch Fare
For a different twist to the annual celebration, "Sister Mary's Kitchen" column for the week of St. Patrick's Day in 1922 features sandwiches. What makes these sandwiches appropriate for a day that celebrates all things Irish? They include green foods or coloring. One sandwich uses cheese, parsley, and watercress, while the other features chopped green olives and minced celery. The author even provides a green butter recipe in keeping with the theme. Her finishing touch: an Irish Puff Ball dessert is a cake with, you guessed it, green frosting.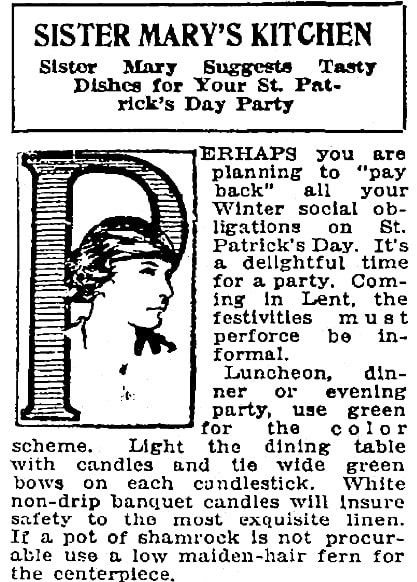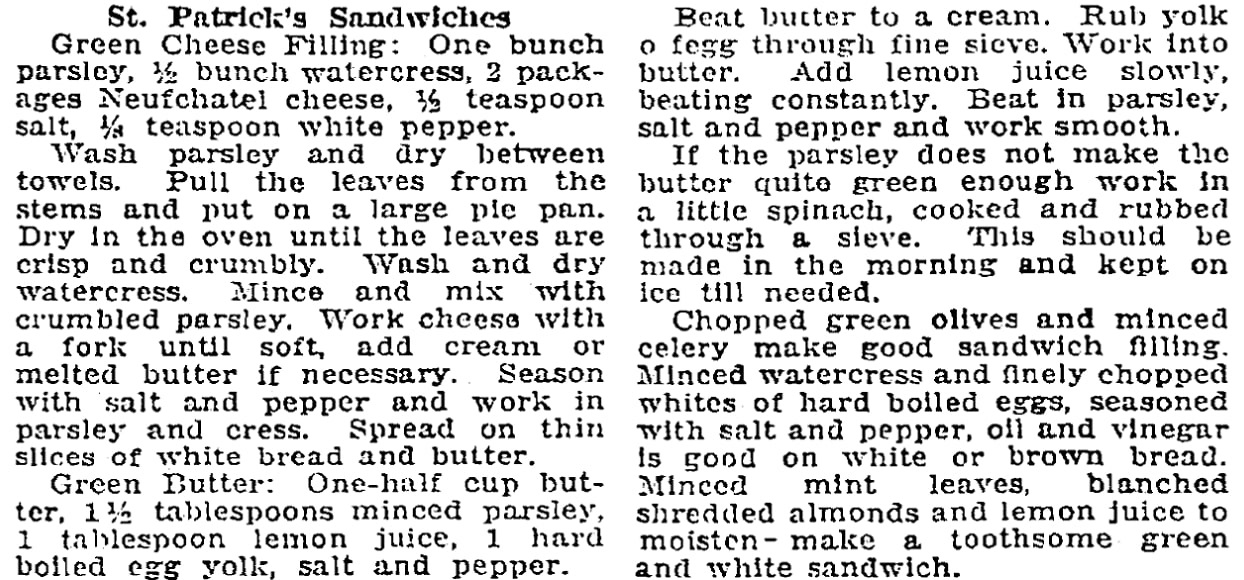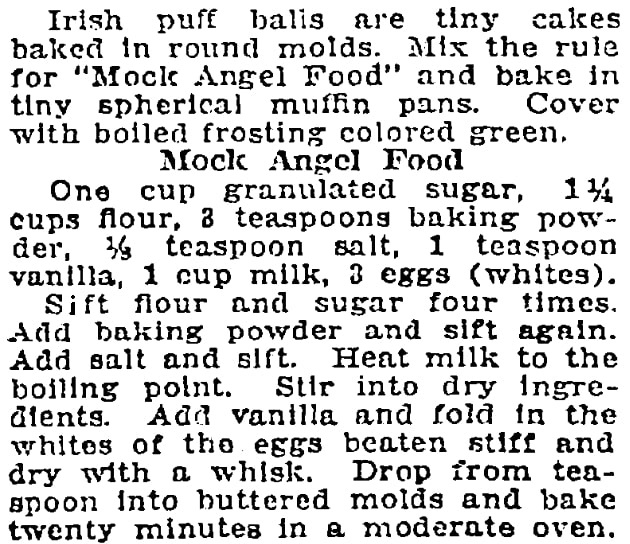 Like the idea of a St. Patrick's Day lunch? Looking for other sandwich ideas? This 1939 food column includes a St. Patrick's Sandwich Loaf that alternates fillings of tuna salad, egg salad, and lettuce with cheese. This is a "frosted" sandwich loaf which was popular in the mid-century and ends up looking like a cake. To frost the sandwich loaf, you use a mixture of cream cheese and cream.
The Irish Appetizers recipe is a type of open-faced sandwich using shamrock-shaped toast topped with hard-boiled eggs, sweet pickle relish, parsley, onion, and mayonnaise (referred to as salad dressing here).
No St. Patrick's Day meal is complete without a dessert, and in this case, they are individual "shamrock" cakes with sherbet and whipped cream. You could also try your hand at the Pineapple Mint Ice Cream recipe that is tinted a pale green.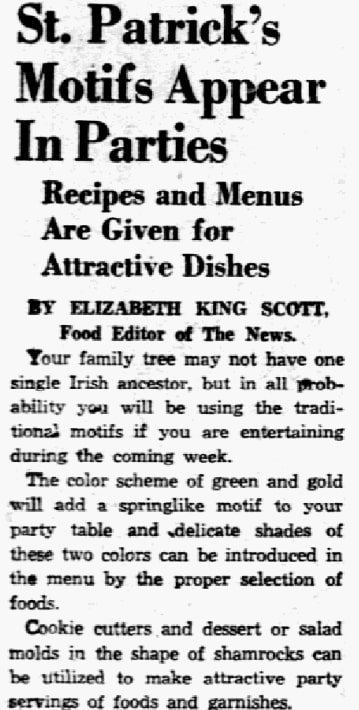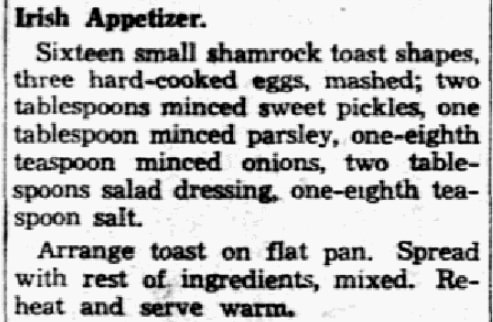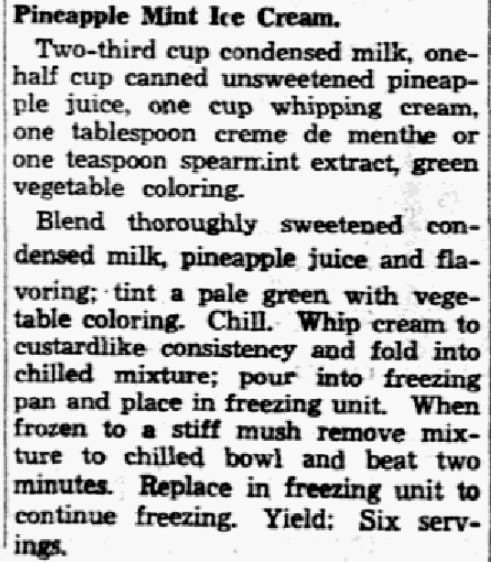 Corned Beef and More
At my house we are dining on corned beef and cabbage for dinner on St. Patrick's Day, but one of my favorite things I'd love to add to that meal is Soda Bread. This 1984 article provides you the recipe for both corned beef and soda bread.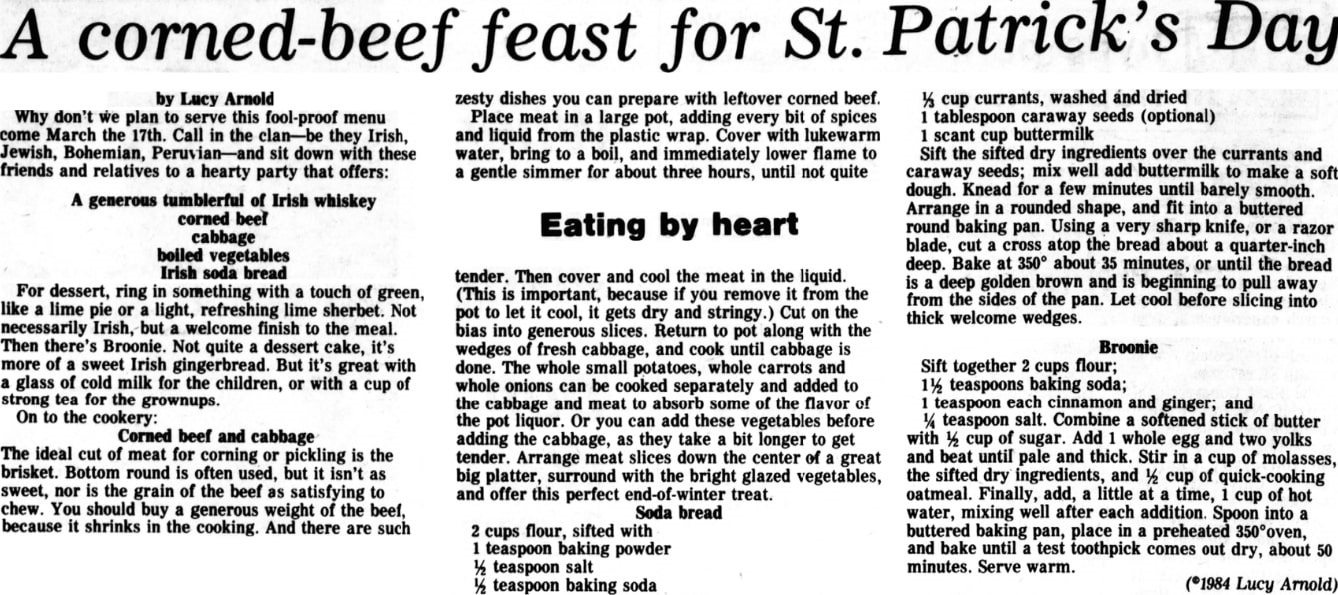 Green Food and Irish Foods
While I saw all kinds of suggestions in historical newspaper food columns for St. Patrick's Day feasts that focused on green foods (think split pea soup or a spinach dish), you could decide to try your hand at other Irish recipes.
This 1950 recipe contest winner shared her recipe for her Irish Potato Casserole. While it's likely not a "real" Irish recipe, it does use a food that we associate with the Irish: potatoes.
So, in reality you can enjoy quite a few different foods for St Patrick's Day if you're not a fan of corned beef and cabbage.
Happy St. Patrick's Day!
Whatever foods you decide to eat tomorrow, have an enjoyable St. Patrick's Day feast that includes the luck of the Irish.