Introduction: Mary Harrell-Sesniak is a genealogist, author and editor with a strong technology background. In this blog post, Mary takes a fascinating look at some of the last words people said before they died – both famous and not-so-famous.
When a person breathes their last, the grieving often ask: "What were his or her last words?"
For some people in these final cherished moments of life, their dying wish is to impart memorable quotes or words of wisdom to those left behind. These last words are great fun to read and contemplate.
Many are quoted in newspapers, so if you are lucky you might find your ancestor's last words.
Religious Expressions
Many obituaries report the deceased's devotion to, or love of, God.
One example was reported in this death notice for Miss Anna Harmon, who died at the age of 30. She said:
I wish I might – I hope I do resign myself to Christ, for time and for eternity!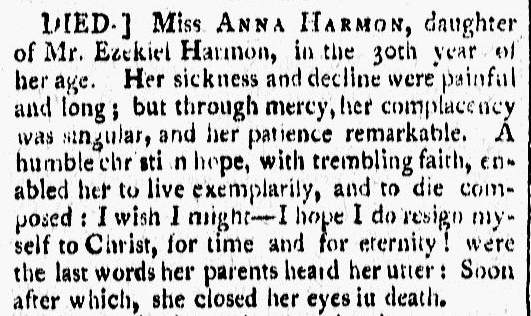 In 1831, Caesar Low told his wife that he was going to die. His death notice reported that "spiritual light seemed to increase in his soul" and noted his last statements just before he died as follows:
"Glory to God – Hallelujah to God, hallelujah – Oh, my dear Father! My Heavenly Father! He is my Father." Then pointing to heaven, he said: "Yes, I am coming, I am coming!" His final words were:
See Jesus! See Jesus! How shall I act in Heaven?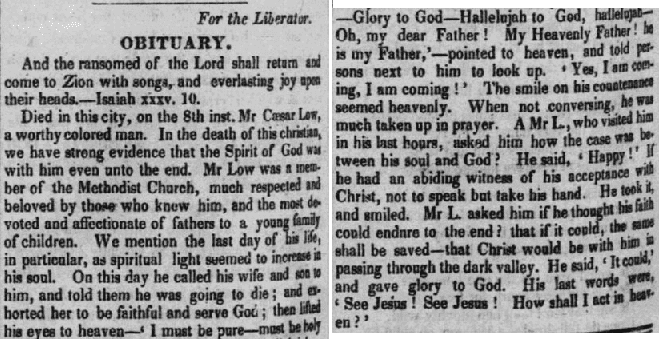 Instructions or Words of Wisdom
Although not reported in her obituary, noted abolitionist and suffragette Lucy Stone (1818-1893) left advice for her only daughter with her dying words, Alice Stone Blackwell.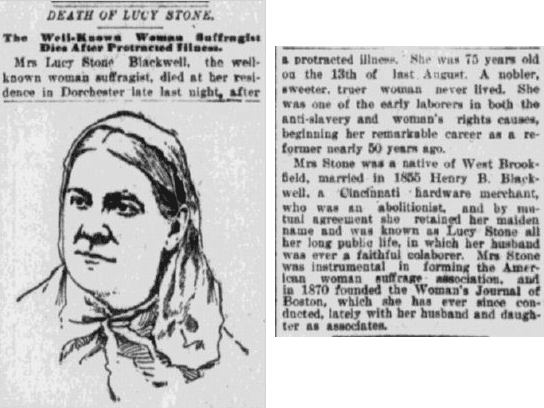 Lucy encouraged Alice to "make the world better," which she did.

By the time of her mother's death, Alice (1857-1950) had become editor of the Woman's Home Journal and recording secretary for the National American Woman Suffrage Association. During her life she championed many causes, including Russian freedom and world peace – and unlike her mother, was able to celebrate the passage of the 19th amendment in 1920 (see the National Archives).
[search_box]
Alice's last words were not recorded – but many would like to think she was thinking of her mother when she passed.
Appropriate Sayings
Joseph Medill (1823-1899), editor of the Chicago Tribune (who must have read hundreds of last words during his career), appears to have contemplated his own final utterance. Shortly before he passed, his physician heard him comment: "My last words shall be, what is the news?"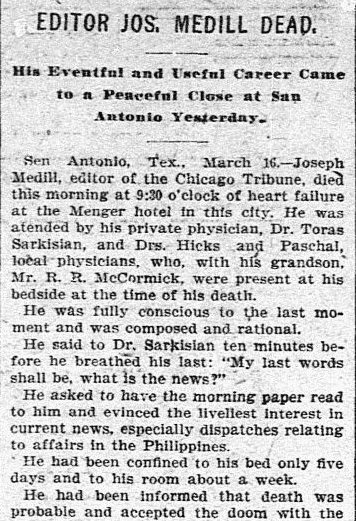 Bat Masterson (1853-1921), another newspaper man, is quoted as having written a lengthy statement. It didn't appear in his obituaries, but was widely cited years later.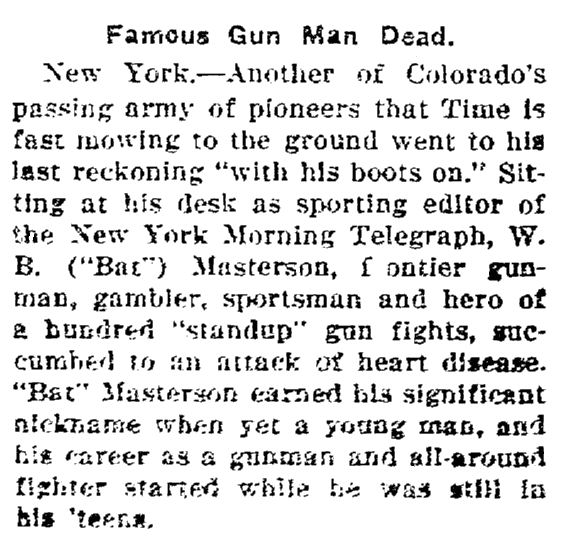 Masterson's last words were:
There are those who argue that everything breaks even in this old dump of a world of ours. I suppose these ginks hold that because the rich man gets ice in the summer and the poor man gets it in the winter things are breaking even for both!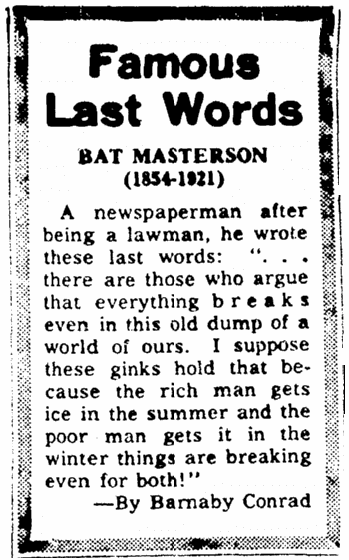 How It Feels to Die
Others use their last words to express feelings about death and dying.
[search_box]
For example, Elizabeth Barrett Browning (1806-1861) responded "beautiful" to a question about how she felt, and William Hunter (1718-1783), the famous Scottish physician and anatomist, said:
If I had strength enough left to hold a pen, I would write what a pleasant and easy thing it is to die.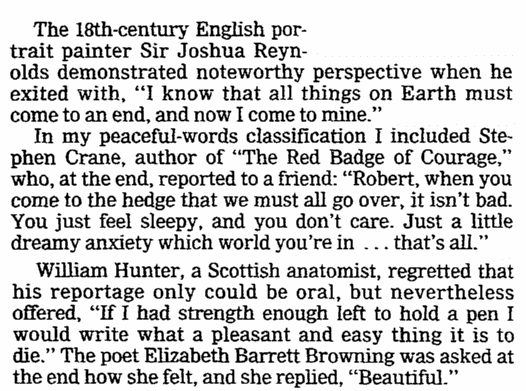 Jane Austen (1775-1817), author of Pride and Prejudice and other novels, didn't feel the same. She was reportedly asked if there was anything she wanted. Her reply was:
Nothing but death.

U.S. Presidents' Last Words
Some of the most-quoted last words are from famous people, such as U.S. presidents.
Modern-day writers like to report that President John Adams, who died on the same day as President Thomas Jefferson on 4 July 1826, said for his final words: "Thomas Jefferson survives."
As in all statements about history and ancestry, historical newspapers are one of the best ways to check the facts. For his last words, did Adams say, "Thomas Jefferson survives" or did he actually say "It is a great and glorious day"?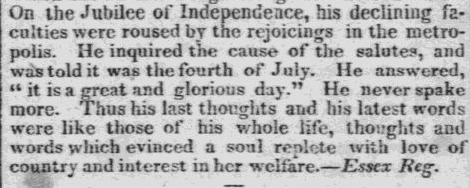 Watch for a follow-up article offering more U.S. presidents' last words, in celebration of the upcoming Presidents' Day – and by all means, let us know what last words your ancestors are reported to have said!
Related Articles:
[bottom_post_ad]