Introduction: In this article, Gena Philibert-Ortega searches old newspapers to find clever recipes for using up that leftover Halloween candy. Gena is a genealogist and author of the book "From the Family Kitchen."
Now that Halloween is over, you might be finding yourself with more candy than you need (or want). It's hard for me to believe that any of the "good" candy (chocolate) could be leftover – but if it is, you could use it in dessert recipes to create something everyone can enjoy. Where do you find these recipes? The newspaper, of course!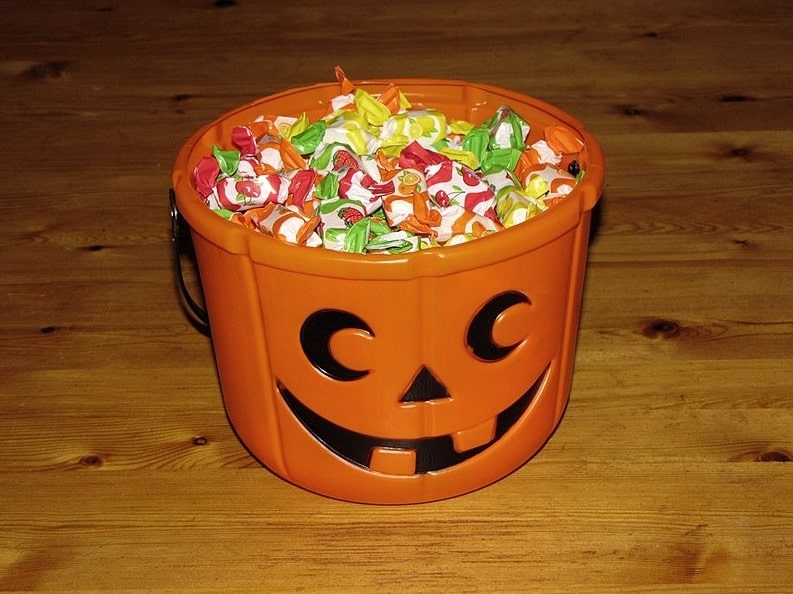 Chocolate Desserts
This newspaper article has some great ideas for using up Halloween candy leftovers, including incorporating candy into brownies. The easiest way to do this is to use a boxed brownie mix and gather your favorite candy. You can also use candy as a decoration to the finished product. Similarly, some candy makes a good addition to chocolate fudge. To add to your fudge recipe, chop-up chocolate bars and incorporate them with your other ingredients.
There's no way I would have leftover peppermint patties – but if you do, this Peppermint Pattie Cake looks delicious. The "patties" are used as a decoration to encircle the outside of the cake.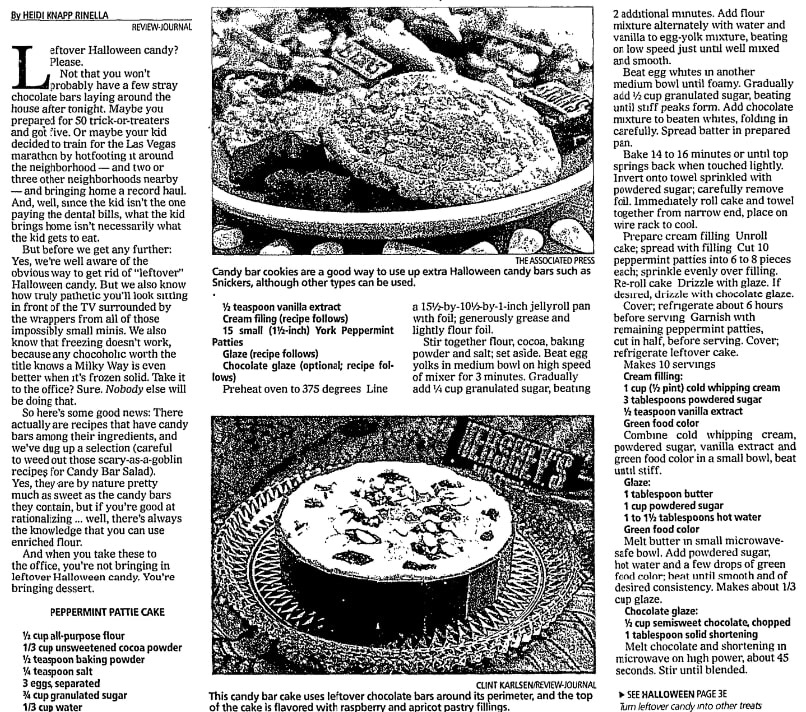 You can reimagine a favorite by adding leftover candy, as this recipe does with Rice Krispies snacks that incorporate leftover Snickers bars.
You could actually add a different type of candy bar or candy to your new Rice Krispies creation, like this decadent version that features candy corn and a bourbon glaze.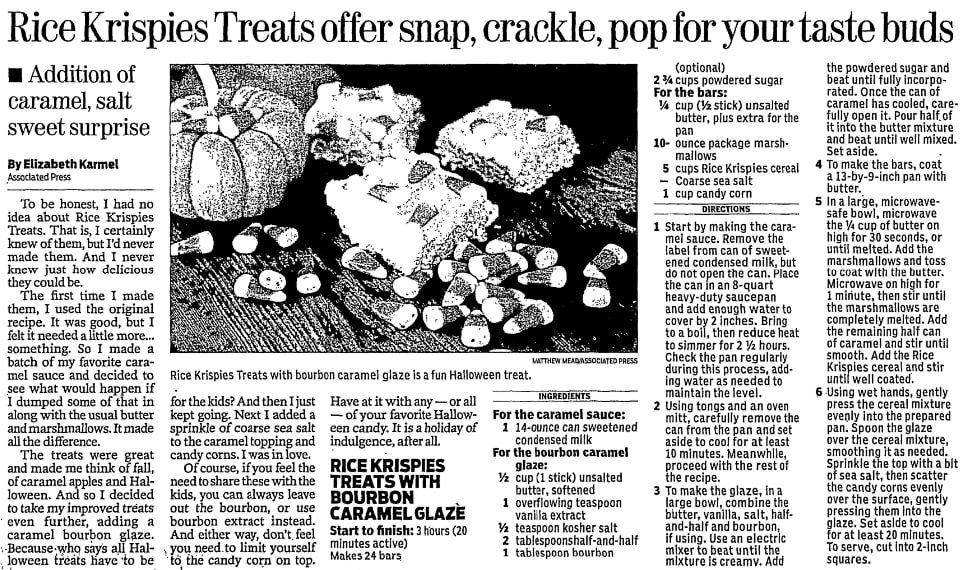 Beyond the Chocolate Bars
What about some of that leftover hard candy? What can you do with that? One obvious idea is to break it apart and use it to decorate cookies, brownies, or cakes. However, you can also use it as an ingredient in recipes. This Stained Glass Sugar Cookie recipe uses crushed up Dum-Dum lollipops, but you could use other types of colorful hard candies.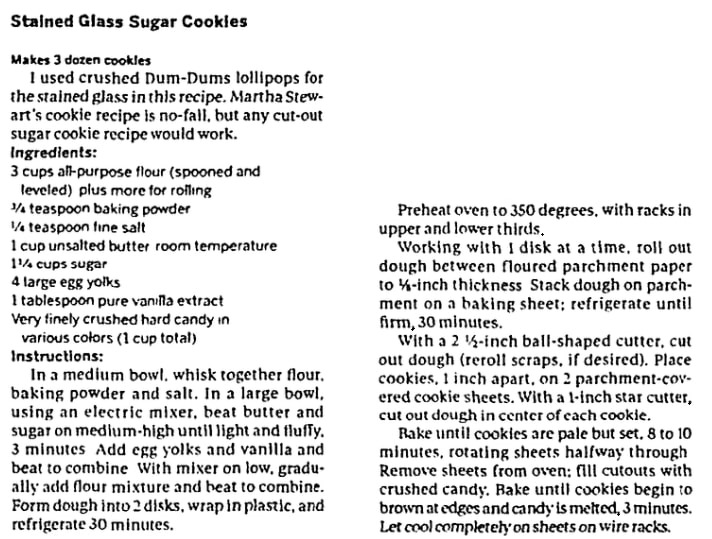 If you find yourself with too many pieces of leftover candy corn, you could use them to decorate a cake, as this Happy Halloween Cake recipe recommends. In reality, you could use candy corn for decorating almost any type of cake or cupcake.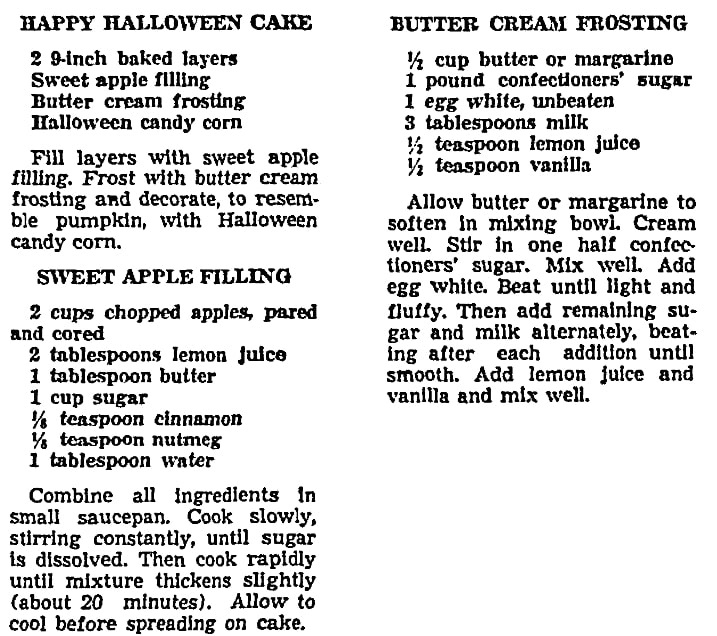 Drinks
When we think of using leftover candy it may be obvious to make a dessert – but what about a drink? This recipe for Milky Way Vodka is adults-only but is an interesting idea for a pre- or post-Halloween party. The recipe calls for only two ingredients but it requires some prep time and should be made in advance.
What Do You Do with Leftover Halloween Candy?
I must admit that I typically save little bags of candy in the freezer so that I can access them later when I am craving something sweet. However, these recipes have me rethinking storing those leftovers.
Do you create desserts from your Halloween candy? Share your recipes in the comments below.
I hope you had a Happy Halloween!
Explore over 330 years of newspapers and historical records in GenealogyBank. Discover your family story! Start a 7-Day Free Trial.