Introduction: In this article, Katie Rebecca Garner gives tips for cemetery research, both online and in-person. Katie specializes in U.S. research for family history, enjoys writing and researching, and is developing curricula for teaching children genealogy.
Cemeteries are one of the many spooky things associated with Halloween, to the pleasure of genealogists. For family historians, a cemetery is a source of genealogical information more so than a place for scares. If a cemetery scares a genealogist, it's for different reasons.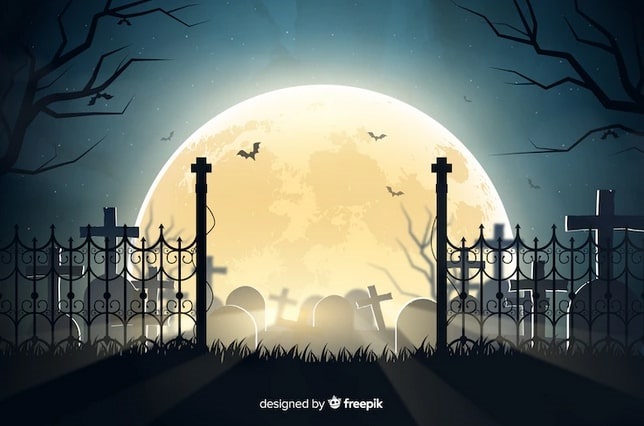 Old gravestones may look more eerie than new ones, yet abandonment of cemeteries can be problematic for genealogy. Overgrowth and erosion can cause gravestones to become illegible. Cities may decide an old cemetery site is a good place for building. Obscure family farm graveyards can become more obscure when the family leaves the property. These factors can make cemetery research challenging.
Gravestones and cemetery records can provide valuable information about an ancestor. Gravestones will at least include the name of the deceased and the date of death. Some will also include the date of birth or the age of the deceased. Some graves will include names of family members or symbols giving clues to military service, religion, or an organization the ancestor was a part of.
Family members were often buried near each other in the same cemetery. Spouses sometimes shared a grave marker and were buried together. When you find the burial of one family member, it's likely that you can easily find the burials of other family members. You may even be able to identify possible relatives.
Surely a family burying their deceased would want to put accurate information on the gravestone. However, this isn't always the case. Sometimes a grave was not marked until years after the deceased was buried, and well-meaning relatives may not have remembered the information correctly. If information on a gravestone conflicts with other sources, the other sources may be more reliable. However, this is best evaluated on a case-by-case basis.
Even with the possibility of inaccuracy, gravestones and cemetery records are still valuable sources of information. This may be the only source of vital information in some cases. The information can also provide clues to further research.
Online Databases
The easiest way to find an ancestor's gravestone is to search their name on websites such as findagrave.com or billiongraves.com. It may even be a good idea to search both databases as neither is comprehensive.
FindAGrave and BillionGraves are both supplied by volunteers. Volunteers take pictures of gravestones at various cemeteries and upload them to either or both databases, then other volunteers transcribe the photos to create memorial pages. Since new material is constantly being added to both databases, check again later if you don't find your ancestors.
An ancestor's memorial page on FindAGrave or BillionGraves will include a photo(s) of the gravestone, the cemetery name and location, and a transcription of the gravestone. The most reliable information on either website is the information contained in the image of the gravestone because transcriptions are prone to error.
FindAGrave and BillionGraves both list the cemetery the gravestone is at, and each cemetery has its own profile page. The cemetery profile page often includes contact information for the cemetery and an option to search the database within the specific cemetery. This can be a good way to find relatives buried at the same cemetery (provided they are on the database in question); simply search the surname(s) and examine the results. Note that if two or more cemeteries are directly adjacent to each other, this could confuse the volunteers, so be sure to check nearby cemeteries as well.
Offline Cemetery Research
What if your ancestor is not on FindAGrave or BillionGraves? Cemetery research goes beyond searching websites. Churches, funeral homes, and cemeteries that handled burials kept records of the dead they buried. These records often contain more information than the gravestones, so obtaining them could be useful even if your ancestor's grave is found online.
Finding these records starts with identifying where your ancestor is buried. This is easy if you've found one ancestor online and suspect others are buried at the same cemetery. Other death records may indicate a burial place, such as death certificates. If you know what church your ancestor attended, see if that church had a graveyard. If there are no clues, check cemeteries near where your ancestors lived at the end of their lives.
Many historical and genealogical societies have compiled transcripts of cemeteries in their area. Some have shared these transcripts with FamilySearch and may be available on the FamilySearch website or at the Family History Library. Some of these societies have made the transcriptions or indexes to the transcriptions available on their websites. Sometimes it is necessary to contact the historical or genealogical society to inquire about obtaining copies of their records. In some cases, it's helpful to contact the church or funeral home about accessing their records that are not available online.
When feasible, it can be advantageous to visit the cemetery your ancestors are buried at in person. Here you can easily see who's buried near each other, and you have more options for deciphering hard-to-read gravestones, such as feeling the inscription with a gloved hand. Be sure to go during the day rather than at night. Cemeteries are less spooky in broad daylight, and the sunlight helps with reading gravestones.
Gravestones and burial records provide genealogically valuable information. Celebrate Halloween by finding your ancestors' burial sites!
Explore over 330 years of newspapers and historical records in GenealogyBank. Discover your family story! Start a 7-Day Free Trial.
Image credit: <a href="https://www.freepik.com/free-vector/realistic-halloween-cemetery-background_5379227.htm#page=2&query=halloween&position=1&from_view=search&track=sph">Image by pikisuperstar</a> on Freepik