My cousin Henry Hamilton Starbird was born in Gray, Cumberland, Maine, in February 1816, and he married Hope P. Cobb on 30 November 1845 in Westbrook, Cumberland, Maine. I recently wrote about my search to find Henry's correct death date, because his obituary and headstone listed two different dates. But Henry isn't the only mystery in this family – I had virtually no information about his wife Hope, so I decided to do a little digging to see what I could find about her heritage.
From my notes, I know that Hope was born in Westbrook, Cumberland, Maine, on 24 June 1820, and died in Gray, Cumberland, Maine, 24 April 1873. I did not have the names of her parents or anything about family beyond her husband and child's names.
I began by searching GenealogyBank's Historical Newspaper Archives for "Hope Cobb" in Maine newspapers.
This search did not produce any useful results, so I tried again, this time with Hope's married name: Starbird.
This search yielded two interesting records. The first was a probate notice listing Hope as the executor of her husband Henry Hamilton Starbird's estate.

Yes, that is her.
The second was an obituary for Hope P. Starbird from April 1873.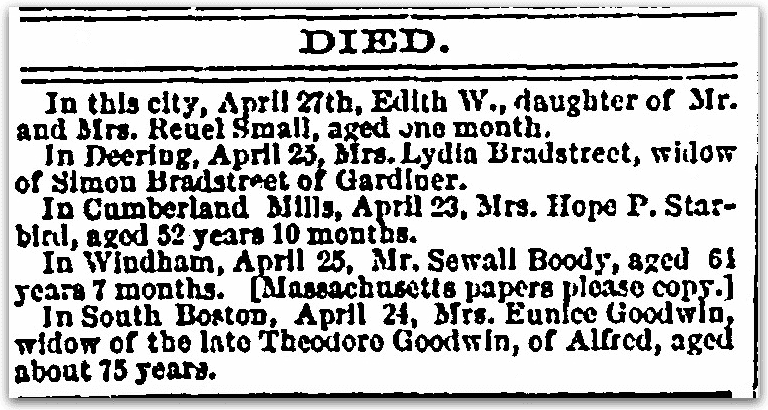 So far, I had not found the names of her parents – so I turned to FamilySearch and typed "Hope Cobb" and her birth year, 1820, into the search bar to see if there may be another record for Hope with her parents listed.
This is interesting; I found a second listing for "Hope Cobb" – a Hope Pike Cobb was born in Windham, Cumberland, Maine, in 1820, which is a neighboring city to the birthplace I had listed for Hope: Westbrook, Cumberland, Maine. According to FamilySearch, Hope Pike Cobb's parents were Timothy Cobb and Betsy Hawkes. Are these the parents of the Hope Cobb in my family tree?
Sounds like a reasonable theory. I'll keep searching until I can be confident about Hope's heritage.
Genealogy Tip: Try searching for different variations of your ancestor's name in GenealogyBank and other record sources to find pieces of information that you may have missed before.
Related Articles:
(Visited 132 times, 1 visits today)