When Sonia Thresher Richardson (1926-2013) died in 2013, one part of her life story caught my eye: her commitment to her Mayflower heritage.
Sonia was a direct descendant of Mayflower Pilgrim John Alden, and that part of her identity meant a lot to her.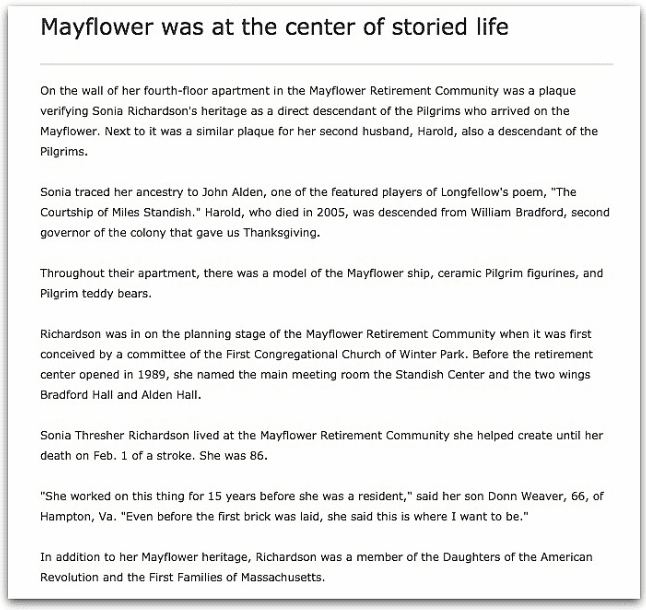 According to her obituary:
"Her second husband, Harold… was a descendant of William Bradford, second governor of the colony that gave us Thanksgiving… Richardson was in on the planning stage of the Mayflower Retirement Community when it was first conceived by a committee of the First Congregational Church of Winter Park… In addition to her Mayflower heritage, Richardson was a member of the Daughters of the American Revolution and the First Families of Massachusetts."
I found Sonia's story by using the U.S. Obituary Search tool on GenealogyBank. This tool searches obituaries from 1977 through today, and combined with GenealogyBank's Historical Obituary Search tool and Historical Newspaper Archives, researchers can discover countless stories of Mayflower descendants over four centuries. I have been able to find many new relatives of my own by searching the names of my Mayflower ancestors in the GenealogyBank database.
To find Sonia, I navigated to the U.S. Obituary Search tool and, instead of searching for a particular name, I searched for the keywords "Mayflower" and "descendant."
This search produced 2,348 records, meaning there are a lot of Mayflower descendant stories to be discovered! Undoubtedly, some of those stories are those of your own relatives.
Genealogy Tip: Search GenealogyBank's Historical Newspaper Archives for the first and last names of your Mayflower ancestor with the keywords "Mayflower," "Pilgrim," "descendant" or "ancestor." These searches can help you find stories about your ancestors and about your cousins – the descendants who came after them. You may even discover new relatives you didn't know you had.
Related Articles:
(Visited 194 times, 1 visits today)