Introduction: Scott Phillips is a genealogical historian and owner of Onward To Our Past® genealogy services. In this guest blog post, Scott tells about finding the only-known photos of two of his ancestors in old newspaper wedding announcements—and a surprising engagement notice that told him something he never knew about his own mother!
Summertime! The livin' is easy and traditionally it is the time for weddings. My bride and I just celebrated our 37th wedding anniversary a short time ago and it got me to thinking about how much I have gained in my family history and genealogy work from searching for engagement notices and wedding announcements in GenealogyBank.com.
As many of us go about developing and nurturing our family trees, I think you'll agree that one of the best aspects of that work is discovering photographs of our ancestors. Let me tell you, few places that I have found beat newspaper engagement and wedding stories for personal photos—sometimes the only picture anyone in the family has of a particular ancestor. I have had terrific success in my family tree with these types of articles.
A great example was the newspaper article I recently found when researching my Havlic branch. I discovered the wedding announcement for Eleanor Anna Havlic as reported in the Plain Dealer on 30 September 1928 in Cleveland, Ohio. Not only was I thrilled that there was a picture of my ancestor, but it showed some lovely period dress for a 1928 wedding. Additionally, I was treated to the names of parents, spouse, in-laws, addresses of both, the new couple's home address, bridal party members, wedding date, and the name of their church.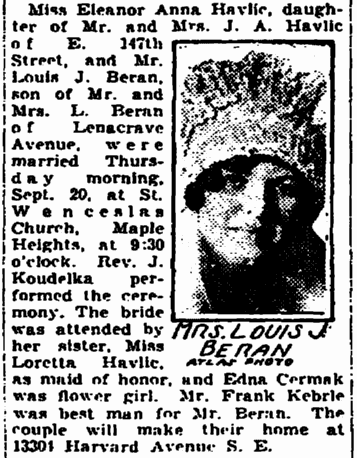 Another nice find for me was the wedding story of another cousin, Margaret Tager, again in the Plain Dealer (27 August 1961) in Cleveland. Once more I was excited to find an old wedding photo that illustrated the current fashion, this time of the early 1960s, plus addresses, parents' and in-laws' names, the name of the church where the ceremony was held—and there was even a mention of where both the bride and groom attended college. As an added treat, the newspaper article explained where the couple honeymooned.
In the case of both of the above family members, the old newspaper articles provided me with the only photos I have of these particular ancestors, which make them all the more important to my work, my family, and our family tree.
Oh, and don't forget that every so often you just might find one of those "ah-ha" moments we all enjoy so much in genealogy. I had one myself not long ago.
After working on one of my grandparent's branches I was having some fun searching different family surnames to see what I could find. As I was running my grandmother's married name lo and behold I found an engagement announcement! I clicked on the article to find…my mother had been engaged one time before becoming engaged to, and then marrying, the man who was to become my father. This was a fact that had not been a topic of discussion in my life ever before.
Thank goodness my mom made the choice she did or I wouldn't be here writing this today!
That was a close call…and a really fun discovery.