Introduction: In this article – to celebrate today being National Bacon Lover's Day – Gena Philibert-Ortega searches old newspapers to find recipes and articles about bacon. Gena is a genealogist and author of the book "From the Family Kitchen."
Let's face it, there's a holiday for every type of food that you can think of. Just in the month of August there are days to celebrate oysters (August 5th), frozen custard (August 8th), and even cherry popsicles (August 26th). Today, August 20th, is a day that many of us won't mind celebrating: National Bacon Lover's Day.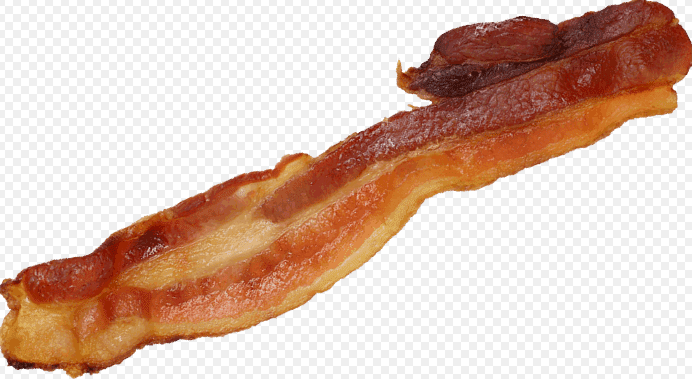 Perusing a few statistics makes it clear that bacon is popular in the United States. In 2017, more than 18 million Americans used 5 pounds or more of bacon. (1) According to an analysis of the hashtag #bacon used on social media website Instagram, bacon is most popular in the state of Nebraska – where residents enjoy it 132% times above the national average. (2)
What are your favorite bacon dishes? I love a simple BLT or even a BLAT (bacon, lettuce, avocado and tomato) sandwich, but I'm always open to other recipe ideas featuring bacon. Looking through GenealogyBank's Historical Newspaper Archives is one way to find something new to try the next time you crave bacon.
Through the Decades
It's safe to say that Americans have loved bacon for a long time. In 19th century newspapers you can find advertisements and recipes for this pork staple. Through the years, countless recipes can be found in newspapers explaining how to prepare and use bacon to add flavor to soups, sandwiches, and more, such as this 1898 newspaper article.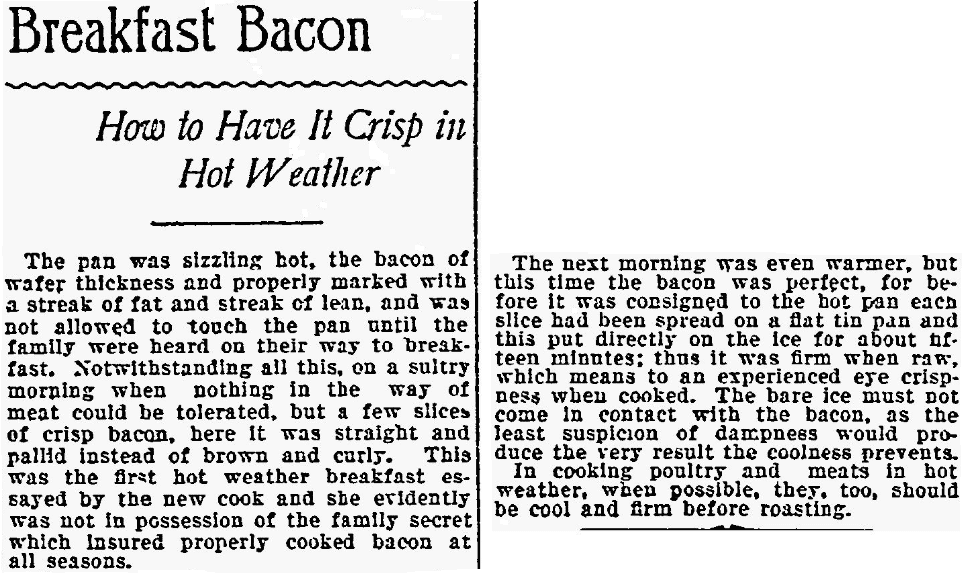 This 1920 newspaper article explores two pork products: ham and bacon. Readers are instructed on what to buy ("bacon should be fine and firm – just enough fat and just enough lean") and how to serve it. Ideas for serving the salted meat, aside from adding it to a sandwich or a salad, include:
Bacon with Fowl: Strips of bacon over breast of fowl while baking
Bacon with Fish: Strips of bacon over fish while baking
Bacon Dressing: Bacon cut fine and added to dressing of fowl or other meats
Bacon Omelet: Diced bacon in the beaten eggs and cooked as a plain omelet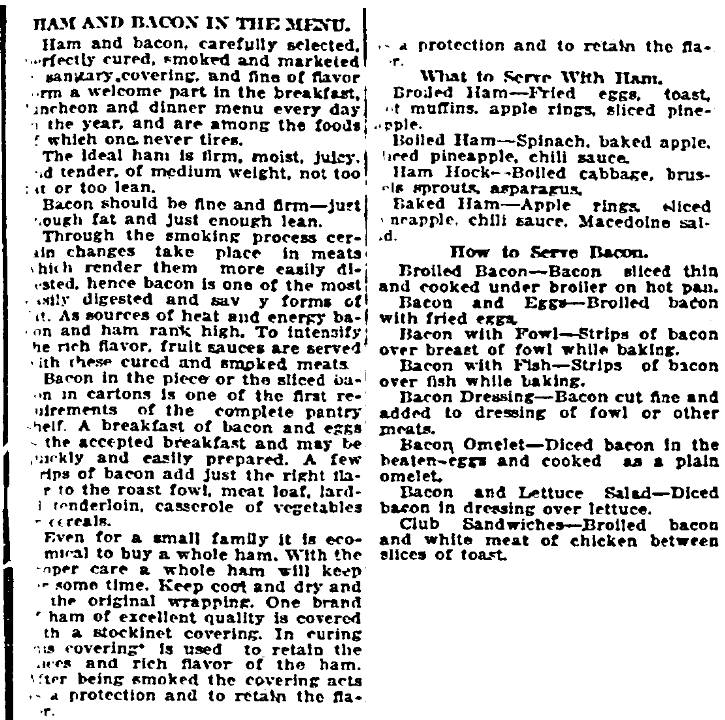 Everyone knows that bacon is good for breakfast – but as this 1952 newspaper article points out, bacon is good no matter what the time of day. This article suggests "floating" bits of "bacon on top of cream soups or to add some to vegetable salads along with cheese." The article also mentions that "meat patties and loaves, baked beans, all call for bacon." Interestingly enough, it mentions that bacon is good pretty much anytime and with any dish except dessert. This statement is a good example of how taste in food changes over time. Today, you can find bacon on desserts including donuts (which, by the way, are delicious).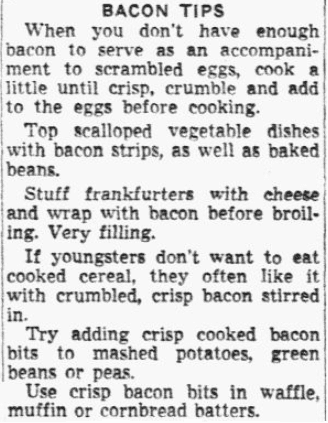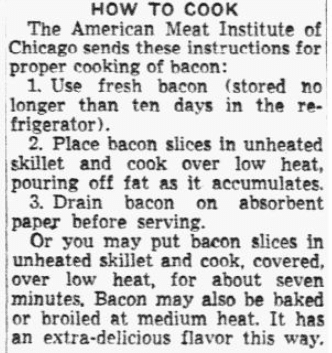 In some cases, our modern sensibilities and tastes might not agree when an older recipe is described in terms of being "interesting," "unique" or "creative." For example, my initial reaction at finding this "creative" dish from a 1968 newspaper article was that it was slightly odd – but it's really a twist on an old favorite, Quiche Lorraine. Bacon Cheese Pie calls for 18 strips of bacon (no doubt you'll taste the bacon in this dish), eggs, milk, onion, cheddar cheese, parsley and dry mustard. I'd be happy to try this quiche recipe though I'd probably skip the additional side dish suggestions which include accompanying this pie with "beef bouillon on the rocks, buttered zucchini, a tossed salad, and peppermint ice cream." I love quiche, salad, zucchini, and ice cream but I'm hesitant to drink beef bouillon on the rocks!
Sandwiches
Not all sandwiches that include bacon are BLT's. In this 1922 recipe for a Gloucester Club Sandwich, the bacon accompanies toasted bread, spread with anchovy paste mixed with salad dressing, a lettuce leaf, tomato and tuna fish.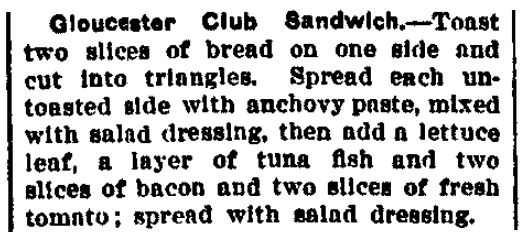 We can all probably agree that even though bacon is not a part of every sandwich, it does improve those that include its salty, crispy goodness. This 2013 newspaper article commemorating National Grilled Cheese Day adds bacon and jalapeno to the classic grilled cheese sandwich. Grilled cheese is definitely a sandwich that could use some bacon! (Just don't tell my doctor.)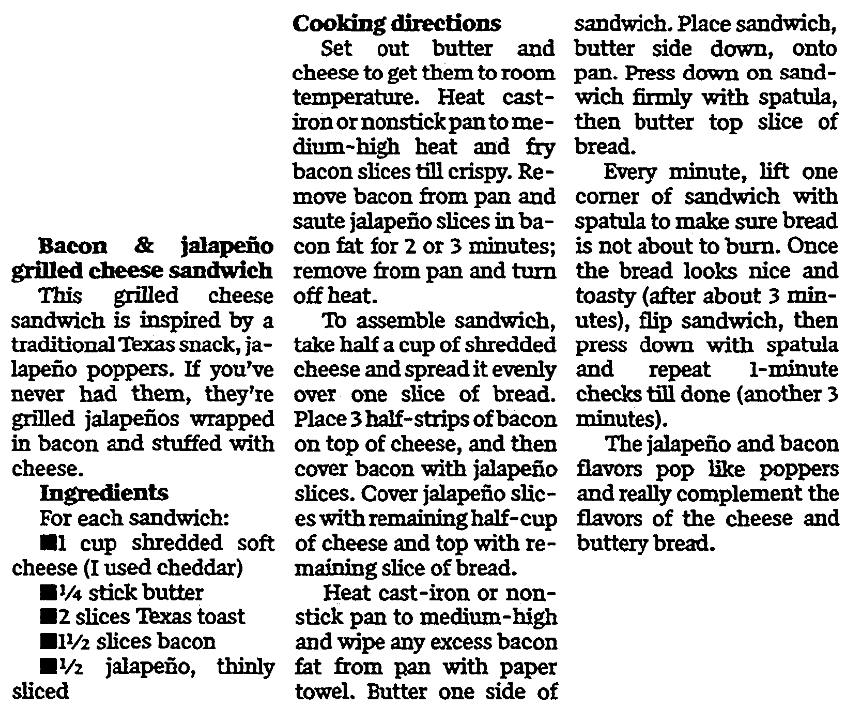 Go Enjoy Some Bacon!
So, what's your favorite bacon-inspired recipe? I pretty much love bacon on anything, so I have no problem celebrating this special day. I'd love to hear some of your recipes in the comments section below!
___________________
(1) "U.S. population: Amounts of bacon consumed from 2011 to 2017," Statista (https://www.statista.com/statistics/282269/us-households-amounts-of-bacon-consumed-trend/: accessed 28 July 2018).
(2) "An interactive map will tell you which U.S. states are shakin' for bacon," Mashable (https://mashable.com/2016/04/14/bacon-map/#LDhWSqb.Qiqi: accessed 28 July 2018).