Introduction: In this article – to celebrate today being Halloween – Gena Philibert-Ortega writes about one of the most infamous haunted houses: the Winchester Mystery House. Gena is a genealogist and author of the book "From the Family Kitchen."
Is there a haunted house in your city or town? Many communities have a haunted house that is either a local legend or one that has grown to become a true tourist must-see attraction. Halloween is of course a time for ghost stories, and although there are a few "haunted" locations where I grew up in Southern California, there is one California house that is said not only to be haunted – but whose decades-long construction was allegedly dictated by the spirits. If you've traveled past San Jose, California, you may have taken a tour of this haunted house: the infamous Winchester Mystery House.
Sarah Pardee Winchester
The woman behind the "Winchester Mystery House" was herself shrouded in mystery during her life – and rumors about her continued long after she died. Sarah Lockwood Pardee was born in 1839 in New Haven, Connecticut, to Leonard Pardee and Sara Burns. In 1862 she married William Wirt Winchester, the son of Oliver Winchester, the owner of Winchester Repeating Arms Company and its eventual successor.
William Winchester's Early Death
Oliver Winchester died in December 1880 leaving William in control of the company, but William's tenure as the head of Winchester Arms was temporary as he died of tuberculosis only three months later. Having no descendants, Williams' wife Sarah inherited a huge fortune, as well as 50% ownership of the gun manufacturing company, which in turn left her with a continuing large daily income. (1) What she did with all that money – and what drove her to do it – is the source of the mystery.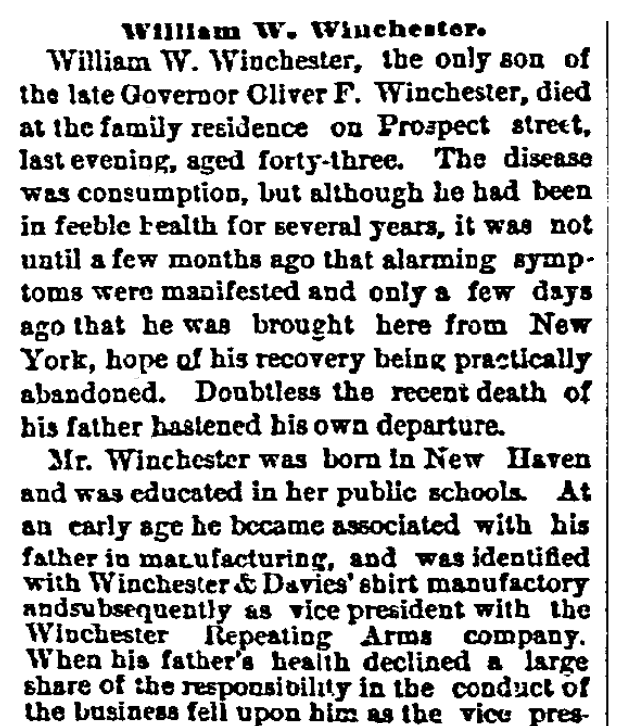 Winchester Repeating Arms Company
The Winchester Arms company began as a failing division of another gun manufacturer, Smith & Wesson, called Volcanic Repeating Arms Company. Sarah's father-in-law, Oliver Winchester, bought that division and eventually found financial success with the Henry rifle. His company grew and was eventually renamed the Winchester Repeating Arms Company. Repeating firearms were used to an extent during the American Civil War, but they found increased popularity with civilians after the war. In fact, the Winchester '73 (1873) rifle, manufactured between 1873-1923, was so popular that it is still known as the "gun that won the West." In all, 720,000 Winchester '73s were manufactured. (2)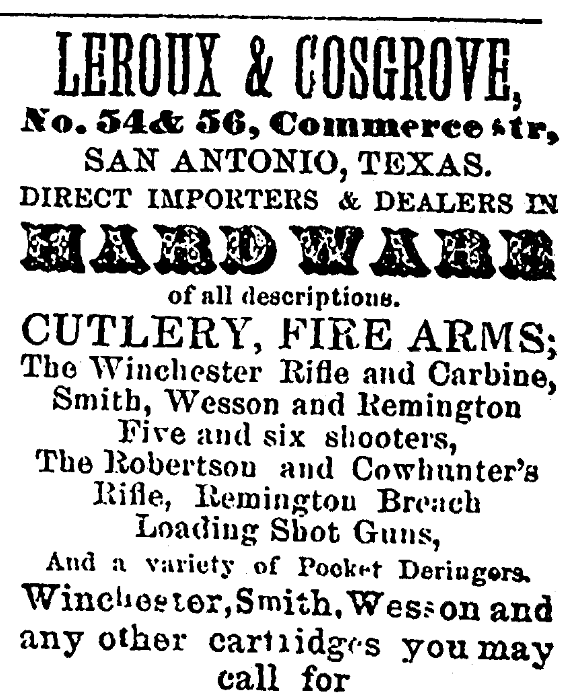 Winchester Mansion
After the death of her husband in 1881, Sarah Winchester headed west to California and settled near San Jose. She purchased a farmhouse in 1884 and began elaborate renovations – and continued the construction nonstop for the next 36 years, until her death in 1922! It was said that she was haunted by the ghosts of all the people killed by her company's Winchester rifles, and was obsessed to keep adding rooms for all the angry spirits.
It appears from newspaper accounts that her neighbors may have not taken too kindly to her wanting to be left alone, and her obsession with continuous house construction, as this 1897 newspaper article indicates.
Reading this newspaper article makes me wonder if it was written by a spurned neighbor. It ends with:
"Mrs. Winchester is about 50 years of age. In business she is shrewd and socially very exclusive. When she first went into the neighborhood, people in the vicinity dutifully called on her but she never returned a call and seldom recognizes any of her neighbors."
Sarah Winchester's San Jose home was a constant home improvement project. She never stopped adding to, demolishing, and enhancing her mansion. Rumors and assumptions about the elusive woman were made about why she was constantly in a state of renovation. As mentioned above, her obsessive construction was said to be influenced by her connection to the Winchester Repeating Arms Company and the many deaths caused by firearms like the Winchester '73. This explanation had a supernatural element to it as well, supposedly pronounced by a medium that proclaimed "when work of construction ends disaster will result." Later the story that construction must never end would evolve to incorporate an assumption that Sarah believed her life would end as soon as construction did.
On 5 September 1922 Sarah Winchester passed away at her grand mansion. While today she is depicted as "crazy" for building a home to appease the spirits, that's not how she was remembered at her passing by those closest to her. One newspaper obituary documents her benevolent works, including funding the Connecticut State Hospital "tubercular" section and that she was responsible for "the maintenance of several hospitals and other institutions" – though she shied away from publicity for her good works. Her legal advisor and friend Judge S. F. Lieb is quoted as saying:
"Mrs. Winchester was all that a woman should be and nothing that a good woman should not be. She would have disliked any notice of her good deeds, although they were many. If there is a heaven, there she must surely be."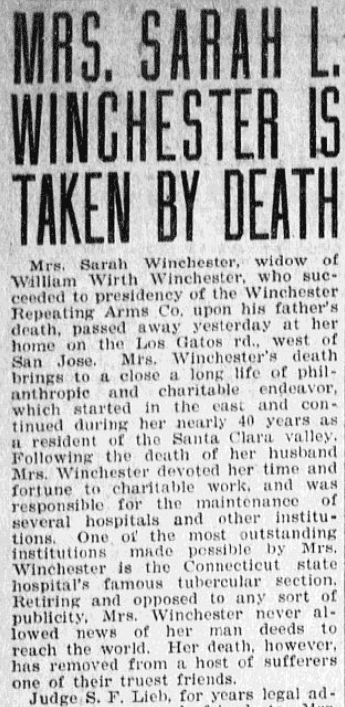 Oh course, Sarah's death meant that stories about this reclusive woman took on a supernatural taint. And those stories grew to have a life of their own after her death. Printed stories about the home and Mrs. Winchester's mission to appease the spirits include this one from 1930. These articles and stories became popular, especially since the buyers of Sarah Winchester's mansion began tours of it in 1923 and used the name "Winchester Mystery House" in the 1930s. This particular newspaper article calls it the "house of 10,000 ghosts" and repeats a story that still is told today:
"A spiritualistic medium told her that she must build a house for the spirits who plague her husband beyond the veil because their earthly bodies had been shot and killed by Winchester rifles."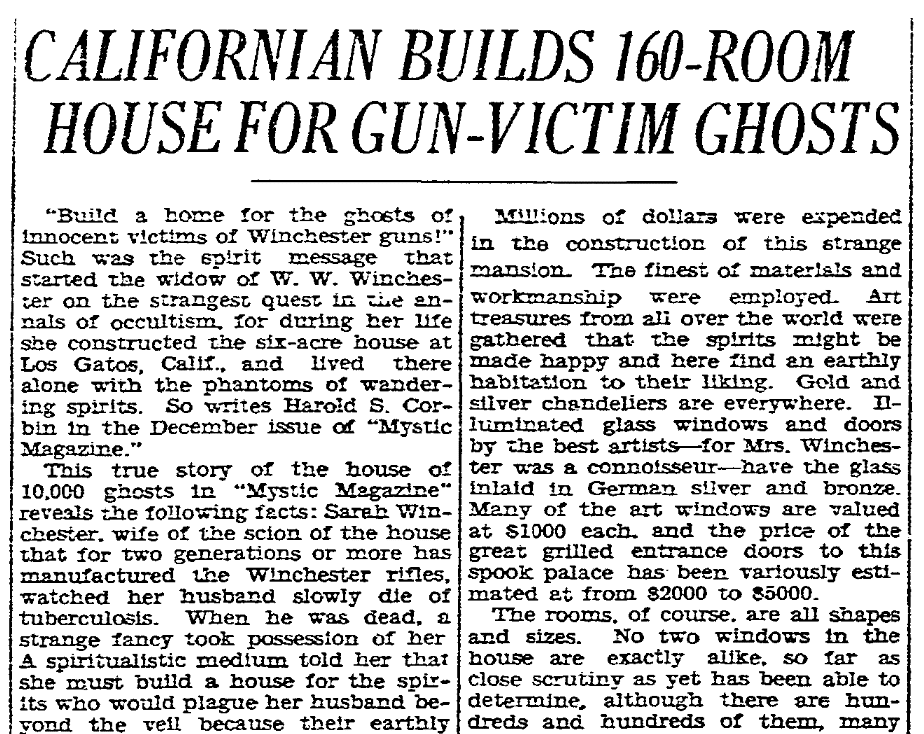 Misunderstood
I've always been bothered by the story of Sarah Winchester and the Winchester Mystery House. I think she's been unfairly ridiculed and judged since most of what we "know" about her comes from gossip and not records or interviews from those who were close to her. Stories provided since the beginning of the "mystery house" tours have been embellished and added to as the years go by, as the following newspaper article alludes to when the author writes:
"It is impossible, now, to fasten onto any one element in the web of rumor, romance and malice which guides and gossips have woven about the old place and say 'This now, is a fact.'"
In 1886, Sarah left her East Coast home for California after experiencing the deaths of her only child, her husband, her father-in-law, mother-in-law, and older sister. While wealthy, her life was anything but charmed at that point. We have no idea what Sarah felt about guns or the money she received as a result of Winchester Arms. Biographer Mary Jo Ignoffo explains that there is no proof that Winchester felt guilt over the deaths of those killed by Winchester rifles, or believed she was being haunted by their spirits. In fact, there's no proof that she believed in spirits or ghosts.
Much of what has been attributed to her being "crazy" can easily be explained. Furthermore, those closest to her tried to refute stories of her being crazy or the house being haunted, but no one wanted to hear the stories from those who knew her – they just wanted to believe a good ghost story. (3) While some thought Sarah was mysterious, Ignoffo's book demonstrates that there is information recorded in various local record sources that tell us the real story of Sarah's life.
The Winchester Mystery House still provides tours and other events. It is an interesting tour that includes some of the unique architectural ideas that Sarah incorporated into her home that will make you think she was ahead of her time, including the switchback stairs with two-inch-risers that allowed the arthritic woman to more easily climb the stairs.
You can learn more about this California "haunted house" from its website.
_________________
(1) "Timeline," Winchester Mystery House (https://winchestermysteryhouse.com/timeline/: accessed 16 october 2018).
(2) "Winchester rifle," Wikipedia (https://en.wikipedia.org/wiki/Winchester_rifle: accessed 16 October 2018).
(3) Ignoffo, Mary J. Captive of the Labyrinth: Sarah L. Winchester, Heiress to the Rifle Fortune. Columbia, Mo: University of Missouri Press, 2010.