Introduction: In this article, Gena Philibert-Ortega presents interesting recipes so that you can try something new this Thanksgiving. Gena is a genealogist and author of the book "From the Family Kitchen."
Can you believe it's that time again? Thanksgiving 2017 is here and it's time to plan the feast. My youngest son's favorite holiday is Thanksgiving – and though his favorites include green bean casserole, stuffing, and yams, I do like to try something new from time to time. Looking in GenealogyBank's Historical Newspaper Archives is a great way to find new-to-you recipes. So, if you're like me and looking for a few new ideas, consider these Thanksgiving Day recipes.
Appetizers
I will admit that I'd be happy to dine only on appetizers at Thanksgiving. I'm a big fan of the bite-sized food served before the main meal. Some new appetizers beyond the veggie and olive tray I typically serve may be found in this 1991 Boston Herald newspaper article focusing on appetizers. I am tempted to add hot artichoke dip to this year's dinner, though I will admit broiled bacon-wrapped stuffed olives or oysters sounds really good as well.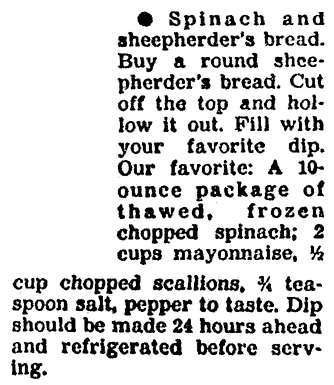 Menu Ideas
Aside from searching for appetizer recipes in the newspaper, you can also find ideas from restaurant Thanksgiving menus. This 2001 menu for the Lordship in Stratford, Connecticut, features Butternut Squash Soup, Season Fresh Fruit & Cheese, Garden Salad and Fresh Tomato, Mozzarella & Basil Salad.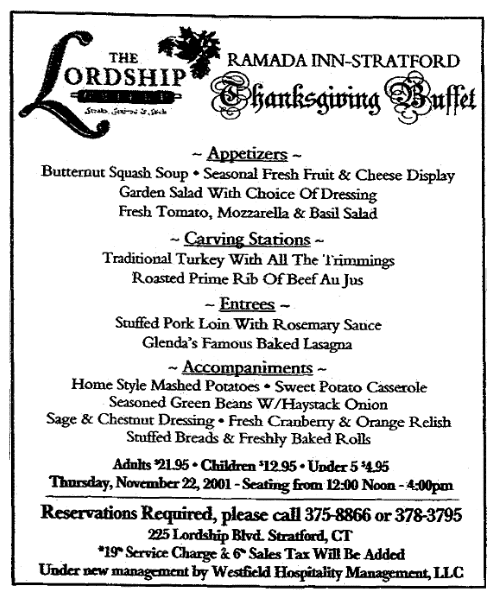 Turkey
I've had turkey that was cooked on the BBQ, fried and, of course, cooked in the oven. At my house we typically cook a 20-pound turkey – but in case you don't want to cook a whole turkey, this recipe from South Carolina provides advice for those who don't need a large bird or don't want tons of leftovers. For this recipe it's suggested that you ask the butcher to cut the turkey in half which might work for a family of 2-4, depending on the size of the turkey and everyone's appetite. This food page also contains a basting tip from First Lady Nancy Reagan.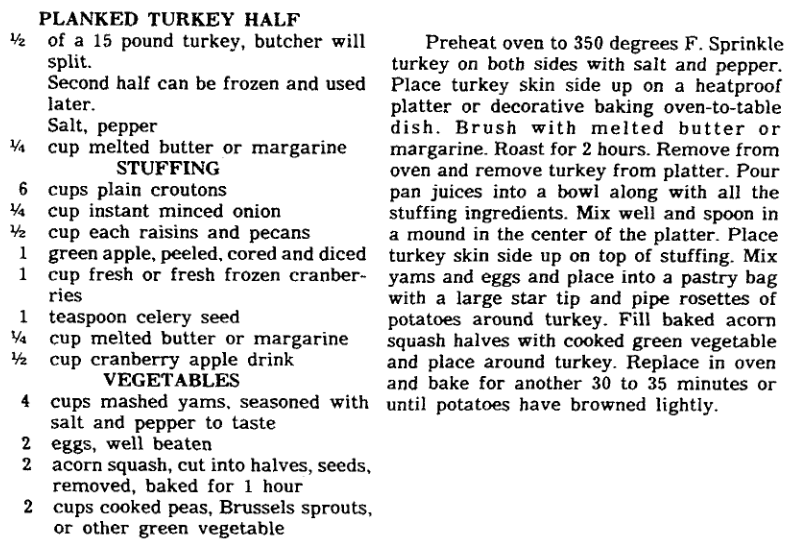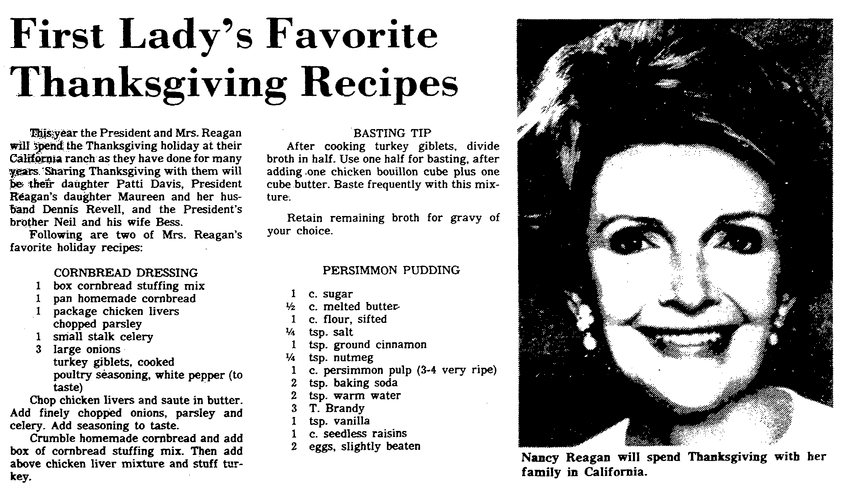 Stuffing
I like the idea of involving the younger generation in food preparation. That intergenerational interaction is what builds lasting memories. This 1988 newspaper article featuring the Archie comic book characters has some great ideas for recipes kids can help make, including this one for Pecan Stuffing.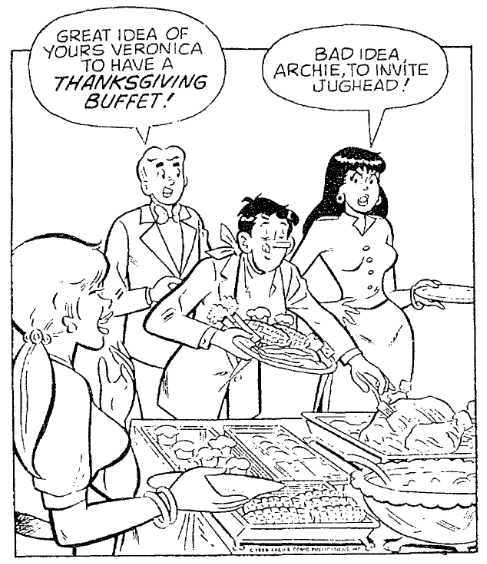 My stuffing recipe includes most of the other ingredients found in this recipe sans the brown sugar and pecans, but I'm looking forward to trying a stuffing recipe that has a little more crunch.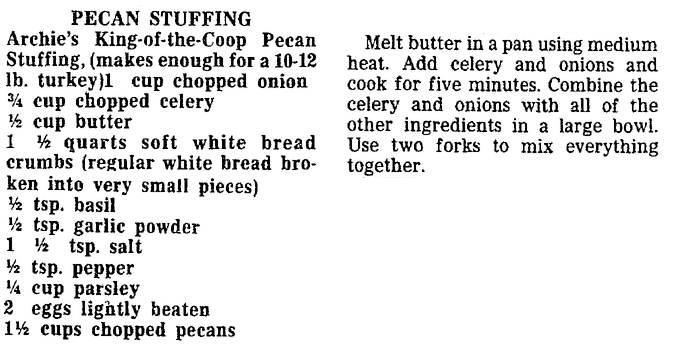 All the Fixings
What dishes accompany your turkey? I will admit that my green bean casserole is straight off the fried onion container. Most of the recipes I prepare for Thanksgiving dishes are fairly standard. Mashed potatoes and gravy are probably a favorite in your home, but have you ever thought of substituting the potatoes for a different root vegetable? How about mashed turnips? Columnist Barbara McKenna in her 1985 Thanksgiving post offered her recipe.
Dessert
Thanksgiving is not complete without dessert. Unfortunately for me, I'll be missing my sister-in-law's pumpkin cheesecake this year – but we will have assorted pies including the seasonal pumpkin pie. But this recipe for a Flaming Pumpkin Flan might just be enough to add some excitement to the end of your feast. After all, who doesn't like a dish that has "flaming" in the title?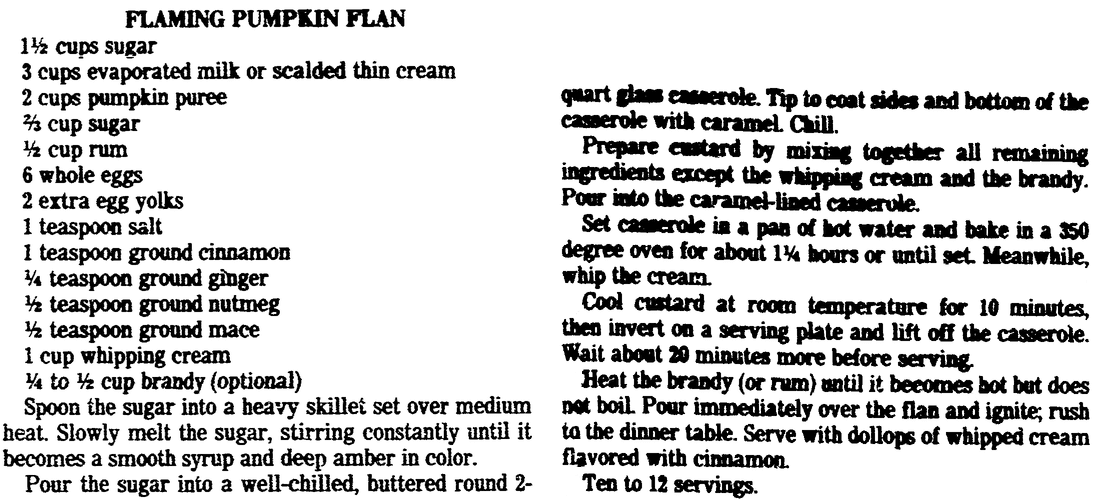 Time to Cook!
What are you preparing this Thanksgiving? Trying anything new? I'd love to hear about your recipes in the comments section below.
Wishing you and your family a happy and tasty Thanksgiving!