Introduction: In this article, Melissa Davenport Berry writes about one of her ancestors in colonial America who defied the local authorities by brewing strong beer – and charging extra for it. Melissa is a genealogist who has a blog, AnceStory Archives, and a Facebook group, New England Family Genealogy and History.
Author's Note: Beer has been a part of American culture since our ancestors first arrived. In fact, the ship Arabella left England with 10,000 gallons of beer and 120 casks of malt to make good cheer in the New World. The Mayflower Pilgrims dropped anchor abruptly due to low beer supply, as William Bradford recorded: "We could not take time for further search or consideration, our victuals being spent, especially our beer."
Beer was often safer to drink than water on long seafaring voyages. A good pint will cure what "ales" you, plus it prevents scurvy and other diseases. Harvard students low on dough paid tuition fees in wheat and malt to supply the campus brew house.
Here is a tale of lager from colonial America, in Newbury, Massachusetts, from a top-shelf resort operated by Tristram and Dionis Coffin – who would later settle the island of Nantucket.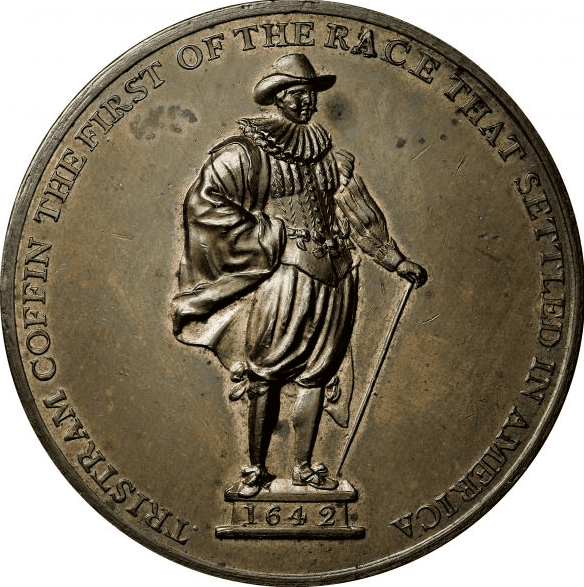 Early records of New England indicate that it was mandatory for every town to establish a licensed "ordinary" (tavern) or else incur a fine. There were also laws regarding the brewing of beer, with a minimum amount of malt per hogshead (barrel), and how much could be charged per quart.
At this time, inn holding was considered a very reputable occupation and Tristram and Dionis Coffin were sterling candidates – but as this newspaper article noted, Mrs. Coffin was bagged by officials for selling beer at three pence a quart instead of the approved price of two pence.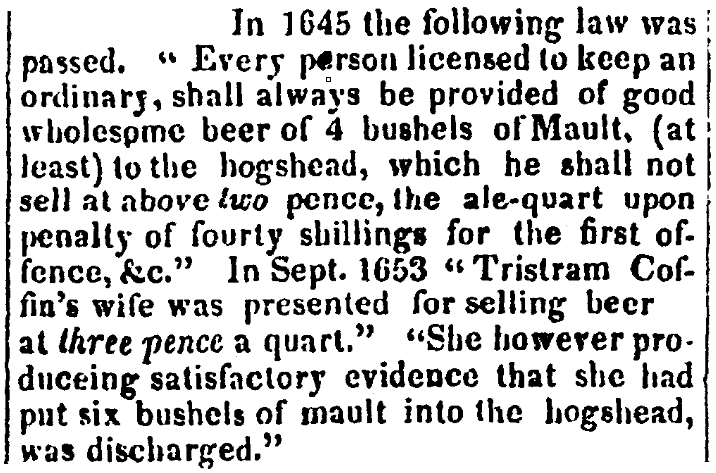 In general, Puritan laws were not open to interpretation – and those who stepped out of bounds were hauled in for examination.
Despite these regulations, Dionis Coffin decided to tap into a new recipe for beer that was stronger and stouter than her competitors' brew. She was defiant when the officials questioned her, as reported in the Newburyport Daily News.
Her magic elixir made quite a splash, and even at the higher price, it sold well.
Another newspaper article, published by the State Times Advocate, described women doing business in colonial America and cited Dionis' court trouble. We can only guess that when local officials heard the buzz about her chichi beer it probably brewed real trouble for her.
When she appeared in court in September 1653, ready to do battle, she asserted fermentable trust in her barley pop. According to court records, one of the witnesses was Mr. Samuel Moore, who gave testimony that she did indeed mix "six bushels of malt into each hogshead," and claimed that she produced a better-quality brew and therefore should be allowed to charge a premium price.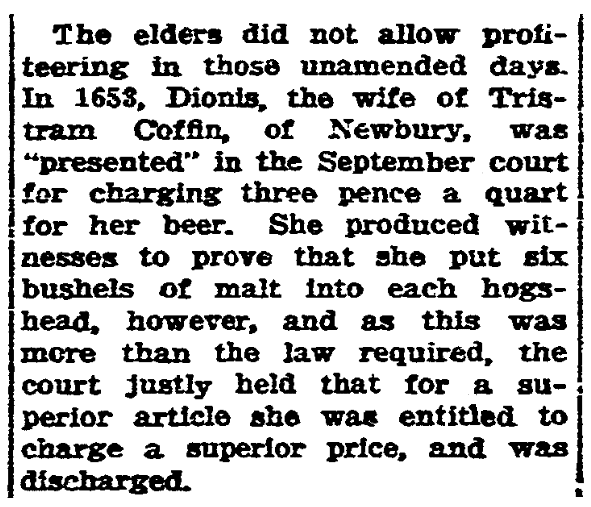 The issue was resolved quickly, and all charges were dropped – perhaps Dionis slipped the city elders a jug or two.
Bethany Groff, a local author, historian, and North Shore Regional Site Manager of Historic New England, offered some insight into the early brewing industry of colonial America. Bethany is a direct descendent of Dionis (9th great grandmother) and oversees one of the Coffin descendants' historic homes in Newbury, Massachusetts.
She is well versed in tavern lore and brew, and noted:
"Dionis' brewery is one of the first accounts of women business records, and she defended her product for its quality and higher prices, as crafters of home brew still do today."
In this way, Dionis set precedence for future entrepreneurs, and Groff further asserts:
"Craft Brewers of today can trace their philosophy of better ingredients and small-batch brewing to women like Dionis, who took great pride in their beer and charged accordingly."
The Newburyport Daily News article cited earlier stated that: "Evidently Dionis Coffin was a woman of strong mind and character… A few years later as they continued to be at odds with the law, they left with half their family for Nantucket." A son Tristram Jr. stayed in Newbury, and so did several generations thereafter who held many high positions locally.
The Coffin family produced as many exceptional offspring as there are distinct craft brews in this country. One of the Nantucket daughters, Mary Coffin Starbuck, was industrious and held many titles. Among them was "the Great Merchant," and she was the first Quaker minister of the island.
Thankfully, the brewing industry continues to prosper in the Newbury area. Natives Bill Fisher and Chris Webb, who operate the Newburyport Brewing Co. at 4 New Pasture Road, are certainly carrying on in the tradition of Dionis Coffin. Their first three debut brews were Plum Island Belgian White, Newburyport Pale Ale, and Green Head IPA, "The Beer That Bites You Back."
Bethany Groff's husband James was the head brewer for the Ipswich Ale Brewery and now is operations manager. Bethany does a splendid "Tales and Ales" on her historic sites every year, so try to sign up in the future and take a stroll into taverns past!
(The original Coffin tavern is no longer standing. Tristram Jr., rather than his father, owned the historical "Coffin House," located on 14 High Road (1678) in Newbury. Many sources list this as the location of the original Coffin tavern, which is incorrect.)
Find out more about the Coffin House and other local historic sites at Historic New England.
Stay tuned for more women brewers, bakers, and healers of the early colonial period!
Note: Just as an online collection of newspapers, such as GenealogyBank's Historical Newspaper Archives, told the story of Dionis Coffin, they can tell you stories about your ancestors that can't be found anywhere else. Come look today and see what you can discover!
Sources and Further Reading:
"Records and Files of the Quarterly Courts of Essex County Volume 1," p. 303, Essex Institute, Massachusetts, 1911.
Groff, Bethany. "A Brief History of Old Newbury: From Settlement to Separation." Arcadia Publishing Incorporated, 2008.