"What have I done I asked myself, to deserve to be remembered by strangers in a town in which I had never been…"
You can almost hear him ask that now, over 100 years later as we remember him.
Corporal Wilson Mcpherson Osbon (1877-1899) wrote the letter on 28 Dec 1898, in gratitude for a Christmas care package of food and goodies sent from Mrs. R.S. Gleason of Aberdeen, SD. She had sent it to him and the three other young men who were serving in the Philipines from Howard, South Dakota in Company F – among them was his brother Orman King Osbon (1874-1903).
Portion of his letter – Aberdeen Daily News 22 Feb 1899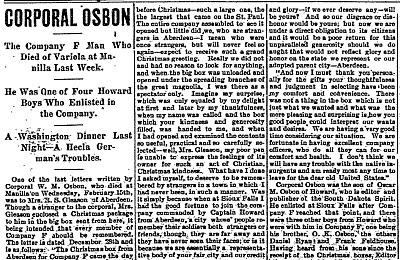 This would be the last letter Wilson Osbon would write back home. He was killed just a few weeks later on 15 Feb 1899.
I found his story in the Aberdeen (SD) Weekly News.
In looking into it further, I quickly pulled more than a dozen articles about him and his family in
GenealogyBank
.
It was gripping to read his last letter.
Even more gripping to read in the old newspapers that his brother Orman was also killed in the Philippines just four years later in a fight leading a group of 22 men against a band of local thugs – in Bolinao, Philippines.
Going beyond the historical newspapers I found Orman Osbon's obituary in a 1903 report of the War Department. It was there that I learned one more key family detail – Orman Osbon had married in the Philippines and his wife, Antonia Osbon resided in Manila.

Annual reports of the War Department for the fiscal year ended June 30, 1903. Volume VII. Report of the Philippine Commission –
Serial Set Vol. No. 4634, Session Vol. No.858th Congress, 2nd SessionH.Doc. 2 pt. 7. p. 719.
I checked the other popular online sources – none of them give these details that filled in the family tree.
I could only find the complete record in GenealogyBank – dozens of articles and reports that gave the crucial details of this family and their loss of two sons in the service of the country on the other side of the world.
The handy search box made it easy – I entered the name and it searched all 219 Million records and documents – making it quick and easy to find the details of the family tree.

Give it a try right now – there is a special give it a try rate of $9.95.
(Visited 10 times, 1 visits today)