Introduction: In this article, Scott Phillips searches through old newspapers and other sources to learn about the incredible story of the whaleship "Essex," which was sunk by a huge sperm whale in 1820! Scott is a genealogical historian and owner of Onward To Our Past® genealogy services.

Longer ago than I care to admit, my English teacher suggested (OK, it was actually required) that I read the classic American novel Moby-Dick by Herman Melville. While I found this book to be a better adventure story than most of my required reading, I must admit that as a youth I was not the biggest fan of Mr. Melville's style. Then a few days ago a friend of mine mentioned that November 20th is the 193rd anniversary of the sinking of the whaleship Essex by a giant whale, and that I might find that shipwreck story interesting.
I took up that suggestion, and first I decided to check the newspapers of GenealogyBank.com to see what might have been reported regarding the Essex. My first discovery was a tremendous article in an 1822 New Hampshire newspaper.
This article is amazing and I was immediately captivated by this truth-is-stranger-than-fiction story. It seems that the Essex, a whaleship out of Nantucket, Massachusetts, was "stove" or rammed in the South Pacific by, believe it or not, a huge sperm whale!
The tragic story of the few crew members (only 8 of 20) who survived the sinking of the Essex is almost beyond comprehension. They had to sail thousands of miles of open water in three small boats in a desperate attempt to reach South America, with short supplies of food and water that soon gave out—forcing the men to rely on cannibalism and drinking their own urine in order to stay barely alive. Their ordeal lasted three months and over 4,000 miles.
The ship's captain, George Pollard, Jr., had left two letters on a deserted island in a tin box, fearing he would not survive the ordeal (he eventually did). I found his public letter that was later reprinted in the newspaper (the other was for his wife) to be truly heartrending.
I looked further and my next discovery was far more recent, having been published by a Georgia newspaper in 2000.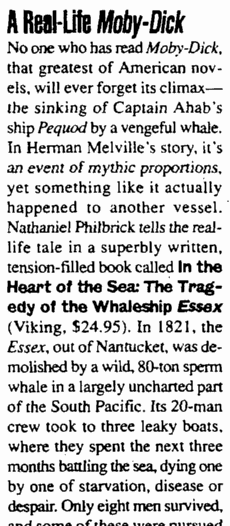 I was curious to see what was being reported in 2000 about a shipwreck that happened way back in 1820. It turns out the article was a book review of a new book by noted history author Nathaniel Philbrick, In the Heart of the Sea: The Tragedy of the Whaleship Essex. Although the review got the date of the disaster wrong (the Essex was sunk in 1820, not 1821), it explained that the Essex tragedy may well have been an inspiration for Melville's classic. Given my love of history, I immediately bought Philbrick's book and began reading a truly fascinating account of this period in American history, as well as the details of the Essex and her crew's ordeal.
As I read Philbrick's book, which I highly recommend, I discovered that he based much of his book on something that each of us as genealogists can hope for and relate to: a long-lost family notebook. It seems that one of the few shipwreck survivors, Thomas Nickerson—who was a cabin boy on the Essex—was encouraged to write down his recollections of this tragedy, and did so in 1876. However, for more than a century his notebook lay undetected, until it was discovered in an attic by Ann Finch of Hamden, Connecticut.
I found the story of Ann Finch's amazing notebook discovery in a 1981 Texas newspaper.
Edouard Stackpole, an expert from the Nantucket Historical Association, verified the notebook's authenticity and historical value.
Author Philbrick does a tremendous job of introducing the readers of his book to the crew of the Essex, and it was her crew that began to captivate me. Soon the genealogist in me took over and I decided to do some genealogical investigating.
The genealogy detail was there to be found. On the free website FamilySearch.org, I found the 1850 United States Census for Nantucket, listing Thomas Nickerson as a "mariner." The 15-year-old cabin boy was now a 45-year-old married man.

He was still listed as a mariner in the 1855 Massachusetts State Census for Nantucket.

I even found his listing on the 1883 Nantucket Death Register; the ancient mariner died of "old age."

Further investigation of the life of Thomas Nickerson led me to an article published in an 1879 Michigan newspaper.
Here I learned that cabin boy Nickerson ultimately became a captain later in his life, and I enjoyed this account  of the story of the great whale that did in the Essex and, as a consequence, so many of Nickerson's crew mates.
This account of the whale attack contained the following exciting description. After the whale first struck the ship, it rushed back for a second attack.
The old news article concludes with this description of the then 74-year-old Nickerson, who by that time had been living with the horrible memories of the Essex ordeal for almost 59 years.
Now I am off to continue my genealogical investigations into the surviving crew members of the ill-fated Essex. I think my next crewmember is going to be boatsteerer Benjamin Lawrence.
But before I begin learning about Mr. Lawrence, I need to look further into a certain "Mocha Dick"! You see I also happened to discover an article published in an 1839 New York newspaper, which tells the story of another fearsome sperm whale, this one an albino who was "white as wool" and supposedly had over 100 fights with whalers before he was finally killed.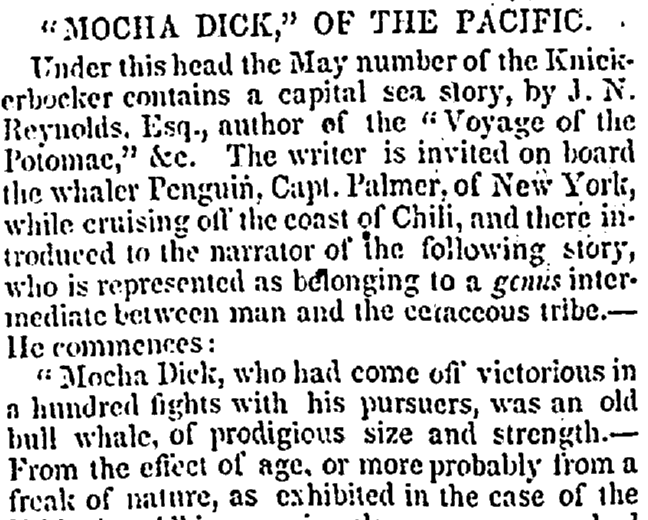 I suspect the story of Mocha Dick was another influence on Melville's imagination when he wrote his great epic Moby-Dick, which was published in 1851.
What a tremendous shipwreck story with so much more to learn! It's time to dig deeper into these historical newspapers and find out more about the rest of the survivors.