I was having trouble finding information on my cousin Frances L. Henderson, born about 1909 in Paulding County, Georgia.
I wasn't finding her obituary.
It could be that she had married, and therefore had a different surname.
It should be simple – but I couldn't find a record that she married.
So, I looked for her in the census. I didn't find her. She must have married and therefore had a different surname.
Next, I searched for her parents to see if their records gave me a clue.
That worked.
I found the 1940 census record for her mother, Louella Henderson, which listed Frances as living with her parents under the name Frances Matthews – and she had a son.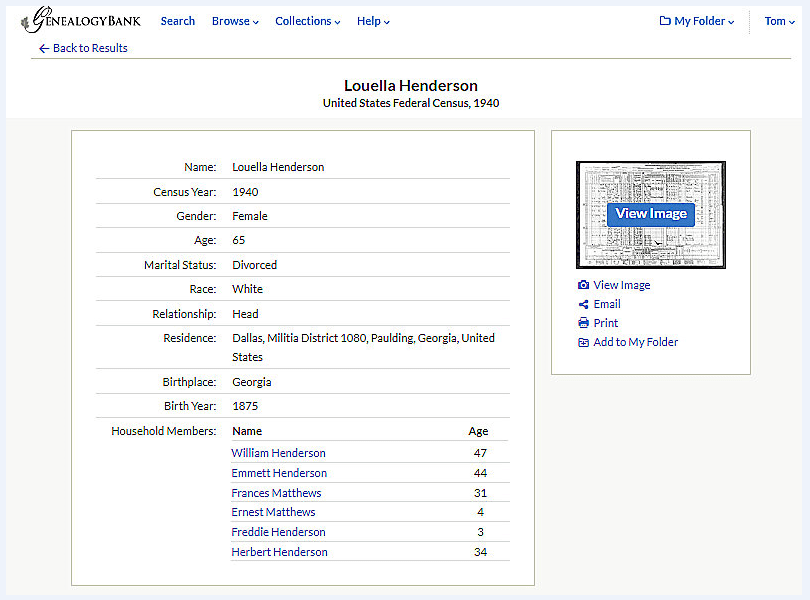 The census record also said that Frances was widowed.
Continuing to search on the mother's name, I then found France's obituary.
She was listed as "Mrs. Fannie Pearson" when she died at the age of 99 in 2008 – she had remarried. I wouldn't have known to search for Frances L. Henderson under the name of "Mrs. Fannie Pearson," but because her obituary listed her mother, I was able to find her.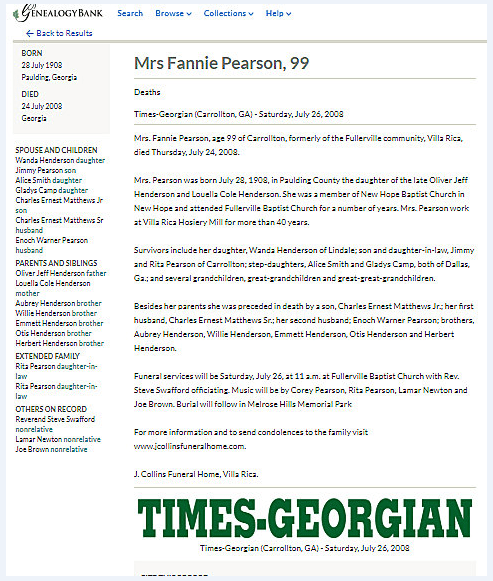 That was the key.
The obituary gave me her full date and place of birth, and her date of death. Critically, it gave me the full names of her two husbands and the full name of her son. He had been listed as "Ernest Matthews" in the 1940 census, but per the obituary his name was "Charles Ernest Matthews, Jr."
Knowing both of her married names allowed me to dig for additional information about Frances.
When I began my search, I knew that her name was Frances and that she was born about 1909 in Paulding County, Georgia. Now, thanks to the census and obituary records, I had the rest of her story.
With this information I can more accurately fill in the details of my family tree and continue looking for additional clues and details.
It is critical to be flexible in your search terms.
Searching for her name was not getting me the results I needed – by switching to looking for records on her mother, I was able to find the records I needed about Frances and get a more accurate picture of my family tree.