William Walcutt was there—a stalwart throughout the American Revolutionary War. He enlisted at Valley Forge 7 May 1778 "while yet a youth." He was only 17 years old, having turned 17 just a month and a half earlier.
When he died at the age of 73, his one-paragraph obituary detailed his military service during the Revolutionary period.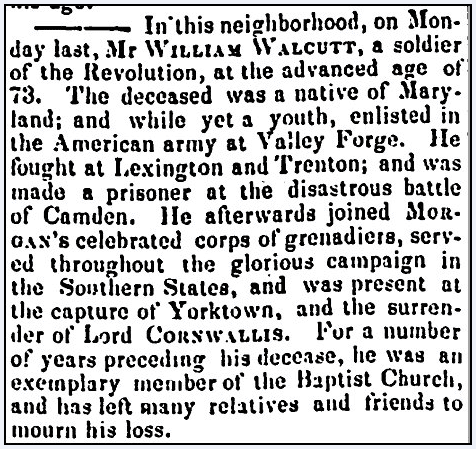 The soldier's obituary states that he fought at the battles at Lexington and Trenton, and was later captured at the battle of Camden. It also reports the key fact that he:
…afterwards joined Morgan's celebrated corps of grenadiers, served throughout the glorious campaign in the Southern States, and was present at the capture of Yorktown, and the surrender of Lord Cornwallis.
Brigadier General Daniel Morgan's Southern campaign was one of the decisive turning points of the war, especially the Battle of Cowpens.
According to Wikipedia:
"Morgan chose to make his stand at Cowpens, South Carolina…As the British forces approached, the Americans, with their backs turned to the British, reloaded their muskets. When the British got too close, they turned and fired at point-blank range in their faces. In less than an hour, [British Colonel Banastre] Tarleton's 1,076 men suffered 110 killed and 830 captured. The captives included 200 wounded. Although Tarleton escaped, the Americans captured all his supplies and equipment, including the officers' slaves. Morgan's cunning plan at Cowpens is widely considered to be the tactical masterpiece of the war and one of the most successfully executed double envelopments of all of modern military history."
When William Walcutt died in Columbus, Ohio, he was honored and remembered for his service in the American Revolution with an inscription telling about it on his tombstone.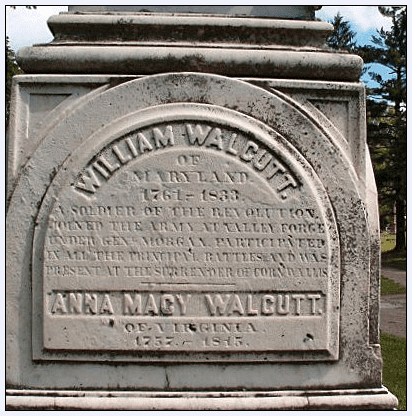 The inscription reads:
William Walcutt of Maryland, 1761-1833. A soldier of the Revolution. Joined the Army at Valley Forge under Gen. Morgan. Participated in all the principal battles and was present at the surrender of Cornwallis.
Don't let your Revolutionary War ancestors be forgotten. Find their stories in GenealogyBank's newspaper archives, and preserve and pass them down in the family.
Related Revolutionary War Articles:
[bottom_post_ad]
(Visited 316 times, 1 visits today)