Introduction: Scott Phillips is a genealogical historian and owner of Onward To Our Past® genealogy services. In this guest blog post, Scott writes about several "Oh Wow!" genealogy moments he had when he researched a remarkable member of his extended family: the brilliant scientist Cledo Brunetti.
While I really enjoy every aspect of genealogy and family history, if you are like me, you really treasure and celebrate those amazing "Oh Wow!" moments when you make an unexpected research discovery.
For me one of these exciting genealogy research moments, which actually resulted in me doing my best Happy Dance (something like this that you do not want to witness), happened when I was looking through GenealogyBank.com for information on one of my wife's great uncles, Cledo Brunetti. I had not done much work on my wife's "Uncle Cledo," but I had become intrigued by a number of family stories that this fellow was involved in sophisticated research on behalf of the United States. So off I went in search of the story of Uncle Cledo.
As I said, Oh Wow! My very first research discovery was a 1946 newspaper article that confirmed a whopping four of the family stories I had heard about Uncle Cledo.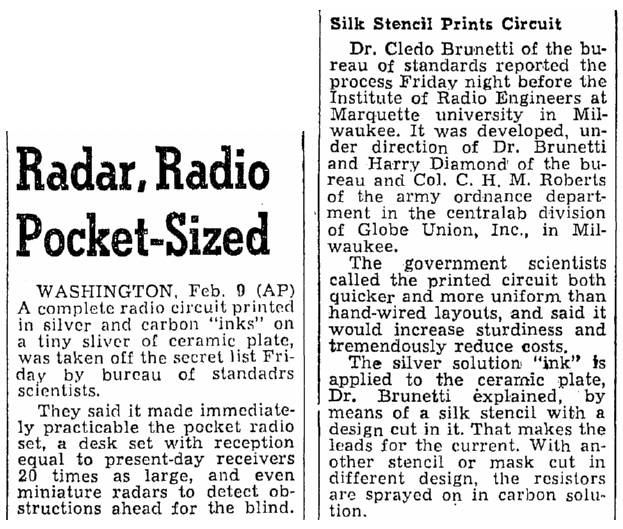 First, it reported that Dr. Cledo Brunetti worked for the Bureau of Standards for the U.S. government. The old newspaper article went on to say that he was with a group instrumental in the development of the proximity fuse for American munitions, was involved in the creation of the first transistor radio (about the size of a pack of cigarettes), and had a hand in the invention of the very first printed circuits. Not a bad start to my ancestry research, especially since a subsequent newspaper article included the fact that Uncle Cledo was actually the Director of the Ordinance Division of the Bureau during World War II.
Then I opened another amazing research find! This 1947 news article reported that Uncle Cledo was introducing a "personal vest-pocket broadcasting station" for radio communications. One half was so small it fit in a tube of lipstick and the other half was on a calling card. This certainly seemed to be the beginnings of what I had been told was his development of the "Dick Tracy Wrist Radio."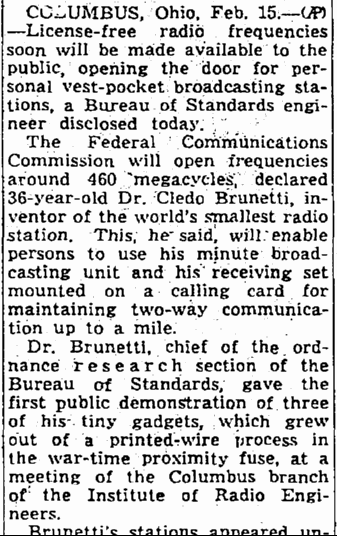 Best of all, this 1947 article featured a picture of Uncle Cledo!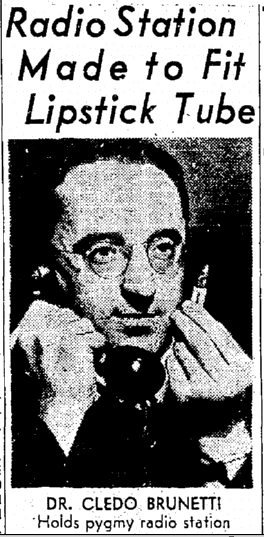 Then surprise, surprise! In a 1948 newspaper I found an article entitled "Dick Tracy Radio May Come True" and who do you think was the inventor quoted? Yep, none other than Uncle Cledo and he was talking about having one made as a Christmas present for President Truman!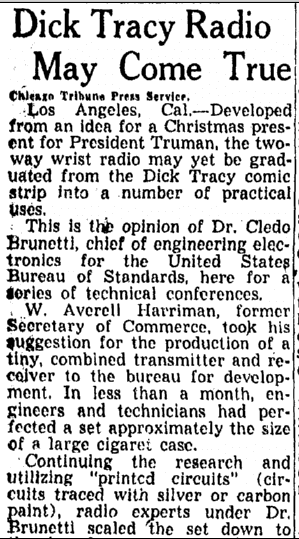 A 1949 newspaper reported (with some wonderful photographs): "Dick Tracy's Wrist Radio Comes True." Yep, Uncle Cledo really did it!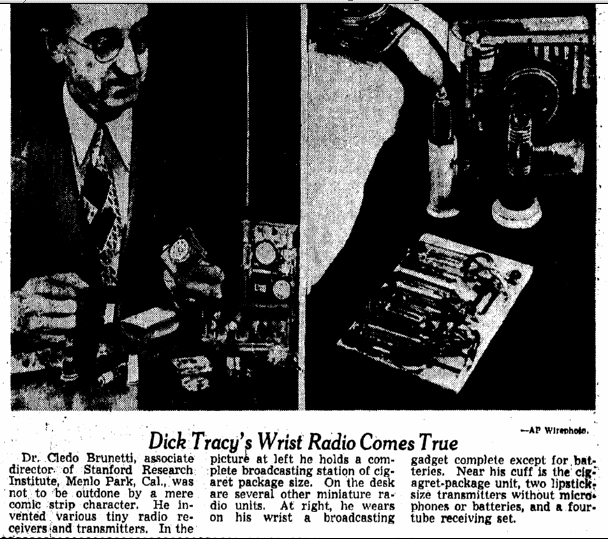 Then I found a 1961 newspaper article that surprised even my wife, Mary Kay, Cledo Brunetti's niece.

This old newspaper article quotes Uncle Cledo, in his role as president of the Grand Central Rocket Company, discussing his work on space rockets and how NASA could get a man on the moon—and his testifying before the House Space Committee in Washington D.C.
Wistfully, Mary Kay told me how much I would have loved meeting Uncle Cledo, and then she related how Uncle Cledo had given her and her family a private tour of the Lick Observatory while on a family vacation in California. It's such a small world…my great uncle James Vanek was the man who accompanied the Warner & Swasey telescope parts on the train from Cleveland, Ohio, to the observatory where it was installed.
I thought I was done with my genealogy research on Uncle Cledo when I decided to do a quick Google search to augment my GenealogyBank.com information, and I found one more amazing item. It seems that ever since 1975 the world-premier award in nanotechnology, awarded by the Institute of Electrical and Electronics Engineers, is named the "Cledo Brunetti Award."
What is the biggest Oh Wow! moment you have had in your genealogy efforts? I'd sure love to hear about it! Please share your ancestor stories in the comments.
(Visited 232 times, 1 visits today)