GenealogyBank is a great source for tracing your Irish heritage. For example, if you were searching for the Brady family, within minutes you would find this obituary for Nicholas Brady (1912-2006) which says he was born in Belturbet, County Cavan, Ireland.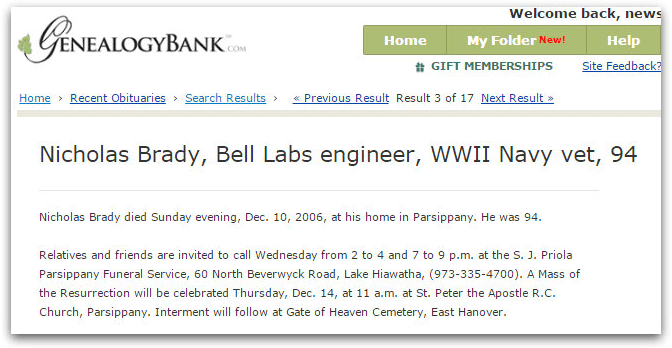 His obituary gives us details about his life.

GenealogyBank is an easy source to use to find your Irish heritage. We have a special search page for our Irish American newspapers collection.
You can focus your search on these eight Irish American newspapers in GenealogyBank – or on all 7,000+ newspapers in our Historical Newspaper Archives.
Irish American Newspapers
Each one of these Irish American newspapers was published in New York City – but their circulation extended around the country and up into Canada.
Find your Irish cousins in GenealogyBank today!
Related Articles:
(Visited 503 times, 1 visits today)