Andy Williams, platinum-selling musical artist renowned for his smooth voice and classics such as "Moon River," died Sept. 25, 2012, at 84 years old.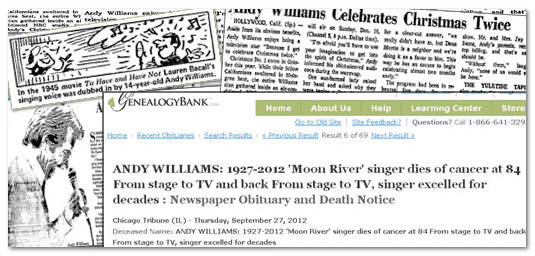 Find old newspaper articles and recent news about famous American singer and entertainer Andy Williams in GenealogyBank's online archives.
Read the latest news about Andy Williams's recent death in our obituaries archive now: http://bit.ly/So8wkK. Keep an eye on this page. We receive live newspaper feeds so we should have his obituary and funeral details available in the archives soon.
I have been reading more about the life and career of this great entertainer, and finding out a lot of interesting things. For example, I didn't know that at age 14, Andy Williams was the dubbed-in voice of Lauren Bacall in her 1945 move "To Have and Have Not."
Listen to it here on Youtube: http://www.youtube.com/watch?v=PX3ccbPbohg
(Visited 26 times, 1 visits today)