Introduction: In this article, Gena Philibert-Ortega searches old newspapers for American Chop Suey recipes – and to find the various names Americans call this dish. Gena is a genealogist and author of the book "From the Family Kitchen."
Recently I gave a presentation on food history and family history. On my presentation's title slide I had a photo that looked like this: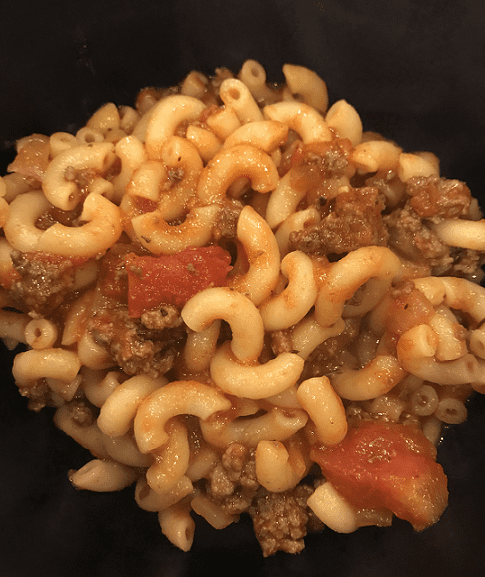 One of the participants asked me what my name for that dish was. I answered by asking him what he called that dish. Why? Depending on where you grew up or where your family is from, you may have a different recipe name for this combination of ground beef, elbow macaroni, and tomato sauce then I do.
Anyone for American Chop Suey?
Growing up, my mom made a dish called Soupy Macaroni. I thought that no one else ate this dish and that it was something that my mom invented. But I was wrong. This dish is very familiar to lots of people, but we don't all call it by the same name. In fact, it seems – despite some of the foreign names it's called – it's actually more American than apple pie.
It's probably obvious to you that there are regional food differences. But in some cases, those food differences may not be so much about a different type of food than a variation on a theme. You may go to a restaurant in a different state and that restaurant could serve dishes you are familiar with, but call them something completely different.
A good example of this was the time I was visiting my grandmother in Arizona and my cousin asked me if I wanted to have a burro for dinner. The thought of eating a small horse-like creature resulted in my becoming extremely anxious, only to later relax when I realized she was serving the very familiar-to-me meal of burritos.
Consider a pasta dish that combines macaroni, tomato sauce, and ground beef. In some cases, there might be additional ingredients such as onions, garlic, cheese or green bell peppers. What did your family call this dish?
Depending on where you live, your name for this common recipe might be different than my mom's "Soupy Macaroni." People from the New England states call it American Chop Suey. Those from the Midwest call it Goulash or American Goulash.
Other names include:
Macaroni Casserole
Macaroni and Beef
Beefaroni
Chili Mac
Johnny Martzetti (Ohio)
Slumguillion
It's easy to understand why this dish has been featured in school cafeterias and on family dinner tables. The ingredients are inexpensive and numerous variations of the dish exist, so the cook can customize it with any number of vegetables or other ingredients.
The Recipes
So now that you've heard a little bit about American Chop Suey, are you ready to make some for dinner? Historical newspapers, such as those in GenealogyBank's Historical Newspaper Archives, have the recipes.
This 1935 recipe printed in the Boston Herald is from the Marjorie Mills Hour radio show, and this article from that broadcast not only gives a recipe for American Chop Suey, it also includes listeners' housekeeping and food tips – including one from Mrs. Hood of Athol who says to "give flavor to cream soups, especially cream of onion by melting a piece of cheese about the size of a walnut in the soup just before serving." This American Chop Suey recipe calls for multiple nondescript packages of noodles, canned tomatoes, grated American cheese, onion, chopped beef, celery, and chop suey sauce.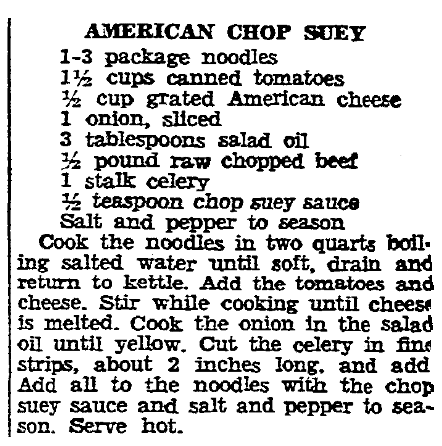 As I talked with friends about American Chop Suey and their versions, some commented that they used canned tomato soup instead of tomatoes or a tomato sauce. Canned tomato soup is the ingredient in this recipe that a newspaper reader submitted, using spaghetti, fried onions and pork chops.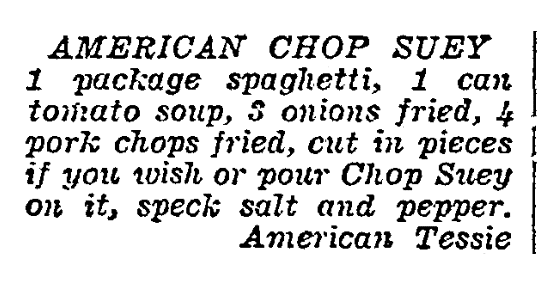 I love recipes that are submitted by newspaper readers that include their name and residential address, like this one from Mrs. Gordon C. Oakes of 183 Feronia Way, Rutherford, New Jersey. This 1958 take on the combination of macaroni, ground beef, and tomatoes is called American Goulash and also includes bacon, tomato soup, and green peppers.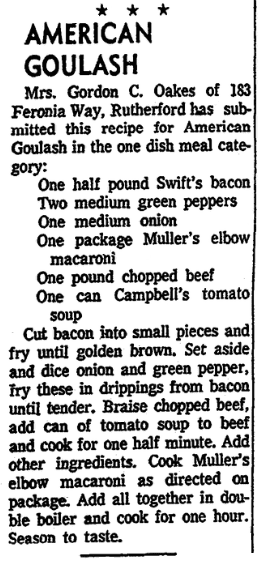 Another variation, this time a recipe for Slumguillion, is part of a column dedicated to feeding friends when money is tight – like the days following Christmas. This Slumguillion recipe is a little different from the American Chop Suey recipes featured above since it doesn't include pasta, but it does include beef, celery leaves and stalks, onions, carrots, potatoes and tomatoes.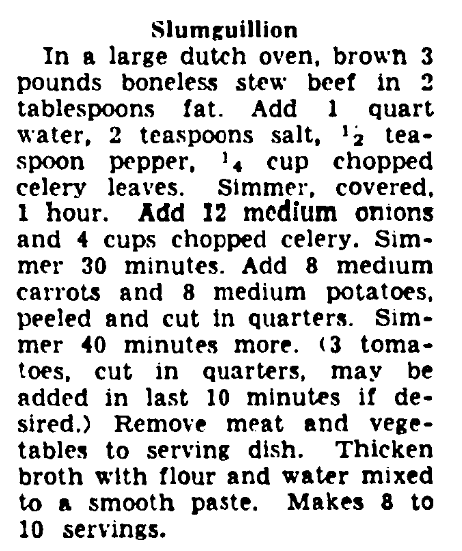 Finally, this 2007 American Chop Suey recipe implores would-be cooks to make sure they add more to their creations than just pasta with meat sauce – true American Chop Suey is much more than that. This version has quite a bit going into it, including bacon and soy sauce.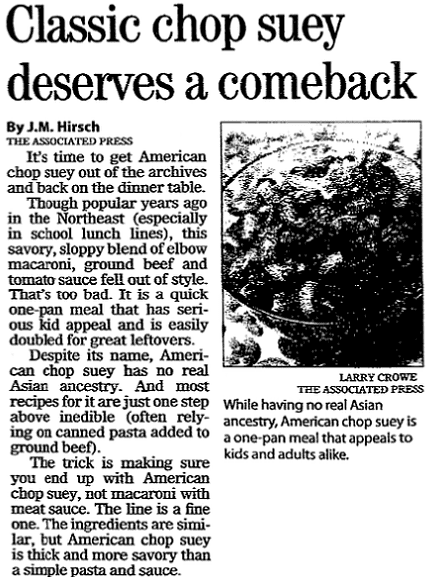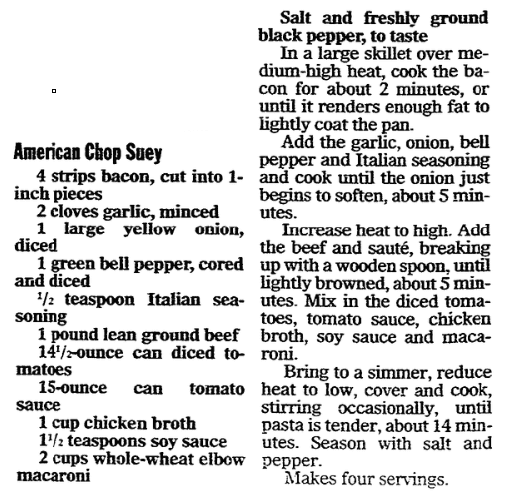 I Know What's for Dinner
I still make "Soupy Macaroni" occasionally. Where did my mom get that name for this dish? I don't know and she doesn't remember. I found as I asked my friends about their versions that they sometimes had their own "made-up names" for the dish. These names span the descriptive to the humorous like "Shipwreck," "Glitch Goulash," and "Noodle Muck."* I've also had people describe this dish as something their parents made with whatever leftovers existed.
So, what's your name for the dish that combines macaroni, ground beef, and tomatoes? Was this a dish you ate as a child? Was it something your school served at lunch? I'd love to hear your experiences in the comments below.
* Thanks to Sydney Shaffner Gabel, Kristi Sexton, and Amy Urman for sharing their names for this popular dish.