Introduction: In this article – in honor of today being National Fajita Day – Gena Philibert-Ortega searches old newspapers to discover fajita recipes. Gena is a genealogist and author of the book "From the Family Kitchen."
What's for dinner? Today, being National Fajita Day, is a perfect day for fajitas. Have you ever eaten fajitas? The recipe for fajitas starts with a meat that is grilled with onions and bell peppers. The finished product is served with tortillas that you fill with the grilled meat and vegetables, and top with ingredients like sour cream, guacamole, tomatoes, and cheese.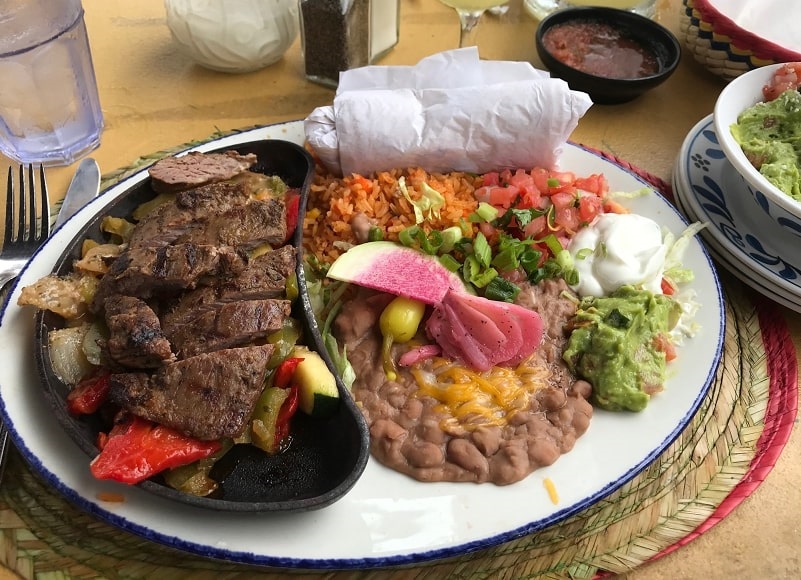 Fajitas are a popular dish at restaurants, where they come to the table served in a still-sizzling metal skillet platter. They are a more recent addition to Mexican restaurants' menus, having been "invented" in the 20th century. Historical newspapers provide us more information about fajitas, including recipes that you can use to celebrate today.
Fajita History
An online search for the history of fajitas reveals that its more recent history stems from 1930s Texas. "The first evidence of the fajita comes from Mexican ranch workers living in West Texas along the Rio Grande in the late 1930s and early 1940s. Back then, the workers were sometimes paid with meat as partial payment for their services. They were given the least desirable parts, though – the head, entrails and skirt steak, which can be found underneath the cow's heart and lungs. The workers learned to use the tough cut and make it into an edible meal. They marinated and grilled the meat and served it on tortillas." (1)
The word "Fajita" comes from the cut of meat used for the dish: skirt steak. "The Spanish word 'faja,' meaning 'belt' or 'girdle' in English; the literal translation of fajita is 'little strap.'" (2)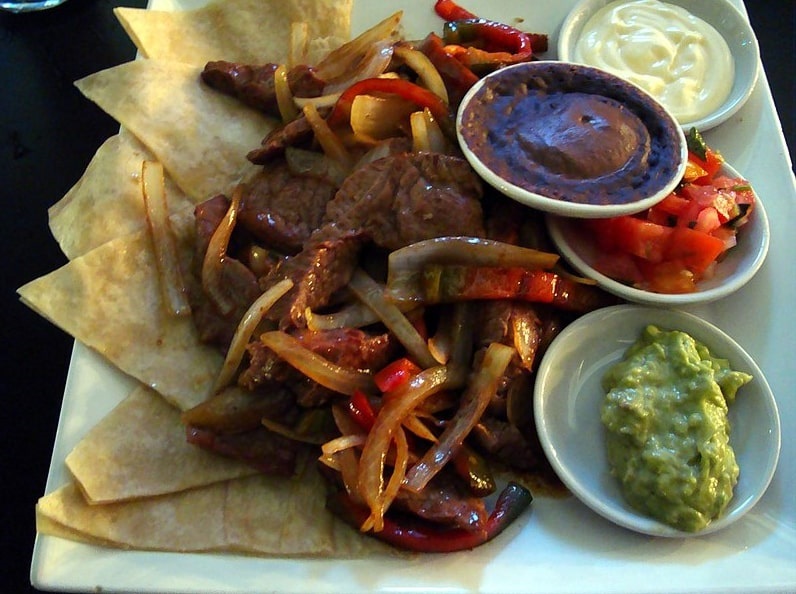 It was a few more decades before the fajita grew in popularity in Texas, and it took a bit longer for it to become more than a regional food. "Sonny Falcon, a meat market manager for Guajardo's Cash Grocery, began experimenting with the meat. He set up a fajita concession stand in September 1969 during a festival and sold fajitas to crowds. He also attended other rodeos, fairs and outdoor festivals." (3)
About the mid-1970s mentions of fajitas can be found in restaurant and store newspaper advertisements. Recipes soon followed. The Miriam-Webster dictionary proclaims that the first printed use of the word "fajita" is from 1971. (4)
Here is a newspaper advertisement for fajitas from 1979.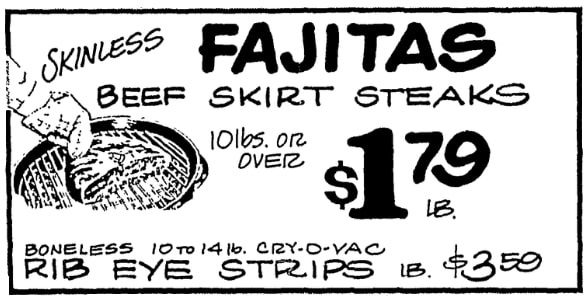 I checked a few Tex-Mex cookbooks in my collection, one published in 1980, and the first recipe for fajitas I found was from the 1990s. However, in some instances a similar dish using skirt steak has been found in earlier cookbooks, including California author Elena Zelayeta's recipe for Aldilla Adobada in her 1944 cookbook Elena's Famous Mexican and Spanish Recipes. (5)
Fajita Recipes
An online collection of newspapers, such as GenealogyBank's Historical Newspaper Archives, is a great place to find recipes for fajitas. Whether you enjoy steak or chicken, there are some standard recipes as well as variations. As I said, fajitas are named for the skirt steak that is the main ingredient – but you can find fajitas made from chicken, pork, and seafood. You can even make vegetarian fajitas by grilling your favorite vegetables.
This newspaper article includes recipes for both steak and chicken. It also provides instructions for everything else you will need to put together your fajita platter.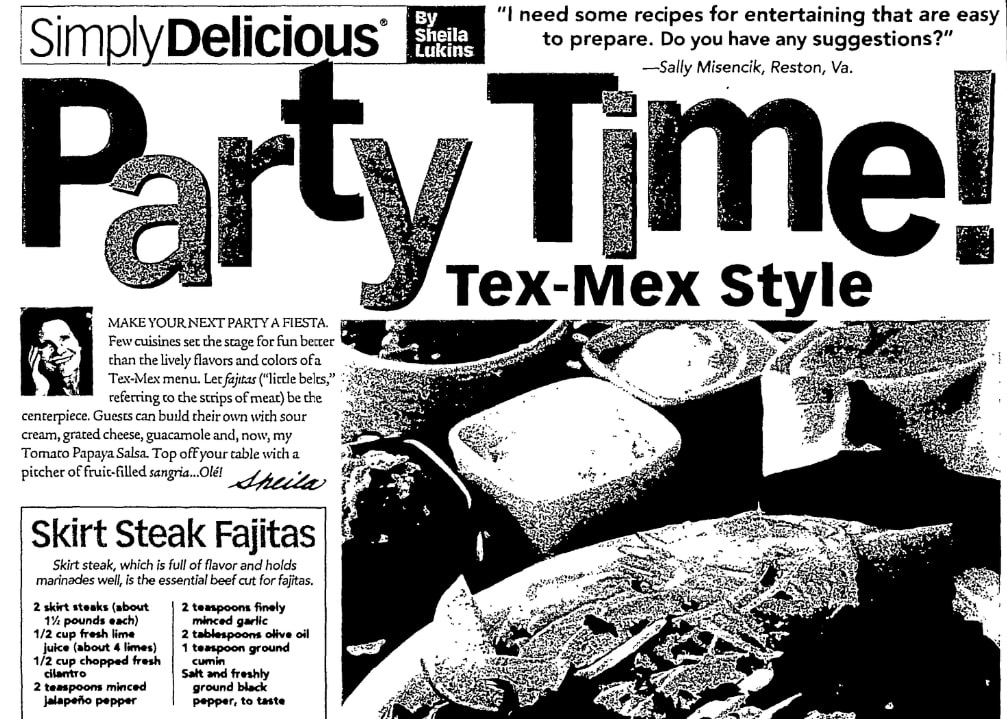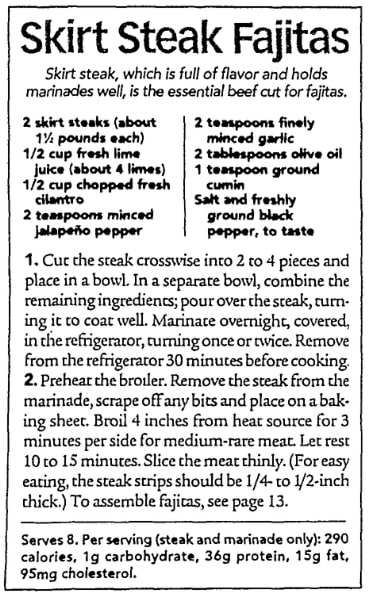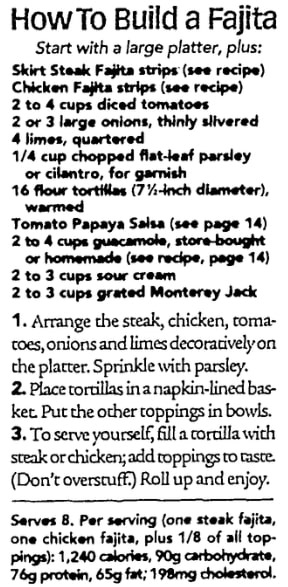 If you want to try shredded pork in your fajitas, this newspaper column gives instructions for pork cooked in a slow cooker. While it calls for a particular marinade, you could use other seasonings or sauces. Once the pork is cooked, you'll want to shred it with forks or using your hands. Leftovers could be used for tacos or taco salads.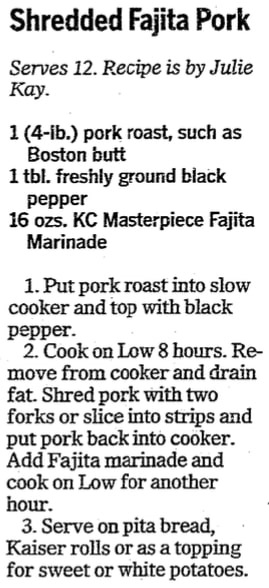 Fajitas are a perfect party food. You can prepare them ahead of time and everyone can customize theirs according to their preferences, including freshly made guacamole and sour cream. This article gives some ideas about having a party where fajitas are the main food attraction.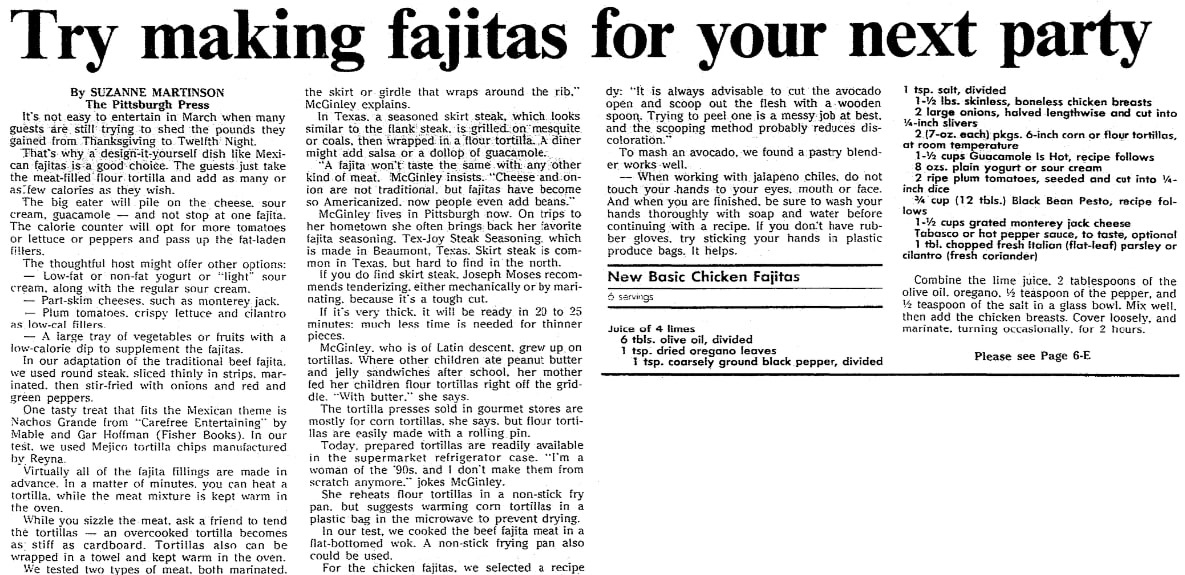 Anytime you have a dish or a flavor that people enjoy, you will find recipes that are a variation of that dish. Fajitas are no exception, and because you can buy pre-packaged fajita seasoning, the combination of meat and seasoning can be used for other dishes. Case in point is this recipe for Fajita Stuffed Peppers. This is a different version of a stuffed bell pepper. I've made a version of this and it is quite good. You can use ground beef if you prefer and of course, most things are better with a layer of melted cheese (no, this isn't an authentic fajita dish, but it's good).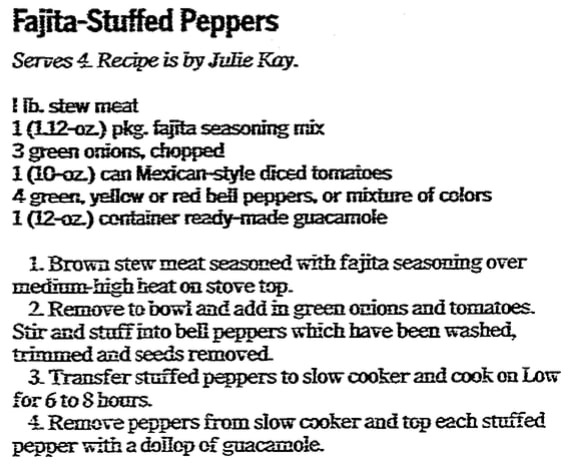 Let's Celebrate!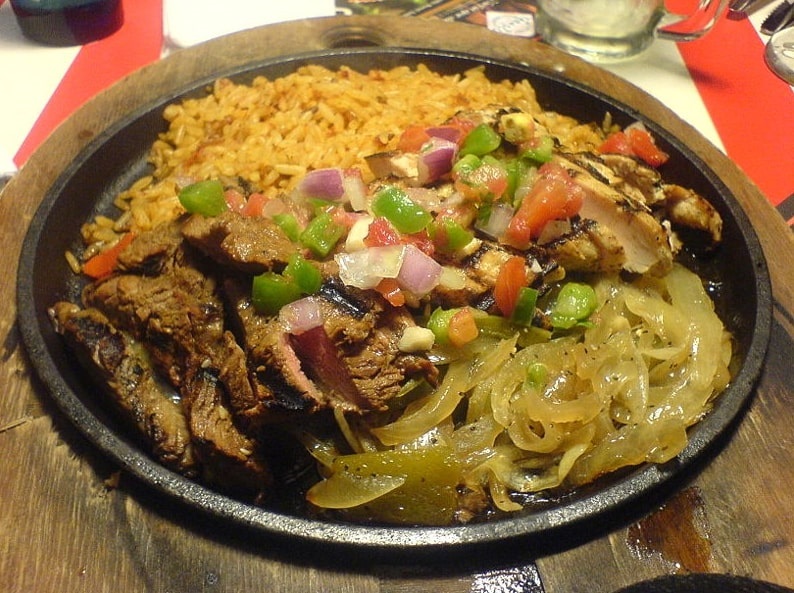 Writing about fajitas is making me hungry. If you haven't had fajitas before, you might want to head to a local Mexican restaurant, or try your hand at making them yourself.
Happy National Fajita Day!
_________________
(1) "The History of the Fajita," Benny's Tacos (https://bennystacos.com/2019/10/31/the-history-of-the-fajita/: accessed 23 July 2021).
(2) Ibid.
(3) Ibid.
(4) "Fajita," Merriam-Webster (https://www.merriam-webster.com/dictionary/fajita: accessed 23 July 2021).
(5) "Food Timeline FAQs: Mexican & Tex Mex foods..," Food Timeline (https://www.foodtimeline.org/foodmexican.html#fajitas: accessed 23 July 2021).