DNA is unlocking the distant past of our family history. Researchers have looked again at previously found prehistoric skeletons and remains to see if they could harvest DNA. They were successful with the skeleton of an18-month-old boy from the Clovis period who died more than 12,000 years ago. His remains were found in 1968 in Montana.
According to a recent CBS News report, the DNA test results showed that: "The boy's genome also showed his people were direct ancestors of many of today's native peoples in the Americas, researchers said. He was more closely related to those in Central and South America than to those in Canada. The reason for that difference isn't clear, scientists said." The genome is the oldest ever successfully recovered from the New World.
Clearly this was no random burial. The boy was found buried with over 125 artifacts, with the objects and the skeleton "covered with powdered red ochre, a natural pigment, indicating a burial ceremony."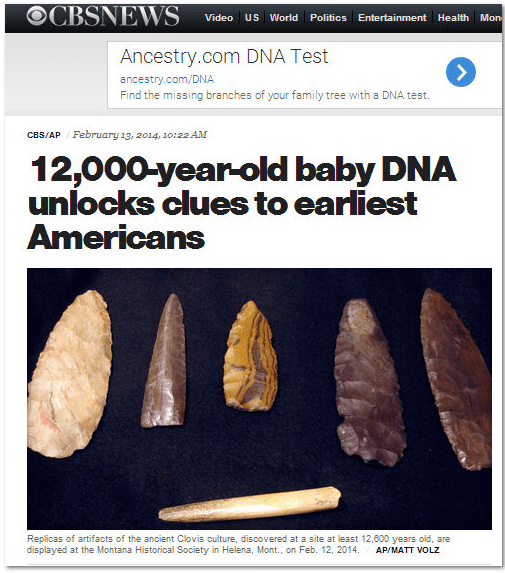 Read the entire story here: http://www.cbsnews.com/news/12000-year-old-baby-dna-unlocks-clues-to-earliest-americans/
Dr. Spencer Wells is a leading population geneticist and Director of the Genographic Project sponsored by National Geographic and IBM.
Watch this quick clip of his remarks at RootsTech 2014:
Watch his complete presentation from the Friday morning session of RootsTech 2014. Speed forward to the 33 minute mark to begin watching his remarks: http://bcove.me/ckiw2y5e
(Visited 3,770 times, 1 visits today)