Introduction: In this article, Gena Philibert-Ortega searches old newspapers to find dip recipes for your Super Bowl celebration. Gena is a genealogist and author of the book "From the Family Kitchen."
It's almost that time again: Super Bowl! Yes, Super Bowl LIV is this Sunday. And that can only mean one thing… food! Sure, the Super Bowl is also about a football game – but if you're like me and not really a fan, it's a great excuse to eat appetizers as a meal and enjoy some clever commercials.
Super Bowl food usually revolves around things that can be grilled, like hamburgers, hot dogs, and hot wings. Appetizers of all types make an appearance – and when you have appetizers like chips and raw vegetables, you might also want something to dip them in. Ranch Dressing is a must for those hot wings, but what other types of dips might crowd your Super Bowl buffet table?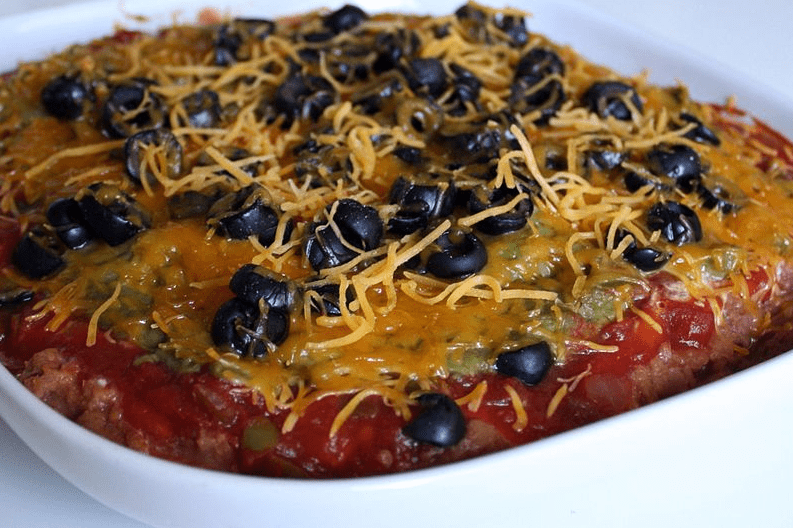 Super Bowls
My favorite recipe newspaper article has to be this one from the Las Vegas Review-Journal, which is the result of asking readers for their favorite dip recipes. The newspaper then chose 40 recipes and published them along with the name of the submitter. It's a diverse group of tasty-sounding dips that include ingredients ranging from bacon to seafood, and black-eyed-peas to jalapenos. I'd be happy to taste all of them at a party!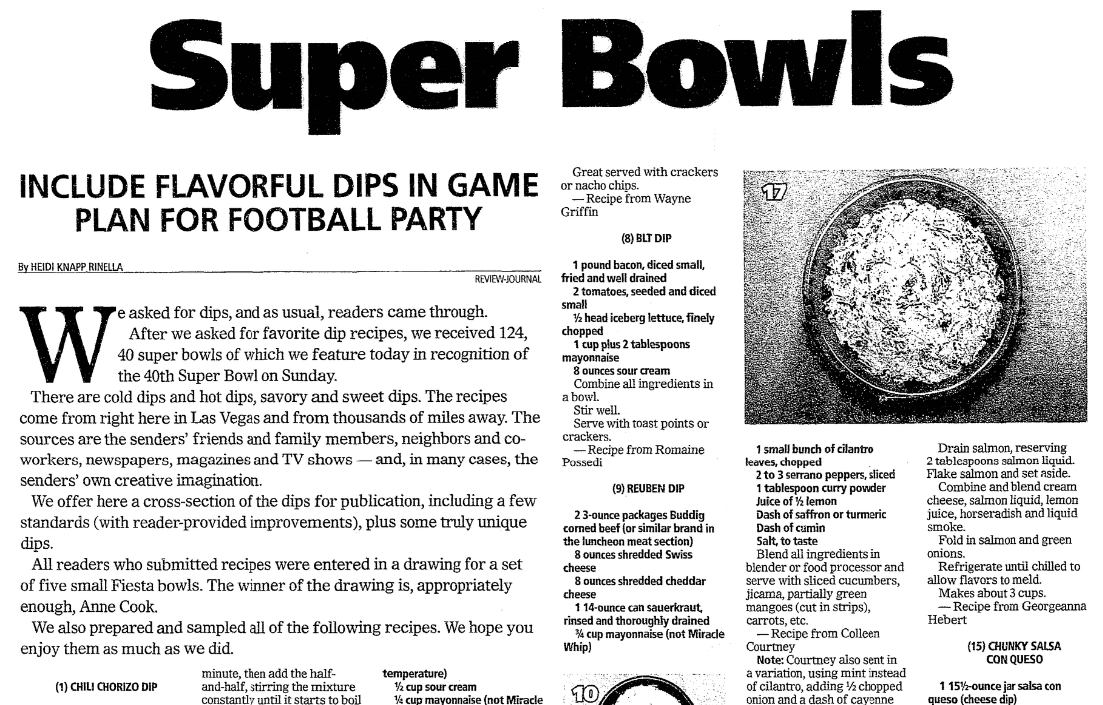 Here are a few of the dip recipes from this article.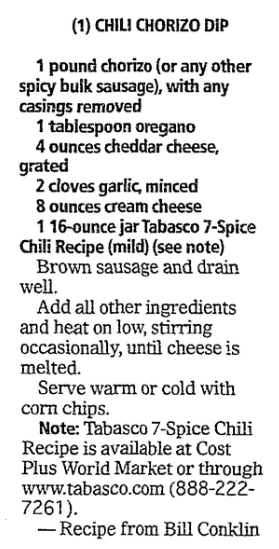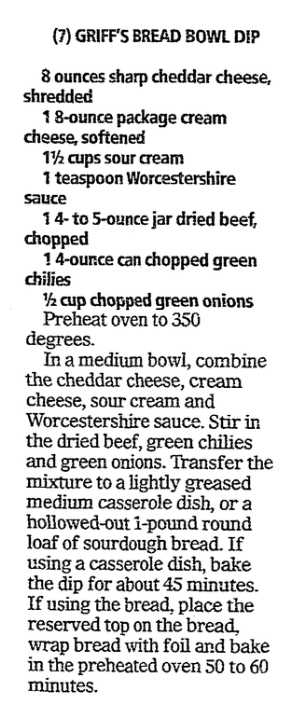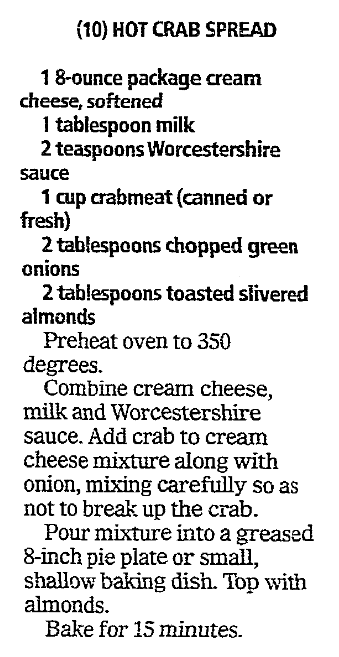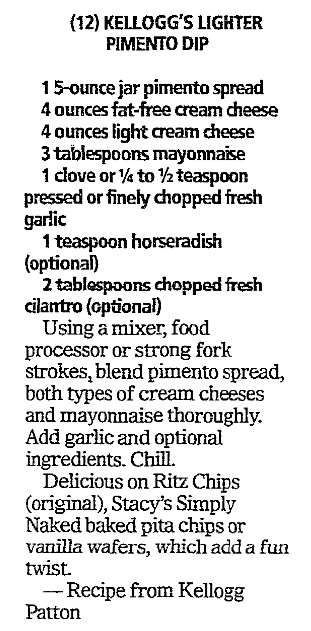 Another article that featured reader's dip recipes is found in the Milwaukee Journal Sentinel, and includes a Beer Cheese Dip and a Baked Artichoke Dip that are perfect for a party. The Breadpot Fondue also looks pretty good, and includes melted cheese, ham, onions, and diced green chiles.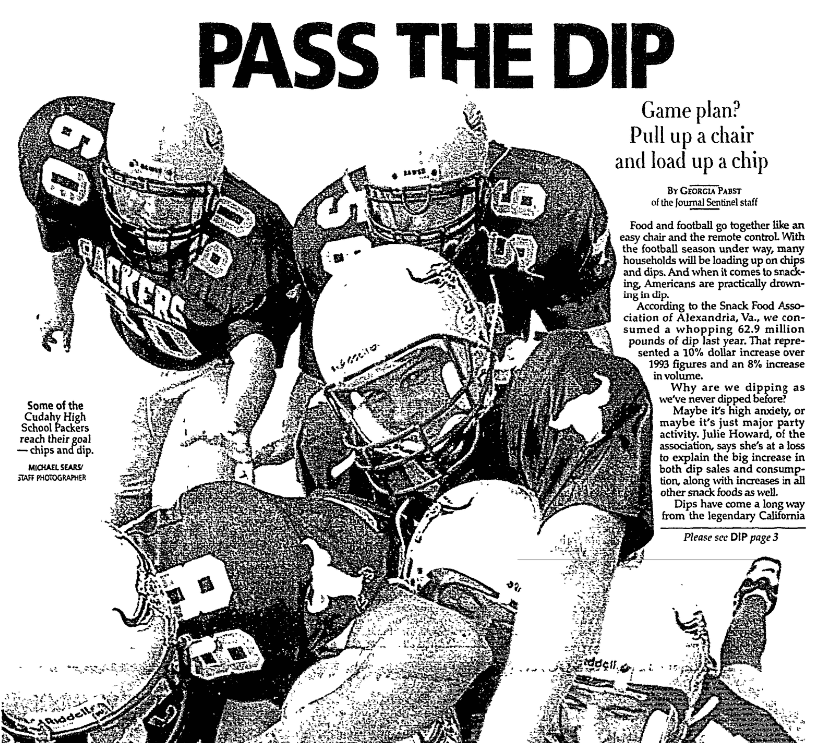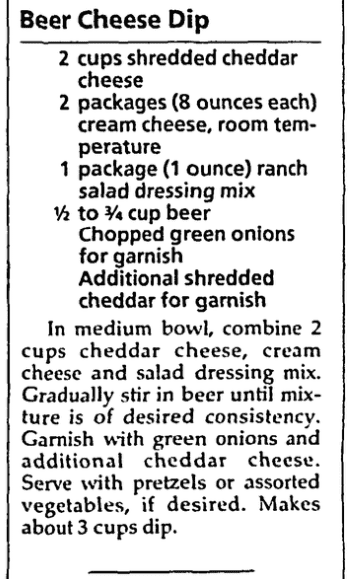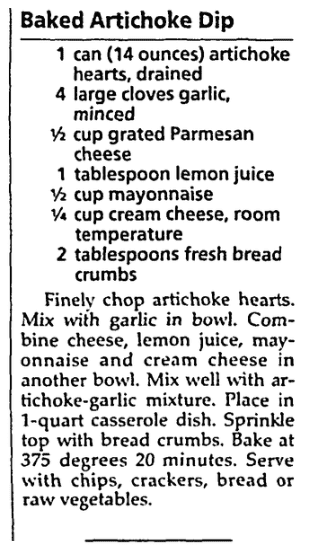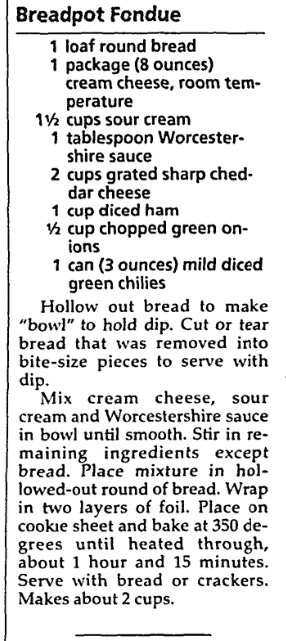 1967
The first Super Bowl was held in Los Angeles in 1967 between the Green Bay Packers and the Kansas City Chiefs. That first game got me thinking about what dip recipes were featured in newspapers of the time. There were definitely some interesting "International" recipes including this "Asian" inspired duo for potato chips. The second recipe, Suki Chip Dip, appears to be "Asian" because of the inclusion of soy sauce along with cream cheese, pineapple, deviled ham and curry powder.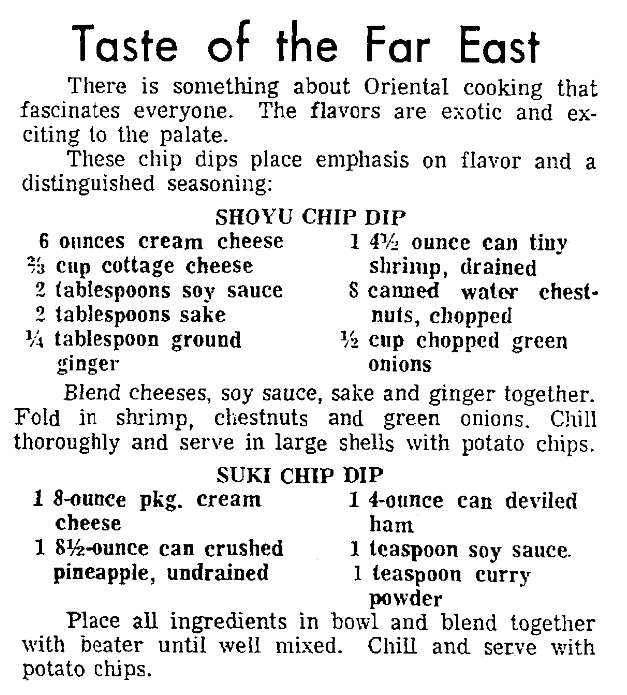 What Are You Making and What Time Is the Party?
There are all kinds of dips that go great with Super Bowl food. Ranch Dressing and French Onion Dip are old favorites – but one of the best dips is 7-Layer Dip, which takes refried beans or bean dip, sour cream, shredded cheddar cheese, and, depending on your recipe, taco meat, tomatoes, guacamole, and salsa. It's the perfect thing for game day.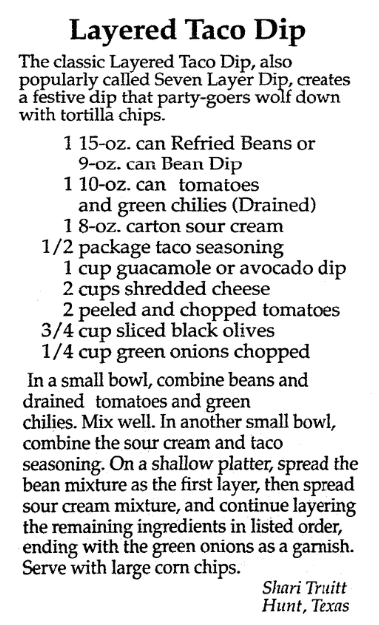 Whether you like football or not, make the day an excuse to do something different. Instead of dinner, make a Super dinner and break out the grill, appetizers, and dips!
Note: An online collection of newspapers, such as GenealogyBank's Historical Newspaper Archives, is not only a great way to learn about the lives of your ancestors – the old newspaper articles also provide news and entertainment – and thousands of recipes. Come take a look today and find a recipe for your Super Bowl celebration!
Related Article: