President James K. Polk died June 15, 1845.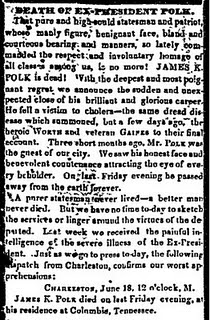 GenealogyBank let's you read the newspapers when he was elected and the accounts of his death.
(Macon Telegraph – 19 June 1845)

Whether you want to read about the lives of the Presidents or your ancestors – GenealogyBank has the best coverage – 1690 to Today.


It is the best source for old newspapers on the planet.
(Daily Ohio Statesman 13 Nov 1844).
(Visited 35 times, 1 visits today)