Introduction: In this blog post, Scott Phillips searches old newspapers to learn more about the history of Patriot Day, and discusses current commemorative events on this day. Scott is a genealogical historian and owner of Onward To Our Past® genealogy services.

Every generation has certain historic days that are seared into their collective memories—days that we each know exactly where we were and what we were doing when we got the news. For folks in my parents' generation, one of those days was 7 December 1941, "a date which will live in infamy"—the day the Japanese attacked Pearl Harbor. For many of us "Boomers" it is 22 November 1963, the day that President Kennedy was assassinated. Unfortunately we added 11 September 2001, the day of the attacks on the Twin Towers of the World Trade Center in New York City, the Pentagon in Washington D.C., and the crash of Flight 93 near Shanksville, Pennsylvania, to this list.
September 11th is now officially known as Patriot Day, or more fully "Patriot Day and National Day of Service and Remembrance." While not a single one of us will ever forget, or be the same, after "9/11," it is a powerful testament that this day has also taken on aspects of service to America as well as remembrance.
I turned to GenealogyBank's Historical Newspaper Archives to learn more about the history of this day and how it has been commemorated in the U.S.
Legislation Signed for Patriot Day
President George W. Bush signed the congressional resolution creating Patriot Day on 18 December 2001, as reported in this Connecticut newspaper article.
Later, on 21 April 2009, President Obama signed into law the "Edward M. Kennedy Serve America Act," which designated September 11th as our "National Day of Service and Remembrance" as well as Patriot Day.
Past Commemorative Events
In this 2011 article from a Michigan newspaper, Chris Sizemore, executive director of Volunteer Kalamazoo, said it well:
9/11 National Day of Service and Remembrance is a great chance to reclaim the unifying spirit that Americans had after the tragedy of Sept. 11. Stronger neighborhoods make for stronger communities, and in turn, a stronger nation.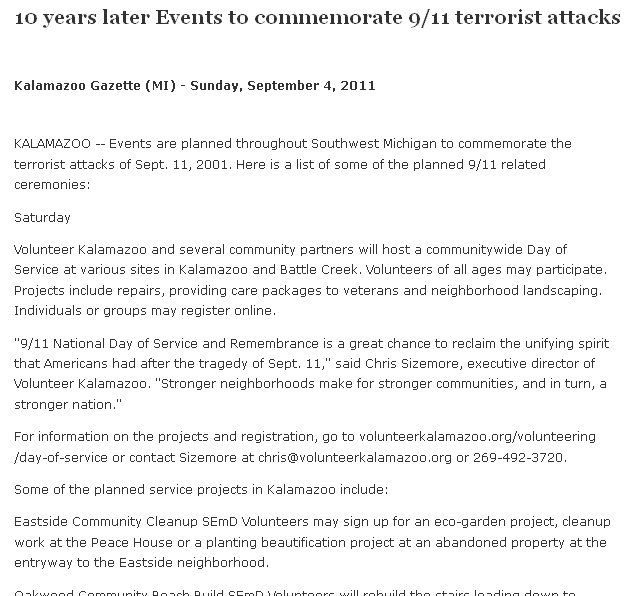 Similarly, this 2013 Texas newspaper article explained that in their community there would be a memorial service at 8:30 a.m. on Sept 11th, which would include the observation of our national moment of silence at 8:46 a.m. (EDT).
The September 11th National Day of Service and Remembrance began in 2002 and now reaches every community across America.
Current Commemorative Events
If you visit the website http://www.nationalservice.gov you can easily find volunteer opportunities to help in your community. The site offers anyone the option of entering your interests (they give the examples of September 11, Disaster Preparation, Military Families, Veterans, etc.). You can then add your city, state, or ZIP Code and your volunteer opportunities will be listed for you. When I entered my ZIP Code and "September 11" I received dozens of opportunities listed.
There is also the 9/11 Day organization at http://www.911day.org. This organization reports that in 2013 more than 47 million people throughout the United States and in 150 other countries observed 9/11 by volunteering.
In my own hometown there will be a community remembrance celebration sponsored by such diverse organizations as our local community college, city government, JROTC, an American Legion Post, and the Guardian Riders.
You can follow and stay up-to-date on what you would like to do as a volunteer on September 11 Day of Service and Remembrance on Twitter @nationalservice, @ServeDotGov, and @911day, or on Facebook at http://www.facebook.com/911day.
Related 9/11 Articles: