President Lyndon B. Johnson signed the historic Civil Rights Act on 2 July 1964, outlawing discrimination and protecting the civil rights of minorities. It did not take long for bigots to challenge the law. A restaurant owner in Alabama and a motel owner in Georgia fought their cases all the way to the highest court in the land, insisting they did not have to serve or accommodate African American customers.
The Supreme Court heard the case (Heart of Atlanta Motel Inc. v. U.S.) on October 5. It issued its historic decision on 14 December 1964, ruling that Title II of the Civil Rights Act was indeed constitutional, thereby upholding its prohibition against racial discrimination in public accommodations.
Ollie McClung's restaurant, Ollie's Barbeque, had been in his family since 1926 in Birmingham, Alabama. Although it was, ironically enough, located in an African American neighborhood, McClung only provided take-out service to black customers – they could not sit down and be served in his restaurant. Moreton Rolleston, Jr., was an Atlanta attorney and owner of the posh Heart of Atlanta Motel that only served white customers. Their two combined cases argued that Congress acted unconstitutionally when it justified Title II of the Civil Rights Act by relying on the U.S. Constitution's Article 1 "Commerce Clause" to fight discrimination.
The Supreme Court ruled unanimously that Congress' constitutional authority to regulate interstate commerce does indeed grant it power to fight discrimination, as enacted by Title II of the Civil Rights Act, and ruled against the plaintiffs. McClung's black customers had every right to sit down and be served in his restaurant, and blacks also had every right to stay at Rolleston's motel whenever they wanted.
While this decision was unanimous, the Supreme Court issued an associated ruling that split the court. During the October 5 hearing, lawyers for the National Association for the Advancement of Colored People argued that charges (and, where applicable, convictions) against sit-in demonstrators who protested against discrimination before 2 July 1964 should be dismissed now that the Civil Rights Act was law. In a 5-4 decision the court agreed, putting an end to nearly 3,000 cases throughout the South.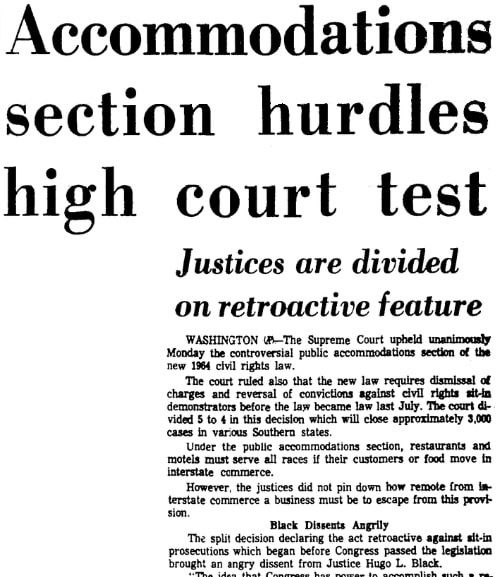 Here is a transcription of this article:
Accommodations Section Hurdles High Court Test
Justices Are Divided on Retroactive Feature
WASHINGTON (AP) – The Supreme Court upheld unanimously Monday the controversial public accommodations section of the new 1964 civil rights law.
The court ruled also that the new law requires dismissal of charges and reversal of convictions against civil rights sit-in demonstrators before the law became law last July. The court divided 5 to 4 in this decision which will close approximately 3,000 cases in various Southern states.
Under the public accommodations section, restaurants and motels must serve all races if their customers or food move in interstate commerce.
However, the justices did not pin down how remote from interstate commerce a business must be to escape from this provision.
Black Dissents Angrily
The split decision declaring the act retroactive against sit-in prosecutions which began before Congress passed the legislation brought an angry dissent from Justice Hugo L. Black.
"The idea that Congress has power to accomplish such a result has no precedent, so far as I know, in the nearly 200 years that Congress has been in existence," he said.
Black and the other dissenters – Justices John M. Harlan, Byron R. White, and Potter Stewart – all wrote opinions saying Congress has been silent on the question.
"Had Congress intended to ratify massive disobedience to the law, so often attended by violence, I feel sure it would have said so in unmistakable language. The truth is that it is only judicial rhetoric to blame this result on Congress," White said.
3,000 Cases Still Pending
Attorneys for the National Association for the Advancement of Colored People had informed the Supreme Court that about 3,000 criminal prosecutions for sit-in demonstrations were still pending. All these cases are wiped out by the decision. They include cases not yet tried and those in which convictions were obtained and appealed. Trespass was charged in most instances.
Justice Tom C. Clark delivered the majority opinion in the sit-in decision as well as in the two separate public accommodations rulings. It was the first Supreme Court test of any part of the new law signed by President Johnson last July 2.
In one case, the court upheld a three-judge District Court ruling against the Heart of Atlanta Motel's challenge to the section outlawing discrimination in such places as hotels, restaurants, motels, and theaters.
Moreton Rolleston Jr., Atlanta attorney and official of the motel, filed suit two hours after Johnson signed the law.
He argued his own case here Oct. 5, and said: "The fact that Negroes are involved in this issue is purely incidental. The fundamental issue is whether Congress has the right to take away from a private business concern the owner's choice of running his firm as he wishes and choosing his customers."
Clark, disagreeing, said on behalf of the court: "The power of Congress to promote interstate commerce also includes the power to regulate the local incidents thereof, including local activities in both the state of origin and destination, which might have a substantial and harmful effect upon that commerce."
"One need only examine the evidence which we have discussed above to see that Congress may – as it has – prohibit racial discrimination by motels serving travelers, however 'local' their operation may appear," Clark said.
Out of State Customers
While the Heart of Atlanta conceded 75 per cent of its customers are from out of state, the court's second ruling dealt with Ollie's Barbeque of Birmingham, Ala., which caters to local customers and buys most of its food locally. A three-judge District Court in Birmingham had ruled this put Ollie's beyond the power of Congress.
Reversing that decision, Clark said Ollie's receives about $7,000 worth of food a year "which has moved in commerce." It is a valid power of Congress to regulate this, he said.
"A refusal to serve Negroes and their total loss as customers has, regardless of the absence of direct evidence, a close connection to interstate commerce," Clark said. "The fewer customers a restaurant enjoys the less food it sells and consequently the less it buys."
Clark agreed that, "viewed in isolation, the volume of food purchased by Ollie's Barbeque from sources from out of state was insignificant when compared with the total foodstuffs moving in commerce."
The closest Clark came to pinning down how far the law goes were these words that seemed to leave room for relatively few exceptions:
"We must conclude that while the focus of the legislation was on the individual restaurant's relation to interstate commerce, Congress appropriately considered importance of that connection with the knowledge that the discrimination was but 'representative of many others throughout the country, the total incidence of which if left unchecked may well become far reaching in its harm to commerce.'"
Shocked by Decision
Ollie McClung Sr., who operates the barbeque restaurant with his son, Ollie Jr., said he was shocked by the decision. He said, "It seems to me that the ownership and use of private property is essential to the American way of life."
The spokesman for Heart of Atlanta Motel said the decision opens "a frightful door to the unlimited power of a centralized government."
Generally, however, the accommodations decision seemed to have been widely anticipated and stirred no great immediate furor in the South.
Clark brushed aside McClung's argument that interstate commerce ends when goods come to rest in the state of destination. He said "that line of cases has been applied with reference to state taxation or regulation but not in the field of federal regulation."
"The power of Congress in this field is broad and sweeping," Clark said. "Where it keeps within its sphere and violates no express constitutional limitation it has been the rule of this court, going back almost to the Founding Days of the Republic, not to interfere."
Interstate Commerce
The court confined the decision to the power of Congress to regulate interstate commerce. Clark said it was not necessary to consider other issues raised, such as the equal protection clause of the 14th Amendment.
But in a concurring opinion Justice William P. Douglas said the decision should have been based on the 14th Amendment, "thereby putting an end to all obstructionist strategies and allowing every person – whatever his race, creed or color – to patronize all places of public accommodation without discrimination whether he travels interstate or intrastate."
Justice Arthur J. Goldberg also wrote an opinion saying both the commerce clause and the 14th Amendment should have guided the ruling.
In its sit-in decision the court reversed trespass convictions for lunch-counter demonstrations in two states in 1960.
Arthur Hamm Jr., was arrested for a demonstration in McCrory's Variety Store in Rock Hill, S.C. Frank James Lupper and Thomas Robinson were arrested at a lunch counter in the Blass Department Store in Little Rock, Ark.
Clark said of these arrests that were made before Congress acted:
"Future state prosecutions under the Act being unconstitutional and there being no saving clause in the Act itself, convictions for pre-enactment violations would be equally unconstitutional and abatement necessarily follows."
"Since Congress has declared that the public policy of our country is to prohibit discrimination in public accommodations as therein defined," Clark said, "there is no public interest to be served in the further prosecution of the petitioners."
Black's dissent said he does not interpret the court's opinion as authorizing "persons who are unlawfully refused service" to "take the law into their own hands by sitting down and occupying the premises for as long as they choose to stay."
Black said nothing in the language of the Civil Rights Act "justifies the court's offhand assertion that it is carrying out the 'legislative purpose.'" He said he found not one word "on which the most strained efforts of the most fertile imaginations could support such a conclusion."
Stewart's dissent said since Congress was silent on the subject, he was unable to agree in light of an earlier Supreme Court ruling that a state's abatement policy is for a state to determine. He said he would have sent the case back to the state courts for reconsideration in light of the federal Civil Rights Act.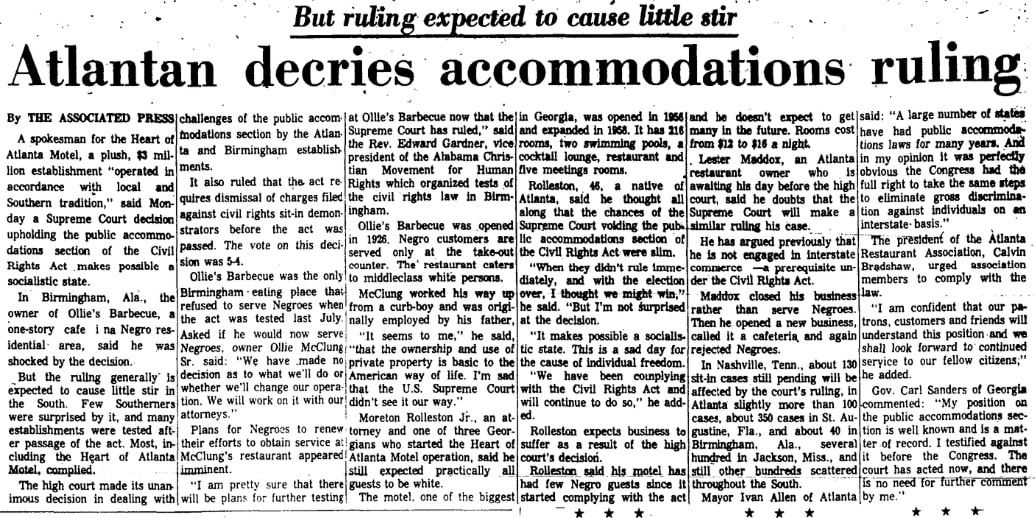 Here is a transcription of this article:
Atlantan Decries Accommodations Ruling
But Ruling Expected to Cause Little Stir
By The Associated Press
A spokesman for the Heart of Atlanta Motel, a plush, $3 million establishment "operated in accordance with local and Southern tradition," said Monday a Supreme Court decision upholding the public accommodations section of the Civil Rights Act makes possible a socialistic state.
In Birmingham, Ala., the owner of Ollie's Barbeque, a one-story café in a Negro residential area, said he was shocked by the decision.
But the ruling generally is expected to cause little stir in the South. Few Southerners were surprised by it, and many establishments were tested after passage of the act. Most, including the Heart of Atlanta Motel, complied.
The high court made its unanimous decision in dealing with challenges of the public accommodations section by the Atlanta and Birmingham establishments.
It also ruled that the act requires dismissal of charges filed against civil rights sit-in demonstrators before the act was passed. The vote on this decision was 5-4.
Ollie's Barbeque was the only Birmingham eating place that refused to serve Negroes when the act was tested last July. Asked if he would now serve Negroes, owner Ollie McClung Sr., said: "We have made no decision as to what we'll do or whether we'll change our operation. We will work on it with our attorneys."
Plans for Negroes to renew their efforts to obtain service at McClung's restaurant appeared imminent.
"I am pretty sure that there will be plans for further testing at Ollie's Barbeque now that the Supreme Court has ruled," said the Rev. Edward Gardner, vice president of the Alabama Christian Movement for Human Rights which organized tests of the civil rights law in Birmingham.
Ollie's Barbeque was opened in 1926. Negro customers are served only at the take-out counter. The restaurant caters to middleclass white persons.
McClung worked his way up from a curb-boy and was originally employed by his father.
"It seems to me," he said, "that the ownership and use of private property is basic to the American way of life. I'm said that the U.S. Supreme Court didn't see it our way."
Moreton Rolleston Jr., an attorney and one of three Georgians who started the Heart of Atlanta Motel operation, said he still expected practically all guests to be white.
The motel, one of the biggest in Georgia, was opened in 1956 and expanded in 1958. It has 216 rooms, two swimming pools, a cocktail lounge, restaurant and five meetings rooms.
Rolleston, 46, a native of Atlanta, said he thought all along that the chances of the Supreme Court voiding the public accommodations section of the Civil Rights Act were slim.
"When they didn't rule immediately, and with the election over, I thought we might win," he said. "But I'm not surprised at the decision.
"It makes possible a socialistic state. This is a sad day for the cause of individual freedom.
"We have been complying with the Civil Rights Act and will continue to do so," he added.
Rolleston expects business to suffer as a result of the high court's decision.
Rolleston said his motel has had few Negro guests since it started complying with the act and he doesn't expect to get many in the future. Rooms cost from $12 to $16 a night.
Lester Maddox, an Atlanta restaurant owner who is awaiting his day before the high court, said he doubts that the Supreme Court will make a similar ruling in his case.
He has argued previously that he is not engaged in interstate commerce – a prerequisite under the Civil Rights Act.
Maddox closed his business rather than serve Negroes. Then he opened a new business, called it a cafeteria, and again rejected Negroes.
In Nashville, Tenn., about 130 sit-in cases still pending will be affected by the court's ruling, in Atlanta slightly more than 100 cases, about 350 cases in St. Augustine, Fla., about 40 in Birmingham, Ala., several hundred in Jackson, Miss., and still other hundreds scattered throughout the South.
Mayor Ivan Allen of Atlanta said: "A large number of states have had public accommodations laws for many years. And in my opinion it was perfectly obvious the Congress had the full right to take the same steps to eliminate gross discrimination against individuals on an interstate basis."
The president of the Atlanta Restaurant Association, Calvin Bradshaw, urged association members to comply with the law.
"I am confident that our patrons, customers and friends will understand this position and we shall look forward to continued service to our fellow citizens," he added.
Gov. Carl Sanders of Georgia commented: "My position on the public accommodations section is well known and is a matter of record. I testified against it before the Congress. The court has acted now, and there is no need for further comment by me."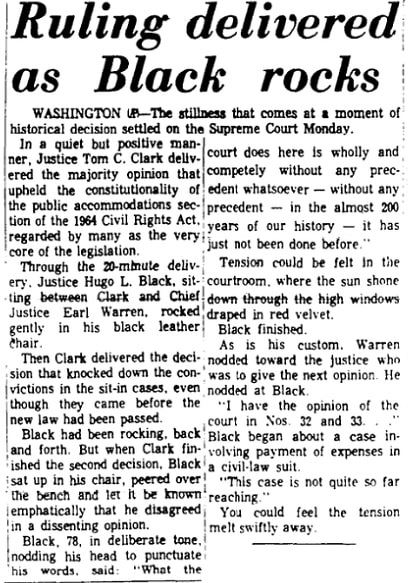 Here is a transcription of this article:
Ruling Delivered as Black Rocks
WASHINGTON (AP) – The stillness that comes at a moment of historical decision settled on the Supreme Court Monday.
In a quiet but positive manner, Justice Tom C. Clark delivered the majority opinion that upheld the constitutionality of the public accommodations section of the 1964 Civil Rights Act, regarded by many as the very core of the legislation.
Through the 20-minute delivery, Justice Hugo L. Black, sitting between Clark and Chief Justice Earl Warren, rocked gently in his black leather chair.
Then Clark delivered the decision that knocked down the convictions in the sit-in cases, even though they came before the new law had been passed.
Black had been rocking, back and forth. But when Clark finished the second decision, Black sat up in his chair, peered over the bench and let it be known emphatically that he disagreed in a dissenting opinion.
Black, 78, in deliberate tone, nodding his head to punctuate his words, said: "What the court does here is wholly and completely without any precedent whatsoever – without any precedent – in the almost 200 years of our history – it has just not been done before."
Tension could be felt in the courtroom, where the sun shone down through the high windows draped in red velvet.
Black finished.
As is his custom, Warren nodded toward the justice who was to give the next opinion. He nodded at Black.
"I have the opinion of the court in Nos. 32 and 33…" Black began about a case involving payment of expenses in a civil-law suit.
"This case is not quite so far reaching."
You could feel the tension melt swiftly away.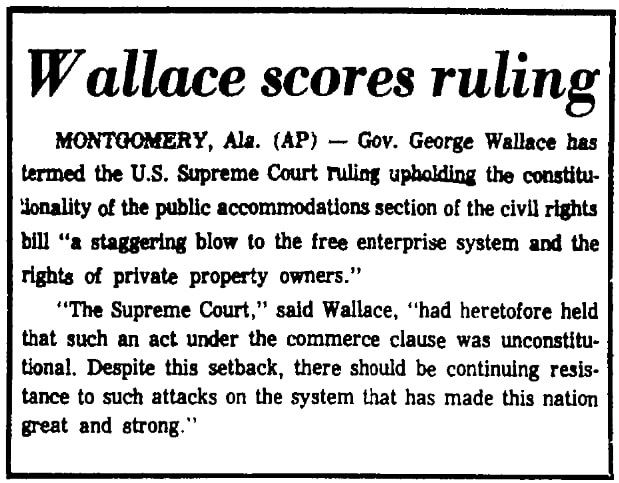 Here is a transcription of this article:
Wallace Scores Ruling
MONTGOMERY, Ala. (AP) – Gov. George Wallace termed the U.S. Supreme Court ruling upholding the constitutionality of the public accommodations section of the civil rights bill "a staggering blow to the free enterprise system and the rights of private property owners."
"The Supreme Court," said Wallace, "had heretofore held that such an act under the commerce clause was unconstitutional. Despite this setback, there should be continuing resistance to such attacks on the system that has made this nation great and strong."
Note: An online collection of newspapers, such as GenealogyBank's Historical Newspaper Archives, is not only a great way to learn about the lives of your ancestors – the old newspaper articles also help you understand American history and the times your ancestors lived in, and the news they talked about and read in their local papers. The same is true of more recent news.
Related Articles: