In the early morning hours of 5 August 1962, glamorous model and movie star Marilyn Monroe was found dead at her home by her psychiatrist, Dr. Ralph Greenson, who had been summoned by Monroe's worried housekeeper. Her death by acute barbiturate poisoning was ruled a suicide. She was just 36 years old.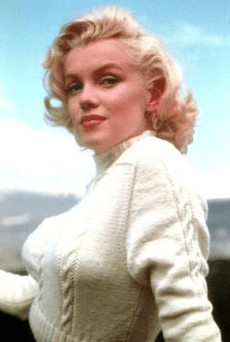 Monroe, the reigning sex symbol of the 1950s, was a popular and successful actress with a highly publicized social life, being a favorite of the paparazzi. She appeared in dozens of movies, was married three times (including baseball legend Joe DiMaggio and playwright Arthur Miller), dated Frank Sinatra, and was the rumored mistress of President John F. Kennedy.
Despite (or perhaps because of) her fame and fortune, Monroe led a turbulent life, plagued by alcoholism, drug addiction, and depression.
In his famous 1973 homage to Marilyn Monroe, "Candle in the Wind," Elton John sang:
Loneliness was tough
The toughest role you ever played
Hollywood created a superstar
And pain was the price you paid
Even when you died
Oh the press still hounded you
All the papers had to say
Was that Marilyn was found in the nude
This poignant verse, written by John's collaborator Bernie Taupin, was a bit of an exaggeration. The newspapers, as the below example shows, actually had quite a bit to say about Marilyn Monroe. Her death was front page news all across the country, with many in-depth articles written about her career, her struggles and her overall life story.
One claim in "Candle in the Wind" nailed it exactly right, however: the newspaper accounts of her death all pointed out that Marilyn Monroe was found dead in bed, naked. The opening paragraph of the Associated Press article reporting her death is typical:
HOLLYWOOD, Aug. 5 (AP) – Blond and beautiful Marilyn Monroe, a glamorous symbol of the gay, exciting life of Hollywood, died tragically today. Her body was found nude in bed, a probable suicide. She was 36.
This newspaper's other front page article about Monroe, "Early Feelings of Insecurity Haunted Star," delves deeper into her story. This is its opening:
Marilyn Monroe died today, proving that even $10,000 a week won't buy peace of mind. Marilyn, the world's most famous blonde, kept telling everybody she was sick but nobody believed her. Fame, wealth, stardom – none of them could cure the basic insecurity of Marilyn's early life.
Note: An online collection of newspapers, such as GenealogyBank's Historical Newspaper Archives, is not only a great way to learn about the lives of your ancestors – the old newspaper articles also help you understand American history and the times your ancestors lived in, and the news they talked about and read in their local papers. Do you have any memories of Marilyn Monroe? Please share your stories with us in the comments section.