Genealogists are always digging.
So are backhoe operators.
It was a good thing that the Fosterburg Water District was digging for a waterline in Prairietown, Illinois, because while digging they found a long-abandoned historic cemetery.
Amazing.
No one had remembered that there was an old cemetery there. The tombstones had fallen and over the years were buried and forgotten.
Credit: John Badman, The Telegraph (Alton, Illinois), 28 June 2013.
The dig for the waterline unearthed these long-lost gravestones. Anthropologist Dawn E. Cobb from the Illinois Historic Preservation Agency began studying why these tombstones were there. She looked at old Illinois maps and quickly found that there was a cemetery located at that spot in 1873, and a church was shown there on an 1892 map.
Years ago St. Mary's Roman Catholic parish was merged with a parish in Macoupin County, Illinois. Now she is investigating how many people were buried there and researching the old records to find their names and genealogical details. Read the entire story in The Telegraph (Alton, Illinois), 28 June 2013: http://bit.ly/1aZp9Ac.
How many small cemeteries are gone from our memories?
How many tombstones have tipped over—with solid genealogical information buried—waiting to be rediscovered?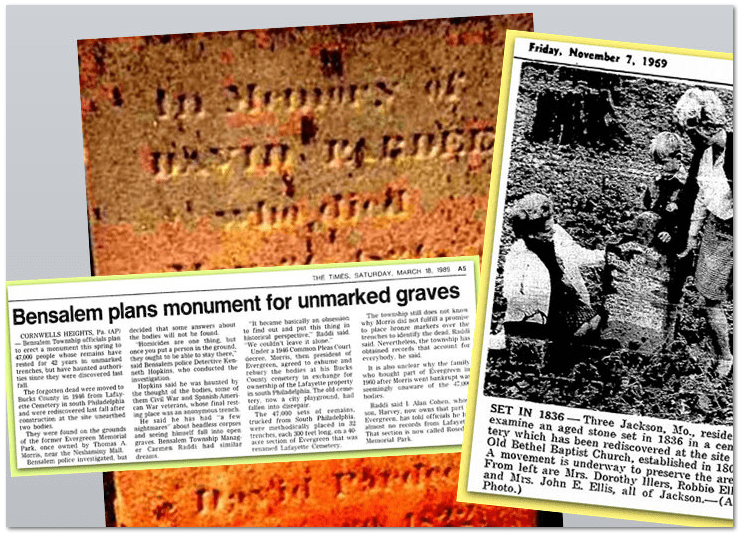 Take the time this summer to research and found out where the old cemeteries were in your area 150 and 200 years ago. Are they all still accounted for?
Let us know if you rediscover a "lost" cemetery and what you found in the comments.